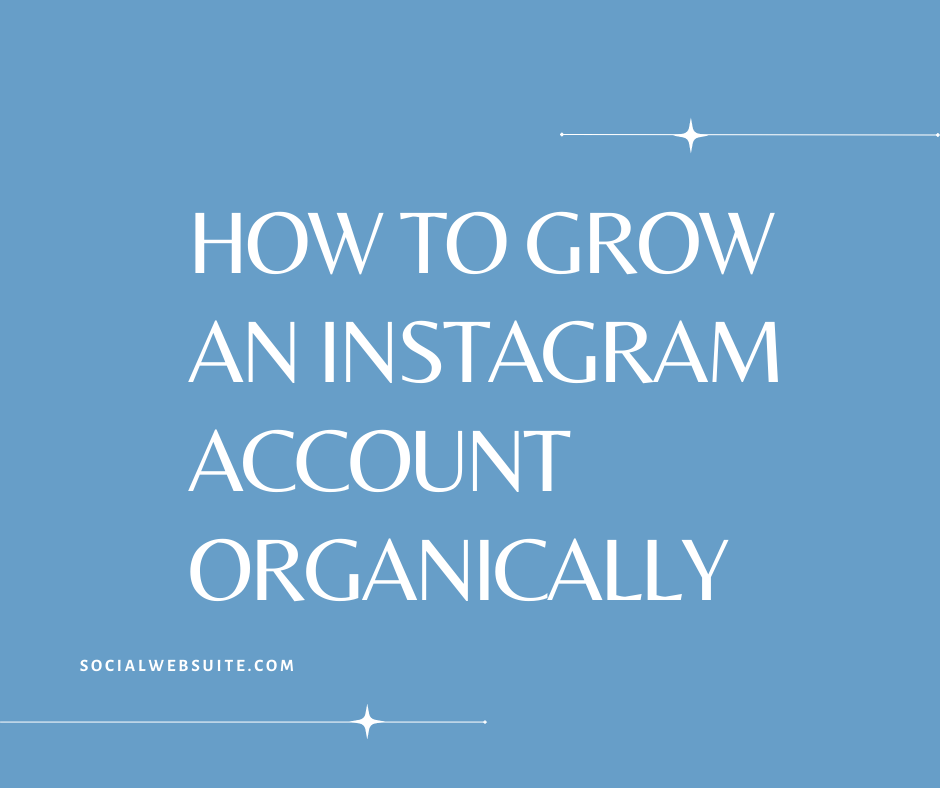 Instagram is a key marketing platform for entrepreneurs and marketers. The social media platform boasts over 200 million daily visits, allowing brands to make their products and services visible to a huge audience. Instagram reveals that over 25 million individuals and brands have business accounts on this platform.
With the vast competition, growing your followers' base and account will be necessary to reap the benefits of this marketing strategy. We've got various ways that you can use to grow your account. Some account owners use dubious ways, like buying followers, using bots to generate more likes, or automating engagement using third-party apps. These practices may be catastrophic, leading to adverse effects like shadow ban, suspension, etc.
Growing your account organically is the best way to have more followers and have successful marketing. Despite taking too much time and resources, growing your accounts organically is the best way to enhance your Instagram success. This article discusses the effective ways to grow your Instagram account organically.
1. Optimize your posts
Creating high-quality content and optimizing the post is the most effective way to grow your account. You can optimize your posts by adopting some time-tested posting habits to grab your followers' attention and get an immediate impact. Below are some of the ways you can use to optimize your posts:
Crack the Instagram algorithm
Instagram uses AI to rank the different posts and decide which posts appear first in the feeds. Your posts will rank higher on the feeds of your family or friends. Thus, it'll be wise to DM, comment, and like on your intended audience posts. Furthermore, regular posting will also be vital in growing your accounts, as the platform prioritizes newer posts. Study your intended audience's behaviors and generate the appropriate content relatable to their search intent.
Optimize Visual content
When using videos on your Instagram account, ensure that you develop high-quality content and optimize it for duration and size. You can use professional-grade editing tools to create top-notch and attractive visual content. Furthermore, you can incorporate overlays and filters to enhance your images. Remember to research the recommended square and landscape image size.
Post your content during optimal times
You can build a proper and comprehensive Instagram followers buyer persona. These insights allow you to discover the time most of your followers are active for your posts to have a vast reach. You must switch to an Instagram business account to access this property.
2. Consider user-generated content
Experts define user-generated content as content that your customers create. For instance, user-generated content can be when followers post a photo promoting or using your service or products. It'll be appropriate to seek permission from the followers to repost. It's a genuine and authentic strategy to increase your Instagram followers organically.
Reposting this content shows that real individuals benefit from your services or products. Thus, it helps build trust and provides social proof or acts as the best alternative to a recommendation or referral. Many brands consider it a cost-effective and time-saving strategy, as you don't need to create your content from scratch.
Despite the numerous benefits of user-generated content, overdoing it may lead to negative consequences. You might detract from your branding strategies or start using low-quality content. Experts advise that you provide the followers with the type of post they should share to avoid detracting from your branding. You can consider reviews, videos, and simple photos to get the followers in action with the products. Alternatively, you can consider creating a unique hashtag to get more content.
3. Use Instagram shoutouts
The most popular and trending way to grow your Instagram account is co-promotion. The strategy involves swapping shoutouts with reliable and relevant influencers and receiving a mutual benefit. Most shoutouts involve a brand mention, using a proper profile link in the content caption. You can consider a photo of the specific publicized brand accompanies when having the brand mentioned.
Furthermore, you can include influencer marketing tools or hashtag searches to check for different influencers or individuals outside your niche or industry. After getting these individuals, scan their feeds and stories to identify those with regular shoutouts and more engagement. You can like and comment on their posts and ask if they're interested in having a shoutout exchange with your brand. Shoutout exchanges increase your brand's awareness.
4. Engage your followers
Engaging your followers is key to growing your Instagram account organically and having a huge follower base. You must add more flavor to prevent your followers from ignoring your post. Choose the right ideas that attract more followers and allow them to interact with your posts. Below are effective inspiration ideas to engage your followers more:
Instagram stories
Many successful brands use Instagram stories to tell more about their brands. You can also use these Insta features to create brand awareness and grow your account. These stories boost your performance without crowding your followers' feeds more effectively. Additionally, you redirect more traffic to your webpage by adding "swipe up" options on the stories.
Instagram Live
It's an Instagram feature for live videos. This feature allows you to get your content at the first position on your followers' story section. Using Instagram Live, you engage your followers for a long duration, as it may incorporate Q&A, product demos, and interviews. However, remember to avoid goof-ups by having a basic format and script.
Instagram TV
It's similar to Instagram stories, but you can use it for longer videos having cover photos. Experts reveal that you can use them for influencer takeovers and promotions. To shoot or create entertaining videos, you can consider various sophisticated movie-making apps like FilmoraGo and iMovie.
Giveaways and contests
Experts reveal that giveaways and contests are sure strategies to achieve more followers and grow your account. Using this strategy, you can instruct contest entrants to follow your page or tag their friends. Tagging their friends and following your pages increases the brand visibility and allows your followers to win more cool goodies in return.
Sneak peeks
You can also grow your Instagram account organically by involving your audience in the social media journey. The best way to achieve this strategy is by posting behind-the-scenes bloopers and videos. Furthermore, you can create buzz for the upcoming products and events by posting various teasers on them.
5. Consider Instagram reels
Instagram has reels that it shows to the different viewers in the feeds. Thus, when you create high-interest content, you increase the chances of the platform showing the content in your reels. You can increase the visibility of your Instagram reels by using hashtags and keywords appropriately in your captions. Adopting a proper strategy to add a few keywords boosts your reel's visibility to your followers.
You can also choose to create a static reel cover to get the best reels that would entice your followers to watch. You can borrow from a YouTube video thumbnail to make the reel more attractive. These reels have unique features like trending sounds to grab most individuals' attention. You can benchmark your competitors' reels to check the appropriate features that make their reels popular. After getting the necessary details, you can create your original audio or reel fitting your niche and brand.
6. Choose a proper posting time
Experts reveal that choosing the appropriate posting time is vital to attracting and reaching more authentic followers. Choosing the best time when your targeted audiences (who are active on social media) are online will be the best alternative to getting huge followers. Proper timing helps create more engagement with your post within a short time. The more engagement with your posts, the more successful your Instagram marketing ideas become.
Besides the more engagements, having your posts at the appropriate time will be vital in boosting your Instagram posts' reach. You can also increase the mileage and value of every piece of content with a proper posting schedule. With the numerous conflicting opinions on the right time to post your content, the best option is to check your Instagram analytics and see the time your targeted audience is most active.
Despite the benefits of following the industry-standard posting times, using your account's Instagram insights will be imperative to provide the best relevant metrics. You can get these metrics by scrolling to the audience tab and checking the time your current followers are active or online. Posting when your targeted audience is online or most active boosts your chances of a wider audience seeing your posts.
7. Hobnob with influencers
Hobnobbing with influencers is key to growing your Instagram account. Influencers are popular brands or individuals that hold huge sway over followers in a particular niche. These individuals have built a massive trust among their followers, influencing their purchasing decisions. By partnering with influencers within your niche, you can achieve more success, engagement, follower counts, sales, and conversion.
When an influencer recommends your brand to the followers, most of them become interested in your products or services. Besides trying your products, the followers will follow your Instagram account. However, you'll need a proper compensation plan for an influencer to market your brand. You can sweeten the compensation deal by offering the influencers a commission or free services/products for their efforts and leads.
8. Research your niche
We've got numerous niches on Instagram aligning with your brand. The best way to grow your Instagram account naturally is by researching the right niche and aligning your niche, such as fashion, health, etc. The different niches have varying needs and practices that increase the growth of your account. For instance, particular niches like traveling require more visual strategies.
After getting your preferred niche, you can create high-quality content aligning with your niche to achieve more engagement. It'll be vital to research and check strategies your competitors use to enhance a successful Instagram journey. You can use the insights to develop the appropriate strategies to keep your followers engaged and achieve more success on your Instagram account.
9. Create a great Instagram bio
Creating and optimizing your Instagram bio is vital to growing your account organically. A proper and selling bio should tell your audience and followers about your personality and what you do. The best way to create a great bio is by adding essential keywords or phrases to make your Instagram account more searchable and allowing a more targeted audience to find your page easily.
Experts recommend that you select an easy-to-find and simple username for your brand. You may incorporate your brand's name in the profile's name section. Besides creating awareness, adding the name makes your keywords searchable. Furthermore, it'd help if you summarized your brand in the Instagram bio. The summary should include what your brand entails and your targeted audience. However, it'll be good to make it short and precise, approximately 150 characters, with clear illustrations of your brand or company's goals for the followers.
Some brands or companies incorporate various CTA, like asking your followers to tap a specific link in your bio. You can consider tools like the Linktree to provide a custom landing page to include multiple links in the bio. Lastly, a good profile photo will be vital in making an effective and safe bet for your Instagram bio.
10. Upgrade your hashtag strategy
Using the best hashtag strategies is the best way to attract more followers to your account. However, with the ever-evolving and changing social media practices, it'll be vital to research and upgrade your hashtag strategy to suit Instagram's needs. You can try using hashtags with proper keywords aligning to your niche or industry.
Adding hashtags relating to your locality is another vital strategy to attract more audiences and users to your account. Lastly, experts recommend considering branded hashtags to win more followers and get huge conversions or leads.
Summing Up
Instagram is the best way to enhance brand awareness and generate more leads or conversions. However, to reap the benefits of a proper Instagram marketing strategy, it'll be vital to invest time and resources to grow your account and followers. Consider organic ways to grow your follower base and your account will be essential for a genuine following leading to a successful marketing strategy.
From optimizing content and posts, using hashtags, and creating a proper bio, to hobnobbing with influencers, the above is a comprehensive guide on how to grow your Instagram account organically. A huge organic following will be vital to increasing your following, engagement, brand, and conversion rate.
---