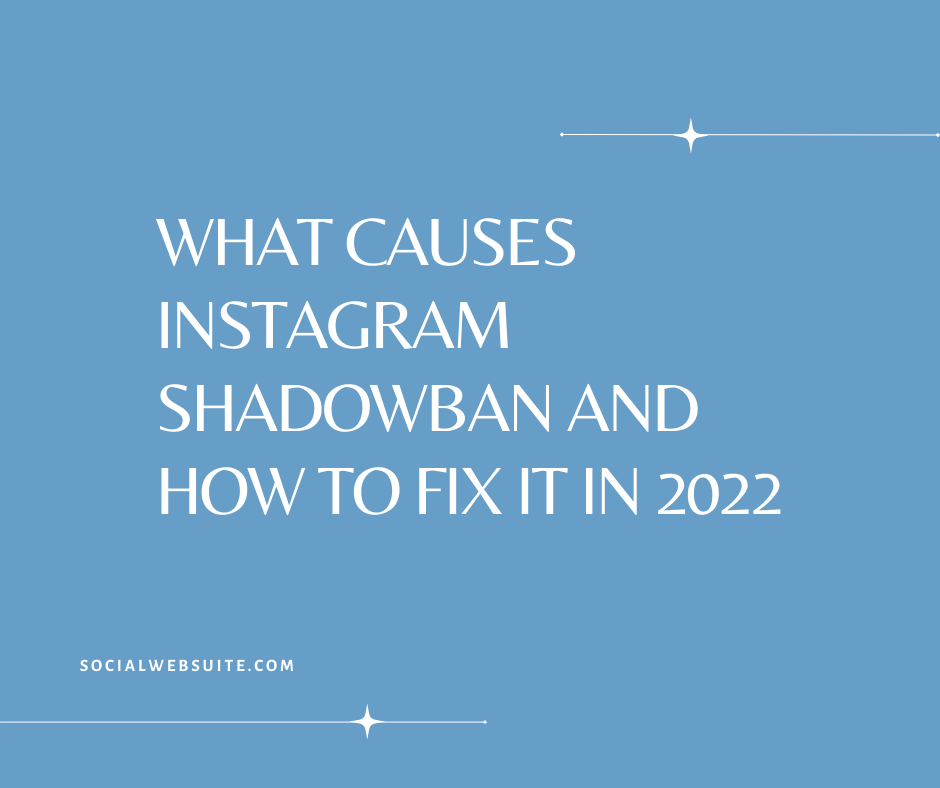 Social media marketing has gradually developed into one of the most effective advertising strategies. You can use various social media platforms to adversities, promote and grow your brand. Instagram has developed into one of the popular social media platforms to post and advertise your products or services to various audiences, especially the younger generation.
Instagram offers various guidelines and terms you need to comply with when posting or sharing your content. Failure to follow these guidelines may result in the limitation and restriction of your posts. Instagram denies involvement in the post and content limitations despite outcry from various account owners.
Experts refer to the restriction of your content and visibility on this platform as Instagram shadowban. Instagram shadowban is real and is one of the main nightmares for a marketer, as it leads to a loss of followers and a drop in engagement. Below is a comprehensive guide on Instagram shadowban, causes, and how to fix the problem.
What is shadowbanning?
Instagram shadowban refers to a process by which the platform restricts or hides an account's content due to breaching various guidelines. It is not an official Instagram term. If you violate any guidelines and terms, Instagram will restrict your content. Additionally, the platform will shadowban your post when the Instagram community deems your content inappropriate.
During the shadowban period, your content can't appear on any feeds, hashtags, or explore pages, unless they're your followers. Instagram has been using this strategy to eliminate or reduce the influence of account owners violating various terms and rules.
Despite the huge criticism from the public and account owners, Instagram has intensified the shadowbanning process to filter out these accounts. It's also a great strategy to allow only accounts with appropriate content to display and promote their content to users.
How to Detect a Shadowban on Your Instagram Account
Shadowban can adversely affect your marketing strategy by reducing the number of followers and engagement. Thus, it'll be vital always to check if Instagram has hit your account with a shadowban. So, how can you tell if you have a shadowban on your Instagram account? Below are key ways you can use to check if you have a shadowban on your account:
1. Hashtag search
A hashtag search is the most basic and effective way to check if your account has a shadowban. When conducting the hashtag search, start by posting on your account, and remember to use a hashtag in the post.
Notably, use a unique hashtag to make it easy to check your post in the search results. Then, ask your friends, at least five who don't follow your account, to search for the hashtag. If the hashtag doesn't appear in the results, then it's likely Instagram has imposed a shadowban on your account.
2. Use Instagram analytics
Instagram analytics also presents one of the most effective and reliable ways to detect a shadowban on your account. This mechanism allows you to analyze the profile visits, impressions, and additional metrics to see any issues.
These metrics will help you realize any sudden decline in your audience engagement rate. Despite the decrease in engagement rate not being a significant telltale sign, it provides a slight tip to signify a shadowban on your account.
3. Use Shadowban test tools
The Heist and Triberr are the most appropriate tools to analyze your post to detect any possibility of a shadowban. The tools can also reveal the specific hashtag from your account with the shadowban. The tools can help you identify shadowban in your account by highlighting or marking the shadowbanned hashtags in red.
What Causes Shadowbanning on Your Account and How Can You Fix It?
Shadowban comes with various adverse effects that affect your engagement rate and followers. But what are the causes of Instagram restricting or limiting your content? Below are the common content and algorithm issues that may result in a shadowban and the appropriate solution to fix these issues:
1. Reusing hashtag lists
Hashtags are essential to enhance your content and posts' reach. Nevertheless, searching for the right and suitable hashtags is usually labor-intensive and time-consuming. Many individuals prefer generally reusing their previous hashtags when posting to save time and resources. Reusing your hashtags may be effective for your business if you consistently create content on similar topics.
Instagram prohibits the use of repetitive content and hashtag groups or lists. Thus, reusing your hashtag lists when posting certain information may lead to a shadowban on your account. When implementing this strategy, Instagram considers the number of times you've used the same list of hashtags.
Solution
You can avoid reusing these hashtags by adding new keywords to the approved list every time you're reaching your Instagram hashtags. Experts advise that you mix the hashtags when scheduling new content to avoid repeating hashtags you've used recently.
2. Use of banned hashtags
The Instagram community reveals that there are numerous banned hashtags on the platform. Generally, an Instagram ban includes hashtags that use keywords with content against Instagram community guidelines and terms. The platform removes these hashtags from the search results to limit the audience's discoverability. Furthermore, Instagram will restrict all the content that may feature these particular keywords.
Solution
When Instagram bans certain hashtags, they can't allow you to use them. Posting or using these hashtags is a huge sign that you've got inappropriate content on your account. You can avoid using banned hashtags by researching them before publishing them on your account. When researching, only use a hashtag with a 'blue follow button" to your feed.
3. Repeating the same comments
Responding to comments and questions is an excellent way of enhancing audience engagement. These responses create a specific comment thread, essential in turning your followers into leads or customers. With the numerous comments or questions to reply to, you may choose to copy and paste comments for similar questions.
Copying and pasting the responses or comments usually result in a similar Instagram account response thread, leading to restriction of your account. It's also imperative to understand that Instagram guidelines and terms prohibit the use of repetitive comments.
Solution
The appropriate solution to this problem is creating or writing custom replies to your comments. Creating custom replies offers a great marketing strategy besides ensuring that you have relevant and unique repliers to the different comments. You can use the custom replies to engage more with your audience, increasing the leads and conversion rate.
4. Reposting content from other accounts
When partnering with top influencers or brands, you might want to share posts or content from their account. Previously, many individuals have been resharing user-generated content to increase their audience and build long-term relationships with various influencers.
Nevertheless, Instagram discourages reposting content or posts without permission from the original creator. Furthermore, in April 2022, the Instagram community provided guidelines that prioritize original content alone, meaning that the platform will deprioritize non-original or reposted content.
Solution
The appropriate solution to this problem is to create original content to publish on your account. Alternatively, use Instagram built-in collaboration tools when partnering with other accounts or influencers. These tools help the original content appear on your accounts to avoid reposting. These strategies will help prevent restriction of your content and post reach.
5. Publishing Inappropriate content
Instagram provides comprehensive guidelines on the content types it prohibits on the platform. Therefore, it's essential to check the appropriate content you can post and the one you can't post before researching and publishing your post. If you create and publish inappropriate posts, the platform will restrict its reach to your audience. The platform uses the Remove, Inform, Reduce strategy to limit this particular content distribution.
Solution
When Instagram considers your content inappropriate or unsafe for your audience, the platform restricts the post from appearing on hashtags or exploring pages. Ensure that you have appropriate content when creating your content.
Apart from preventing shadowban, having appropriate content increases audience reach and engagement. Researching inappropriate content is key to avoiding inappropriate content on your posts.
6. Neglecting Tag branded content
Over the past years, we've experienced a more significant evolution of the platform's sponsored content policies. Previously, it was usually a sufficient disclosure to add a sponsored hashtag to your post. Nonetheless, you need to be more transparent and use Instagram's branded tools to receive compensation for a post.
If you neglect using these tools, the platform may flag or report your posts, leading to content deprioritization. Deprioritization of your post and content affects and limits its distribution and impact on your partnership.
Solution
When using Instagram to market or build your account, it'll be essential to become transparent and use all the required platform's branded content tools. You can also seek advance approval of your account when partnering with other top brands to create paid content.
7. Purchasing followers and likes
Attracting more audience and growing your Instagram account is usually a daunting process. It'd help if you found appropriate ways of generating organic traffic and followers to enhance your account growth. The tiresome and time-consuming process may tempt you to use additional non-standard ways to increase your audience, engagement, or followers.
Instagram considers paying for followers and likes a great mistake, and it prohibits these tactics. The platform may restrict or limit your content reach when they realize inconsistent follow, likes, and engagements. The restrictions may prevent certain followers from getting your content or posts.
Solution
The appropriate way to prevent Instagram account limitation due to this issue is by avoiding paid likes, inorganic follows, and using engagement pods. Alternatively, focus on getting organic and genuine engagements and creating real relationships. You achieve this strategy by scrolling through your comments and feeds to check if they align with your brand's mission and goals.
8. Using unapproved third-party applications
Apps are essential to streamline your Instagram social media activities and workflow. Technology offers numerous apps that can help you ease and streamline your workflow. However, the platform provides various guidelines for choosing the appropriate applications.
Using an inappropriate application may result in a shadowban on your account. The inappropriate apps include those using your Instagram account to follow and unfollow different accounts or perform bot-like activities.
Solution
Before any third-party application streamlines your engagement, it'll be wise to check the credentials and functioning of the application. Instagram only approves apps from Official Instagram Partners to have activities on your account. For instance, you can use applications like Social Web Suite to schedule your posts.
9. Having Bot-Like activities
Various account owners and marketers use bots for account or website activities due to the numerous technological advancements. Instagram guidelines and terms are against the use of bots. Therefore, when the platform suspects bot-like activities on your account, they may restrict your content and post reach.
Bot-like activities may include performing numerous actions rapidly on the account. Apart from restricting your content and post reach, Instagram may prevent any activity on your account for hours or days.
Solution
You can avoid bot-like activities on your account by using Instagram at a human and normal pace. Furthermore, you can create enough time during the day to go through the pages, read the captions, or watch the reels before you like or follow them. You can also leave an original comment without copy-pasting from a previous comment. Lastly, schedule your post and content to prevent the platform from flagging or restricting your content.
Final Thoughts
An Instagram shadowban can cause significant harm to your account or profile engagement and visibility. The restriction and limitation of your post reach when having an Instagram account shadowban may slow down or kill your potential growth.
Therefore, it'll be wise to understand the effective strategies you can use to prevent Instagram from imposing a shadowban on your account. Experts reveal that posting authentic and helpful content is the appropriate and effective way to avoid shadowbanning.
Furthermore, abiding by the best practices while developing your account's profile is also essential to preventing shadowbanning. Remember that taking appropriate precautions will be a better way to avoid this setback rather than deal with the consequences of an Instagram shadowban.
---