20 Tips for Social Media Posts to be Seen by More People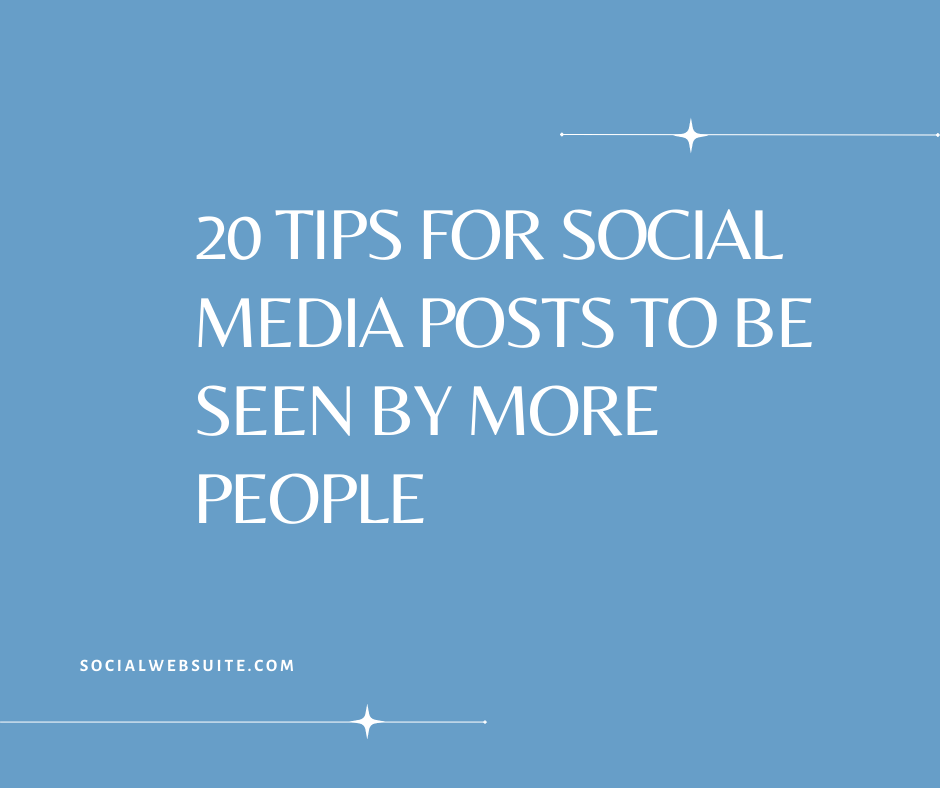 It is very frustrating having your posts on social networks be seen by the same 20-30 people all the time. How can you change that?
Read our article below to find the best strategies for social media posts to be seen by more people.
TIP #1 Reels and hashtags for Instagram work great as it shows the content to a new audience (beyond just your followers)
TIP #2 Trending audio might work great for some pages on Instagram, but keep an eye on the copyright issues
TIP #3  Increasing your followers will do the trick. One of the best growth-building techniques is super simple. Go to who's liking your posts but isn't following you (yet). Like two of their posts and comment on a third (just make sure it's not potentially creepy)
TIP #4 Cross promotions and collaborations are great for this (just choose your partners wisely)
TIP #5 Provide more value
TIP #6 Run ads
TIP #7 Check the copy and language of your target audience. Having specific words whether it be in a reel, ad, Tik Tok, YouTube cover or IG post catches their eyes.
TIP #8 Use short-form videos and make them entertaining
TIP #9 Post daily and engage with hashtags
TIP #10 Provide an incentive for sharing or amplifying your content
TIP #11 Promote your content on one channel to other channels
TIP #12 Quality content consistently
TIP #13 Experiment with paid promotion
TIP #14 Use hashtags strategically
TIP #15 Tag relevant partners, community groups, chambers of commerce, etc. in the comments for increased organic reach and engagement
TIP #16 Post memes
TIP #17 Post emotional content that stirs debate and conversation related to your industry
TIP #18 Start investing more time interacting with other people's accounts regularly
TIP #19 Create fun, interesting, helpful, and sharable content
TIP #20 Post videos
We hope you like our tips and you find them useful. Do you have any strategies that you would like to share with us?