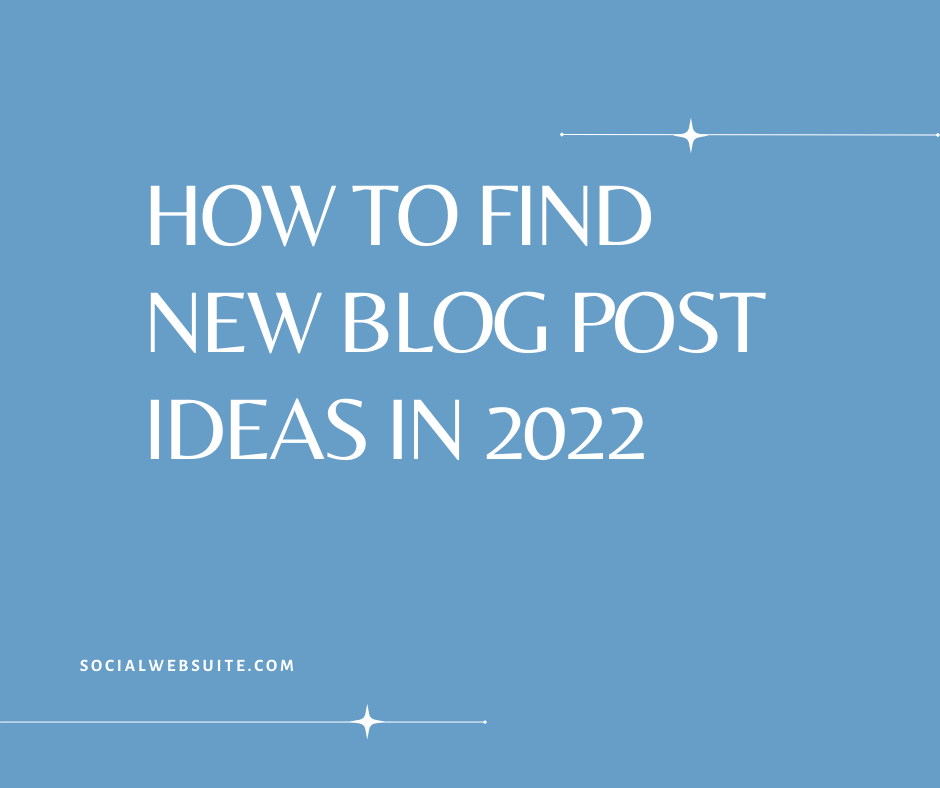 Have you run out of fresh ideas for your next blog post? It happens to the best of us, too. All bloggers struggle with creative blocks, whether for a few minutes or several days. It becomes a serious issue when one is not meeting deadlines and feels unable to finish a project. Most bloggers get stuck because they value their blogs too highly.
Perhaps you believe that coming up with your next blog post idea requires a little more nuance and effort than simply drawing inspiration from a list of previously published ideas. In the quest to make everything distinctive and special, you obsess over everything, and damn! – no more creative juices.
Creative blocks can be difficult to break, and overcoming them varies from person to person. But ultimately, it is about overcoming self-doubt and recognizing that persistence pays off. Tormenting yourself about writing guidelines, what others are doing, or the fact that your most recent article went ignored won't get you anywhere. Instead, you could draw inspiration from what's happening around you or give familiar ideas a fun twist. Below are some already familiar ideas, plus tips to get your writer's mojo flowing again and come up with fresh ones.
HOW TO DEVELOP BLOG POST IDEAS
It's not difficult to come up with your own blog post ideas. Here are a few strategies for brainstorming fresh blog post ideas.
HAVE A GOAL AND TARGET AUDIENCE IN MIND
Whether it's to practice your writing, generate engagement for your business or simply educate the masses and earn money via Google AdSense while doing it, every blogger needs goals. Once you have a goal and target audience in mind, figuring out what to write will be an easy peasy lemon squeezy.
FOLLOW YOUR PASSIONS
Passion is everything in life. Plato philosophized with it, Mozart composed with it, MJ danced with it, and you need it too. Without it, you'll be bored soon and throw in the towel. Without expertise, passion is the thing that keeps you going because it generates interest in the mind. So don't blog about things you aren't interested in, or at least try to develop a passion for the things you write about.
EXAMINE THE COMPETITORS
Looking at your competitors and seeing if you can do anything better than them is an excellent way to get inspired for your next blog post. You don't have to be completely innovative, but you should distinguish yourself somehow. Otherwise, you drown in the online noise of brand websites and celebrity and influencer bloggers.
Take a peek at your competition, from their blog style, theme, ideas, and how they are presented. Art is all about exploration: a revelation and surprise-filled voyage. You'll be surprised just what you can come up with by simply combining the half-baked ideas already online and giving them a fresh twist.
Meanwhile, guest blogging is also a thing; don't be afraid or stubborn about the idea of inviting others to post on your blog. Your readers might love the idea of reading from other writers.
CHANGE YOUR HABITS IF YOU FEEL BURNED OUT
One of the best aspects of the blogger lifestyle is that you can write from anywhere. You are not restricted to a desk. Take advantage of this. If you're having difficulties coming up with fresh blog posts, simply go somewhere you enjoy and start writing with a fresh mind.
VISUALIZE
Are you stuck on a chapter or section? You can try and make the process visual using diagrams, flowcharts, etc. Visualizing can help find a way around or through problems.
REMEMBER YOUR PURPOSE
Like launching a business, blogging entails recognizing a need or problem and providing solutions. Make a strategy for assisting others and sharing amazing, viable ideas and solutions. Even if you don't become wealthy or famous, helping others brings joy.
TACKLE CONTROVERSIAL TOPICS
Many realities are tough to accept, which is why blogs were created, well, according to some. A great blogger isn't afraid of tackling delicate subjects in sensible ways. As long as your assertions are evidence-backed, you will come out with a fan or two.
MAKE BLOGGING A REGULAR HABIT
You really don't have to blog every day, but you also don't want to lose momentum. So, while you're not writing, you may spend your time brainstorming ideas, reading what others are blogging about, and researching hot topics to see what you can contribute to them. You can also review your previous posts and imagine other ways you could have communicated the ideas.
Even if you're not writing, you should be all about the blogger lifestyle; but in a fun way, of course, don't overthink things. Practice makes perfect, as they say. When you start living like a blogger, you'll notice ideas start flowing even when you don't expect them.
EXAMPLES OF BLOG POST IDEAS
SHARE YOUR SCHEDULE
Giving folks a glimpse inside your typical day is a simple blog post concept. While your everyday routine may not pique your interest, your followers may be curious to know what your typical day is like. So, to connect with your audience and make them more committed to your overall mission, open up and reveal your personal story and schedule.
WHAT ARE THE CONTENTS OF YOUR BAG?
Show folks which items you use every day. Such ideas have become popular recently. It turns out folks enjoy learning about the objects and equipment their favorite people can't do without. Simply set down everything you bring with you wherever you travel or work and tell the readers why the items are important. You can even lean into the product comparison side of the article and tell your audience which is the best product. If there's a personal story behind them, feel free to open up. You never know. Your stories and audience might just earn you a job as a brand sponsor.
CAREER ADVICE
Did you know that storytelling is a powerful way to connect? Recently scientists discovered that great stories stimulate the release of oxytocin, a neurochemical that helps in bonding. So, one well-crafted blog story could be about how you started your business, blog, or reached the position you are in at work. You could also blog about some of the best career advice you've ever received and let others draw inspiration from it to keep going.
SHARE GOALS
The majority of people recognize the importance of setting goals, yet only a small fraction of us really does so. Blogging about your business or personal new year goals and a template detailing how you intend to tackle each goal is one method to interact with your audience. You can update your readers on your progress whenever you reach a milestone or are stuck.
That thing that you struggle with be it launching a new product, breaking in a new employee, motherhood, IVF, pregnancy, etc., can be turned into a blog post. You'll be surprised how many readers will leave inspirational messages in the comments section.
REVIEW AND REPORT ON YOUR NEW YEAR'S PLANS
Annual progress reviews are just as equally important as coming up with new year resolutions. A regular personal audit and writing about your accomplishments can help you stay on track and even inspire your audience. Plus, some of your audience may even be in a position to help you achieve some of your lofty goals.
TELL PEOPLE HOW TO MAKE IT IN YOUR INDUSTRY
One of the most challenging aspects of thriving in any profession is figuring out where and how to begin. That little experience you've acquired can be transformed into one-of-a-kind step-by-step blog post guides for people who want to get into your field. And if what you are sharing is not enough, invite an industry leader for a one-on-one and have your audience ready with questions.
SHARE A FEW TEAM-BUILDING ACTIVITIES
Give your audience a look at some of the things you do to bond with your business team. It's tougher than it appears to develop a list of interesting activities for professionals to undertake in a work atmosphere. If you've already succeeded in this area, why not let others know and find inspiration? You can include videos and images to make it more fun.
BLOG ABOUT TECHNOLOGY AND TRENDS SHAPING YOUR INDUSTRY
An excellent topic for a blog post could be which technological advancements will influence your sector over the coming years. This will enable readers who want to enter the same field to familiarize themselves with the technologies sooner.
A keen observation comes in handy here. Consider the current industry trends and technological breakthroughs. It could be Virtual Reality, Blockchain, Augmented Reality, or AI. Be the herald and let your readers know what your predictions are.
BACKSTORY
Reveal unexpected and intriguing origin stories from your industry's influencers. Such stories can inspire and motivate those who feel like giving up or haven't started yet. Most people buy into the myth of overnight success, and they will be surprised to learn just how much disappointment, failure, and sadness their favorite influencers or industry leaders endured to get where they are.
A BEHIND-THE-SCENES LOOK AT YOUR OFFICE/WORKPLACE
Wonder why Elvis' Graceland or Jane Austen's House Museum are a thing? Because people love seeing the workspaces of inspirational people. It doesn't mean you have to be on that level of popularity. Even small manufacturing businesses can simply give people a behind-the-scenes look at how various products are made, the latest creative project, the team, and a few words from the person in charge of operations.
SHARE CUSTOMER TESTIMONIALS
You might have high-dollar adjectives to describe your product, but they will never be as effective as actual consumer expressions. It's the reason why brands use influencers. Customers just want to hear from people they associate with, meaning your high-dollar vocabulary and corporate speak won't win anyone over.
Positive feedback and word-of-mouth recommendations are priceless and can help promote your business in a low-key kind of way. So don't be afraid to share the reviews and testimonials from past satisfied clients. It can be videos or text content.
SHARE ABOUT INDUSTRY EVENTS
Have you recently attended any noteworthy industry fairs? Let your readers know. Many industries hold various trade fairs and events every month. Some are so exclusive that folks are curious to know just what kinds of "Illuminati" stuff goes on during the gatherings. You can exploit your position and their curiosity to blog about the events and generate engagement. Just present a brief overview with a few meaningful takeaways.
BLOG ABOUT THE CAUSES YOU CARE ABOUT AND WHY
The young generation is all about environmental consciousness and other just causes. Blogging about some of these causes could be a good way to win their approval. Just make sure you are authentic because the truth always comes out, and you might just get canceled because of a past tweet.
REVIEW A BOOK(S)
Read something recently that you feel could be helpful to others in your situation or industry? Then share the info in a book review post. Sharing info about the books you've read isn't hard; simply introduce the book, the author, what it's about, and the ideas you found helpful, then provide links to where they can find the book. Remember to be honest in your reviews because you want the information to be helpful to your audience.
MAKE A PARODY OF INDUSTRY STEREOTYPES
Your next blog post could be a satire about your industry. Launch an ongoing parody or cartoon series about your everyday work-life, business cliches, and the worst advice you've ever got. Sometimes packing serious topics with some humor is a great way to get people to bite.
WRAP-UP
Blogging can be fun or hard, depending on how you approach it. While every blogger gets hit by the creative block, the best ones understand that it's all about avoiding destructive self-criticism and opening one's mind to ideas all around and online. Plus, if you can't come up with something fresh, you can always repackage and present old ideas in a fun, creative way. Have any fresh blog ideas to share? Let us know in the comments section.
---