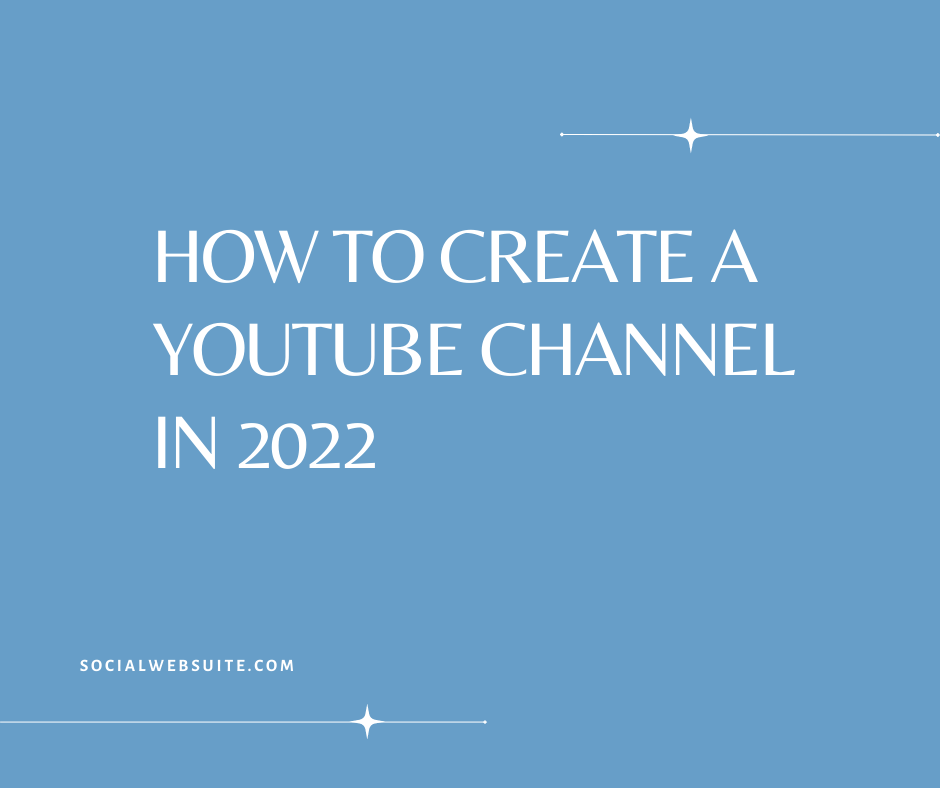 Video content is undoubtedly one of the most sought-after content. With the increase in individuals using video content, creating videos has dramatically developed in recent years. Videos offer the most appropriate and easiest ways to learn about various things.
YouTube has become a key component in creating and promoting different video content. Reports reveal that over one billion users spend most of their time watching YouTube videos. Therefore, creating a functional and effective YouTube channel is essential to a successful video content strategy. You can use the channel as an entertainment tool or promote your brand.
Nonetheless, with the numerous things and steps to consider, creating a YouTube channel is usually daunting to most individuals. This article provides a step-by-step process for creating a YouTube Channel in 2022.
Step by Step Process of Creating a YouTube Channel
When creating your YouTube channel, you can choose to have a personal account or use a company's name. Ensure you select an account that suits your needs and goals. This guide outlines the process of creating a professional YouTube channel for your organization or business needs.
Step 1. Create a YouTube account
The first step when creating your YouTube channel is to create your account at youtube.com. After creating the account, you have to log in to your functioning Google account. Before creating your YouTube account, it'll be essential to have a functioning email address. You have to link your account directly to the email address. Remember, different email addresses are for business and personal YouTube accounts.
Experts advise that you consider your YouTube page purpose before creating the account. To create an appropriate account, it'll be essential to consider the type of video you want to post on the channels, the subscribers, and your video presentation. YouTube allows you to use your email address to create your account or use a generic or work email address for your company's account.
When creating the account, log in to the YouTube website, and you'll find your account live. After which, you can open your channel's dashboard by clicking on the button, "customize channel". After completing these steps, you can now focus on building or developing your channel.
The website will provide features to help you design and structure the channel to suit your preferences. You can use the available features to create the best place to upload your videos, add YouTube tags, and adjust the channel banner. Furthermore, you can review the YouTube analytics to suit your video creation and uploading needs.
Step 2. Update the channel description and name
After creating your account with the proper email address, you can now customize it fully. The first step of customizing the channel is changing the name to the one suiting your preferences. Ensure that you choose a channel name that aligns with the theme of your content and reflects on your page content.
Changing the channel's name and description will be effective in helping users get your channel by searching your brand's or organization's name. You change the channel's name, URL, and description at the top menu's primary info option. Experts recommend that the name and description you choose align with your content and theme.
Besides making the channel truly yours through customization, changing the description, URL, and title is also an appropriate way to boost your YouTube SEO to improve its ranking. It'll be imperative to research and use popular and relevant keywords that your target audience searches to ensure the channel's earlier appearance when users search for related brands.
Step 3. Upload the appropriate profile logo and photo
The next essential step after customizing your channel is branding. It'll be wise to focus on the appropriate branding technique to make your personal or company YouTube channel accurate. Having proper branding will be effective in helping your channel achieve your set goals and attract more traffic, leads and conversion.
Experts advise that you consider the three vital branding images to enhance the success of your channel. These branding images include the banner image, video watermark, and pictures. Remember that branding is an essential step when developing your channel, as you'll want it to be part of your brand's extension. Thus, you must ensure that the branding has images with properties that have unifying messages.
Experts reveal that you need high-quality images for your watermark, banner, or picture to make your channel more inviting and have a professional look. Many YouTube users can easily get attracted by your unique banner or profile picture. You can easily upload these images or pictures by clicking the "customization".  Adding a high-quality, clear, and at most 4 MB photo will make the best asset to your channel.
How to design and create your YouTube channel logo
It'll be wise to choose a logo aligning with the theme of your channel. Remember, this logo will appear in various places, like on every host's page and every comment you make. Experts advise that you consider reliable software like illustrator or Adobe Photoshop for designing the logo.
How to design an appropriate YouTube channel art
The banner image is another essential brand image property for your channel. When designing the banner, it'll be essential to consider the future expansion and the profile picture design of your brand. Choosing a custom graphic or photo with an illustration will make the best banner image. Experts recommend that the graphic be less than 2048 x 1152 pixels and 6MB.
How to create a proper channel icon
The channel icon on the logo symbolizes your brand's theme. When creating the icon, it'll be wise to consider the type of icon that aligns with the channel's watermark. Remember that the watermark will always appear on the top corner of your videos. It'll be imperative to choose the appropriate watermark to help create consistency across video content and get them on your account.
Step 4. Uploading your videos
After creating and optimizing your account, it'll be time to upload your first video. Uploading your first video is usually the main event after creating your YouTube channel. Experts advise that you consider creating high-quality videos, as they'll be the main attraction for your audience. Ensure that you create a high-quality and engaging video before uploading it.
Uploading videos on your YouTube account is usually a straightforward process. Before uploading the videos, save the video file on your computer, and ensure you save it in an easily accessible location. For instance, you can save the file in your documents, desktop, or even download folders.
After saving the video on your computer, get back to the channel and click "create" on the screen's top right side. The easiest way to upload your video is by clicking select files to ensure you locate the file on the computer. After clicking on the upload, the site will automatically take a few minutes to upload the video or content.
Step 5. Optimizing your videos
It's usually useless to upload a video when no user is interested in searching or watching it. Optimizing your videos to ensure they stand up among your competitors will be vital with the numerous videos on the YouTube platform. When optimizing your video content, it'll be vital to ensure that you properly tag them.
Tagging the videos will be essential to popping up earlier when users or any audience types a relevant or relating keyword. It'll be good to invest more time and resources to ensure your video ranks high on the platform. You can optimize the content to rank on the top pages of YouTube by using the right keywords, descriptions, tagging, and tone that suits your target audience.
However, before optimizing the content, ensure that you have high-quality shooting, production, and editing. After uploading the video, you can start the optimization by filling in the video's title, description, and the appropriate thumbnail. While optimizing, you can consider additional video elements like an end screen and subtitles, and you may also include unique card features.
How to add video elements to your channel
When optimizing your content, video elements and keywords are vital to enhancing its success; the description and title are the most valuable things to consider. You can use various software programs like the TubeBuddy and VidiQ to help you determine the appropriate keyword for the video. Furthermore, you can consider using Ahrefs to get the right keywords and tags to target your audience and inspire your next video.
Step 6. Set your desired channel layout
After uploading and getting videos on your channel, it'll be appropriate to customize how the channel looks and feels. Besides the appropriate looks, it also helps the channel have auto-scaling, state-of-the-art security, and incredible speed features. These features enable you to control the movement of your audience in your channel and the videos.
When designing your channel layout, pay more attention to hooking your viewers for a longer duration on the channel. You can make the channel work for your company or brand by personalizing the page layout. Based on the types of visitors and targeted audience, you can choose the appropriate page layout.
YouTube offers an effortless process of setting up your channel or page layout. You have to navigate to the top navigation bar and choose the layout tab. After clicking the tab, you'll see fraction sections and video spotlight options. You can adjust the options appropriately to suit your audience or subscriber needs. Furthermore, you can use sophisticated YouTube features to show the channel trailer for users not subscribing and have a featured video for your returning subscribers.
Video spotlight option on your channel
It's an essential option that enables your new visitors to get a top-notch overview video on your channel, which tries to convince them to check the videos and subscribe. You can pick any video to use as your featured video to entice your audience or visitors to subscribe. Apart from the featured video, you can also incorporate featured sections for the channel on your homepage.
Featured sections on your channel
The featured section on your YouTube channel allows you to group numerous videos. These sections increase your viewers, audience, and the time the audience or users spend on the channel. You use the features to group related videos to increase the chances of your subscribers watching your content for a longer time or spending a longer duration on your channel. Furthermore, the viewers will find it easy to check and get the videos related to their search words.
Step 7. Create an effective playlist
A playlist is an essential component of your YouTube channel to help compile related or similar videos. It also enhances the audience's continuous watching or viewing of your video content. When grouping the video on your YouTube channel's homepage, you can use the video features and topic.
Furthermore, creating a good playlist will effectively engage your customers and fans deeply, which plays a crucial role in increasing the browsing or viewing time. Remember, by spending more time on your channel or page, the customers and viewers better understand your brand and content.
When creating a playlist, you can start by clicking the playlist button on the homepage's left-hand menu. Then proceed to the top-right corner and choose the new playlist button. After which, select the build playlist option to create a new playlist and set the appropriate playlist's visibility level.
After creating the playlist, you can now start adding your preferred videos to it. After creation, you select the playlist by clicking the content option and add your preferred videos directly to the playlist. You can increase your channel's visibility by building an engaging playlist with a wide range of exciting content. Importantly, you can consider popular videos that suit your viewers' preferences when creating the playlist. These videos include the latest releases, tutorials, project updates, recipes, how to use a certain thing, etc.
Wrapping Up
YouTube is a popular search engine that many users use to get video content on updates, education, entertainment, and projects. You can also design or create a YouTube channel to enhance the growth and success of your brand and company. The above are essential steps for creating a quality YouTube channel, uploading, and optimizing your video content. A high-quality channel with optimized videos will be crucial to attracting more traffic, leads and conversions to your brand.
---