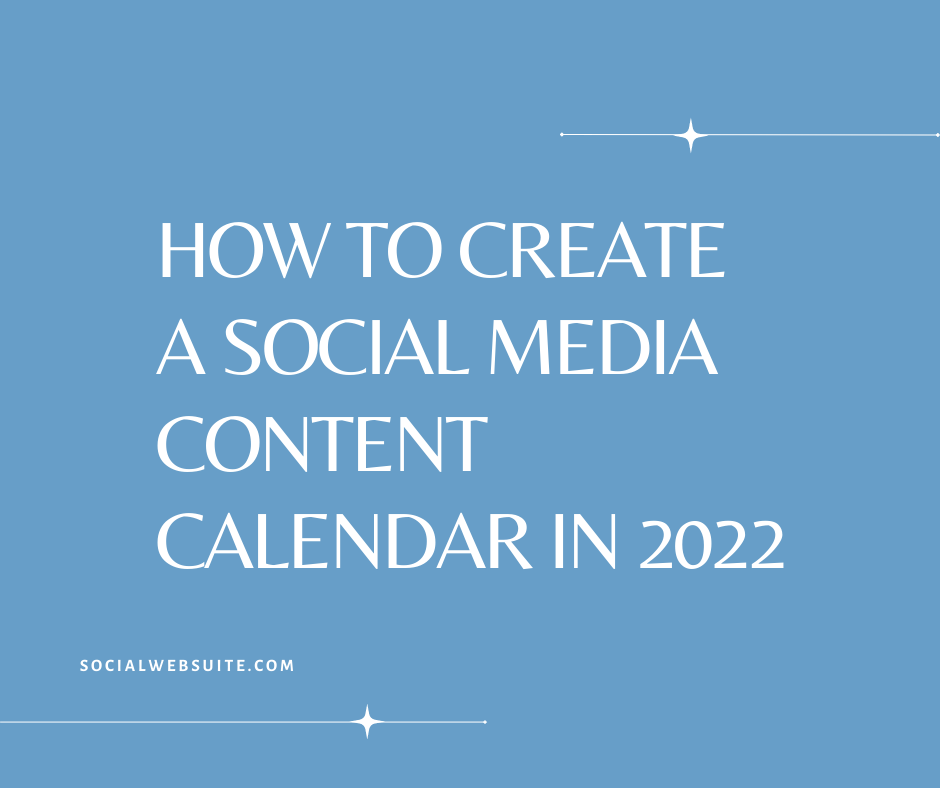 The growing social media and online needs have increased the demand for constant and regular content. With the constant need for new news, ideas, and content, you might find it challenging to keep up with the day-to-day management of multiple social media accounts.
Nonetheless, planning and sticking to a well-thought and designed social media calendar will be a great solution to creating new and engaging content regularly. It's an essential digital tool that coordinates content creation and divides your upcoming workload among your employees to ensure you make the most of the scarce resources.
Read through this blog post to understand more about the content calendars and the process of making an effective social media content calendar.
What is an Effective Social Media Calendar?
It's very effective having a calendar or schedule of your entire social media posts. A social media content calendar plays a key role in planning your upcoming posts or tracking your posted content progress. Furthermore, you can use it to coordinate your efforts with the company's cross-functional teams.
This content creation tool is helpful when managing various multiple or different social media accounts. For instance, you can use it to manage social media accounts like Facebook, Instagram, Twitter, LinkedIn, etc.
You can also use the content calendar to post unique & attractive content and manage different versions of your posts. It can also be an essential tool to help you decide on the right and most engaging post on the different accounts.
Benefits of Using Social Media Content Calendars
Creating and managing an effective social media content calendar usually provides a great chance to unlock your social media team's potential. You can use this tool to enhance proper strategies and metrics in your social media planning to enhance the success of your accounts. Below are the top benefits of using the social media content calendars:
1. It helps maintain a consistent and regular posting schedule
You may find it challenging to have a regular posting schedule when publishing content on your accounts without a centralized and effective social media calendar. A centralized social media content calendar will ensure all your social media accounts receive the appropriate attention and love for the future and past posts. The schedule will help combat any upcoming coverage gaps for these posts.
2. Provides a proper timing for each post
It'd help if you had a lot of effort and thoughts when generating each post. However, you may lose most content in the newsfeed when having a poor plan for sharing and amplifying these posts. The loss of the content in the news feed prevents the audience from viewing your post. Creating a clear social calendar will help organize your posts and help you plan the time to post them, enhancing your audience's attention.
3. Centralizes content planning
When generating your social media content, you're likely to include different images, share new videos, including a customer quote, or link to a certain post. You find it hard to understand the best place and way to include these features. Nevertheless, having a social media calendar helps you decide your needs and get the materials to your team. Furthermore, it helps the team organize and attach the features to the right post.
4. Prevent mistakes
Before posting your content, it'll be vital to ensure that the content or post is error-free and copyedited. Creating a social content calendar plays a key role in reducing or preventing these mistakes. You can use the calendar to view your upcoming posts to check and correct any mistakes before posting. The mistakes may include spelling and using links or images inappropriately.
5. Enhances cross-functional visibility
Most social media team members don't have a clue about what or when you're posting your content due to a lack of a centralized source. However, choosing a proper social media content calendar will make it easy for the members to like, share and even boost the posts. It's an essential strategy to help you track your social media posts and provide an essential source of truth to your interested team members.
How to Create an Effective Social Media Content Calendar
The numerous benefits of the social media content calendar make it an essential tool for your social media success. Thus, it'll be necessary to follow the appropriate procedure to create one for your social media needs. Below are the key steps for creating social media content calendars:
1. Understand your brand
Different social media content calendars vary depending on your business needs. For example, you'll have a smaller content calendar for your small business, while a huge brand with a huge team and custom content will require a detailed calendar. Thus, it'll be wise to understand your business to get real details on available resources and time.
Having this information is key in delivering your different marketing ideas. The essential details you need to understand during this step are your social media team & their roles, appropriate content format, linking strategies, visuals, and geo-targeting. Furthermore, it'll be wise to understand the time and zone to generate an effective posting schedule and strategy.
2. Understand your target audience and content needs
The main goal of a social media calendar is to create relatable and impactful content for your readers or audience. Therefore, before starting your social media calendar creation, it'll be vital to understand your audience and research their content needs or interests. Understanding their needs is a key step to understanding their content preferences and helps you choose content aligning with their interests.
Experts recommend that you use analytics tools like Semrush and Google Analytics to get an insight into your target audience's demographics. You can also track your competitors' ideas and content as a proper strategy for resourcing the content insights. Consider your competitor's content successes and drawbacks to improve the current content you're creating for your audience.
Furthermore, you can understand your targeted audience more using leveraging tools to enhance social media listening. The leveraging tools help identify audience conversations and provide insights into the audience's needs, interests, or needs relating to your brand. These details are essential when creating an effective content calendar to drive your reach and generate more engagement.
3. Have a proper social media accounts and content audit
When creating an effective content calendar, auditing your accounts and content will be essential. The auditing helps you get the appropriate ways to restructure or enhance your content strategy. Experts recommend using a reliable social media audit tool instead of manual means to enhance efficiency and accuracy.
During the auditing process, it'll be necessary to check for the most successful tactics and content, the number of posts to publish weekly, and the current posting time versus the impact or engagement. Furthermore, you'll need to check the biggest active audiences, areas, or gaps requiring improvement. These details will be vital to getting the appropriate way to incorporate changes or tweaking your social media calendar.
4. Engage your team when creating your calendar
Involving your social media team in the calendar creation process will be significant in inspiring the team to work together to achieve your goals. You can allow them to share ideas on how to generate an effective social media calendar.
Ensure that you've got a proper strategy to include the feedback from the team, like graphic designers, copywriters, etc. For instance, you can provide appropriate revenues to receive continuous feedback from different stakeholders. This feedback will be vital in identifying specific parts requiring an extra flare to hence your brand's success.
Furthermore, it'll be wise to allow the team access to customer feedback to enhance faster adjustment to the calendars. Including your team members when developing the calendar and the execution process, your team members enhance proper support and growth of your social media accounts.
5. Get the appropriate content mix ratios
Selecting the right content type and getting a smart content mix ratio is key in determining the frequency of posting different content. Getting the right content mix is vital in creating a functional social media content calendar. The social media content mix ratio is an essential strategy that enhances your ability to balance promotional posts and other valuable content.
It's an essential strategy that keeps you from posting numerous promotional content that may scare away your potential audience. Ensure that you get it right with the posting to entertain more audiences and generate more leads. You can use the 4-1-1 approach, which states that when publishing six posts on your social media account, four should be educational or entertaining, one hard sell and the other soft sell.
Alternatively, to increase your leads and online success, a third of your posts must focus on conversions and brand, the other third on new ideas, and the rest on your personal interactions with the customers. Lastly, you can use the 80-20 rule, where 80% of your content should be educational, entertaining, and informative, while only 20% be promotional. You can use these strategies to create an effective social media content calendar and get the most from your accounts.
6. Choose reliable tools
It'd be good to have the right social media tools to create a functional social media content calendar. Choose the right tool based on the number of details you want on the calendar and other management features. Ensure that the tool you pick allows you to share your social media ideas with your team to enhance proper and quick content decisions. To develop an effective calendar, you can use Social Web Suite.
7. Generate a consistent and regular posting schedule
Having a consistent and regular posting schedule is essential for maintaining a proper social media presence. The schedule will also be essential in driving your growth and engagement for the different social media accounts. Ensure that your consistent posting schedule reflects on your social media calendar.
Posting regularly is key to ensuring that your audience is up-to-date with your brand information. Additionally, it'll be wise to strike a balance of the posting schedule to prevent overwhelming your audience with numerous posts. Proper posting consistency is vital in building your brand, getting customer engagement and feedback, and better conversion rates.
8. Develop short-term goals for the different content
Experts advise that you gear your social media strategies and engagements to long-term goals. These goals are essential to enhancing more conversions, leads, and online success. Besides having a common goal on the schedule for your success, it'll be wise to create specific goals for each published post.
It's an essential strategy that helps you understand the strategy that'll work effectively or the changes you can make to enhance your overall social media marketing strategy. It'll be vital to generate small and smart short-term goals with realistic end goals and timelines. These goals can include tracking your account's engagement, reach, and the number of clicks.
Creating and implementing these goals will effectively create whether the content calendar achieves the set goals. Additionally, you can use these strategies to check for any changes or modifications on your calendar. The modification will propel your brand or social media accounts to success.
9. Restrategize and try our new ideas
When marketing on different social media platforms, it'll be vital to try new and engaging ideas for your targeted audience. Besides engaging your audience, restrategizing and trying out new ideas enhances your calendar's uniqueness and improves the performance of your content.
Remember that the content calendar doesn't function in a set-and-forget mode. After creating the calendar, it'll be vital to keep revising it to add the appropriate and high-quality content. You can also check the calendar regularly to optimize your posting frequency or schedule.
Testing new ideas will be essential to enhance the success of your platforms and get the attention of your audience. For instance, the system may create an inspiration to help your flopped post to get life once more and generate more leads. Choosing a proper schedule is key to enhancing the success of your account and boosting your online presence. You can incorporate data analytic tools to get the appropriate strategies that work for your audience.
Final Thoughts
A content calendar is vital when implementing your social media marketing strategies. It helps achieve constant and regular publishing of content on your social media accounts to generate more leads & conversions and enhance your account's growth. When creating your social media content calendar, you've to start by understanding your brand and audience, identify the gaps, and involve your team in developing the calendar.
Additionally, use data analytical tools to ensure timely and consistent publishing of your content. An effective content calendar will enhance your social media success and online presence by engaging more audiences and generating more leads and conversions. The calendar helps create high-quality content and enhances the proper sharing of high-quality posts on important and relevant dates.
---