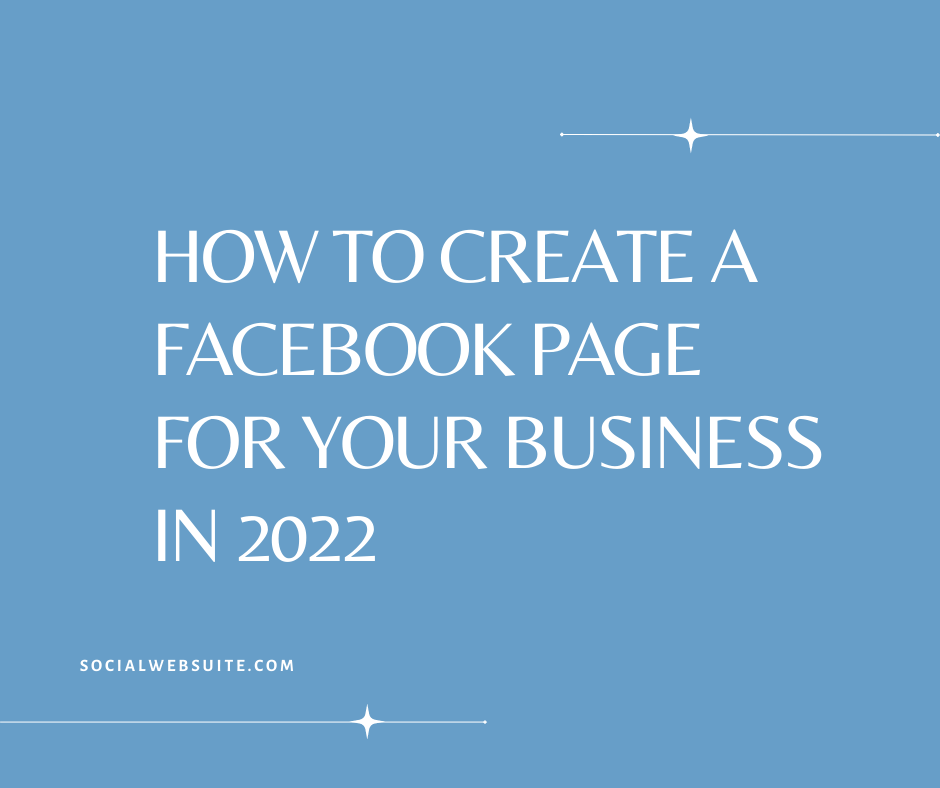 A smart social media marketing strategy includes creating a Facebook page for your brand. Facebook is the biggest social sharing platform, and it has a significant impact on consumer behavior. Failure to take advantage of the platform's marketing opportunities is playing a losing game. 30% of consumers admit they rely on social media such as Facebook to interact with brands at least monthly.
By creating a Facebook page, you will gain access to some of the 1.82 billion users that log onto it daily. That is a large and diverse audience with whom you can share your message and generate interest and leads.
WHAT IS A FACEBOOK BUSINESS PAGE?
Facebook Business Pages simply refers to Facebook accounts visible to the public and enable brands to interact with the Facebook community. Many organizations, businesses, and celebrities now simply set up Facebook Pages rather than individual websites to engage with clients and fans.
You will be able to connect with a wide audience, post content, promote events, share updates and even launch new products on your business Facebook page. Anyone who sees your content will also be free to share it, leave reviews, message you with questions, inquiries, etc.
Another advantage of setting up a Facebook page for your brand is access to the platform's robust advertising tools, including Facebook shops which are fantastic avenues for growing your business.
Here's how to create, customize, and use a Facebook page to promote your business.
BEGIN WITH THE BASICS
To set up and manage a business Facebook page, you need a personal Facebook account. So, sign up for one, or log in to get started (if you already have one). Once you've logged into your personal Facebook account, look in the left drop-down menu where you can click to create a new page https://www.facebook.com/pages/creation/?ref_type=comet_home
INPUT BASIC INFORMATION ABOUT YOUR BRAND
The first piece of information you'll need to enter is your company or brand name, which will serve as the page title. Next, enter no more than three categories that best describe the type of business you run. Remember that you can modify your category at any time but not your page name.
The categories you select will determine the rest of the fields you'll have to complete. For example, a Restaurant category will require business hours, address, and location.
Finally, you must write a 255-character description of what your company does.
The Page Preview display on your right should update instantaneously as you enter information. When you're finished, simply hit the "Create Page" button.
UPLOAD COVER AND PROFILE PHOTOS
Then, for your Facebook Business Page, add cover and profile pics. Your profile photo serves as your icon/company logo and appears at the top of your posts on the Facebook Newsfeed. On the other hand, your cover photo is the image that spans the top of your FB Page. It is important to select a recognizable profile picture because it will serve as your brand's logo.
An eye-catching image as your cover photo is also great. The last thing you want to do is use images that aren't consistent with your brand. Use the same profile picture on all of your brand's social media accounts.
Also, consider social media image size requirements; otherwise, FB's algorithms will crop and pixelate them.
● PROFILE IMAGE: 170 x 170 pixels is the standard size for the Fb profile image. Although square dimensions are preferable, all profile photos will be cropped into circular edges for posts and ads, so leaving a little extra space around photo edges is wise. Of course, FB will give you a preview of how your profile image will appear as you upload it.
● COVER PHOTO SIZE: On smartphones, your cover photo will be displayed 640 wide by 360 tall, while on desktops, it will be 820 wide by 312 tall.
However, just pick an 820 px wide by 462 px tall picture because it works well on desktops and mobiles. Remember to keep crucial design elements and text at the image's center because cropping can distort info.
MAKE USE OF FREE IMAGE EDITING TOOLS TO CUSTOMIZE YOUR PHOTOS.
Most small businesses don't have video and image editors to tweak their FB images; however, that doesn't mean you are not without options. Free image editing tools like Canva, Pixlr, GIMP Photo Editor, and BeFunky are very easy to use. They have pre-designed templates you can use; alternatively, just upload your image and enter the above dimension specifications.
PROVIDE AS MUCH BRAND INFORMATION AS POSSIBLE
Because Google indexes Fb Business Pages, the more information you provide, the better you'll rank among the organic search engine results. You can add extra details by clicking the "Manage" tab; this is usually gray. Next, find the menu titled "Set Your Page Up for Success." Click the menu and on the next page, click the "Provide Info and Preferences" to be able to add various information and buttons to your page.
Some of the must-include details include:
● USERNAME — Your username will serve as your Business' URL on FB, i.e., FACEBOOK.COM/YOURUSERNAME [http://facebook.com/YourUserName]; without it, the platform will assign a string of random numbers
● DESCRIPTION – A 255-character description of what your brand is all about
● CATEGORIES – These summarize the type of business you run and help FB users locate your page faster. You can select up to 3 categories.
● LOCATION – Exactly where in the real world can customers find you?
● BUSINESS HOURS – The days your business is open and from what time to what time
● CONTACT INFORMATION – Your business email address and phone number so customers can reach out
● MORE – You can include a rundown of your merchandise, their price range, and an URL to your privacy statement in this section.
● ACTION BUTTON – Help customers contact you, place an order from you, enlist a service, or do something else related to your brand.
You can edit the information on your business Facebook page at any time. To make changes and provide new details, just click the gray "Manage" tab.
ADD PEOPLE TO YOUR PAGE AS COLLABORATORS
If you intend to delegate your Facebook marketing responsibilities to a team, you'll need to grant them access and choose their roles. Navigate to page settings and find the Page Roles heading to add your collaborators. Simply enter their facebook names or their accounts' email addresses. However, only individuals who are your FB friends can be entered as collaborators.
Examples of roles include:
● ADMIN – Full access to the page and its settings.
● EDITOR – Can modify page details, post stuff, create FB ads, send messages, and view post creators and insights.
● MODERATOR – This is the individual who makes sure your posts and comments on them meet FB standards; they can also create posts, send messages, create ads, leave comments and view insights.
● ADVERTISER – Creates ads, takes a look at insights, and also can see post creators.
● ANALYST – View post creators and insights.
BOOST THE VISIBILITY OF THE FACEBOOK PAGE
After completing the basics, you can start optimizing it with customization features to boost visibility. Facebook provides templates for brands such as non-profits, services, restaurants and cafes, shopping, etc. To select a template, click on "More," then select the Edit tab from the drop-down menu that appears. Next, select a template that suits your brand.
Of course, each template features different tabs and a unique call to action that you can preview by clicking on the template. Once you select a template, you can edit the call to action, rearrange the tabs and even remove the ones you find unnecessary.
PREPARE YOUR FIRST CONTENT
Just because you've finished setting up a Facebook page for your business doesn't mean you start inviting people to like it right away. You need to have a few posts on there so they can have something to look at and even share with their friends.
The following are some ideas for your first post:
● A welcome post: introduce your company to FB users, tell people what you are all about and what you want to achieve with the page, i.e., connection.
● Share behind-the-scenes videos and images of your business activities so people can have an idea of how your products are made or your business is run.
● Memes that are funny and relevant to your company.
● Links to interesting and relevant information.
INVITE FB USERS TO LIKE YOUR PAGE
After writing the welcome message, connect the page to your other social media accounts and invite people to like and follow. To "Invite Friends," you'll have to locate the "Introduce Your Page" section; this is found in the menu titled "Set Your Page up for Success." The "Invite Friends" tab will guide you through the process of sending invitations.
The individuals you assigned collaborator roles should also send invites to their friends. Finally, share your Facebook page details on your website and other online marketing avenues and invite people to follow.
EXPERIMENT WITH VARIOUS TYPES OF POSTS
Because there is no one sure way to post on FB, you'll have to try out different types of posts to discover what your audience loves. Data from previous years shows that text posts generate the highest engagement, but your audience might be the one that enjoys videos more, so post videos, long texts, short texts, Facebook Lives, and Stories and observe how your followers interact with them.
TAKE ADVANTAGE OF FACEBOOK STORIES, MESSENGER, AND ADS
Facebook Stories is an awesome place to post supporting video content for stuff already on your Fb Business Page and gain some real estate on users' news feeds. On the other hand, Messenger is an excellent tool for setting up Question-and-Answer sessions and one-on-one chats with customers. You can also use Facebook ads to promote your page in the news feeds of specific customers, encouraging them to go and check it out.
START USING FACEBOOK AUDIENCE INSIGHTS AND SOCIAL WEB SUITE ANALYTICS
While Facebook Analytics, which was useful in generating insights for FB pages, is now defunct, Facebook Audience Insight is still available. You can find it on the left of your FB page menu, sandwiched between Publishing Tools and Notifications.
This tool gives insights into the number of page likes, your posts' reach, and weekly engagement vis-a-vis the previous week. Furthermore, you can get details about your audience demographics, including location, gender, and age, so you know if your ads and posts are bringing in the right audience. You will also know the times they are most active on FB so you can post content then to increase engagement.
You can also use Social Web Suite analytics to delve deeper into the performance of each FB page post. You can track key metrics like levels of engagement and overall reach. Social Web Suite analytics are available for all our plans.
The advantage of monitoring the performance of your posts is knowing which type of posts and content will generate more engagement and makes it easy to repeat the winning formula.
WRAP-UP
Facebook is one of the biggest social media platforms, boasting over 1.8 billion users on a daily basis. Successful brands have mastered the art of FB marketing, which, of course, starts with a great FB page. Setting up an FB page for your business, customizing, and using it to promote your brand online is not complex at all. Use the above guides to get started.
---