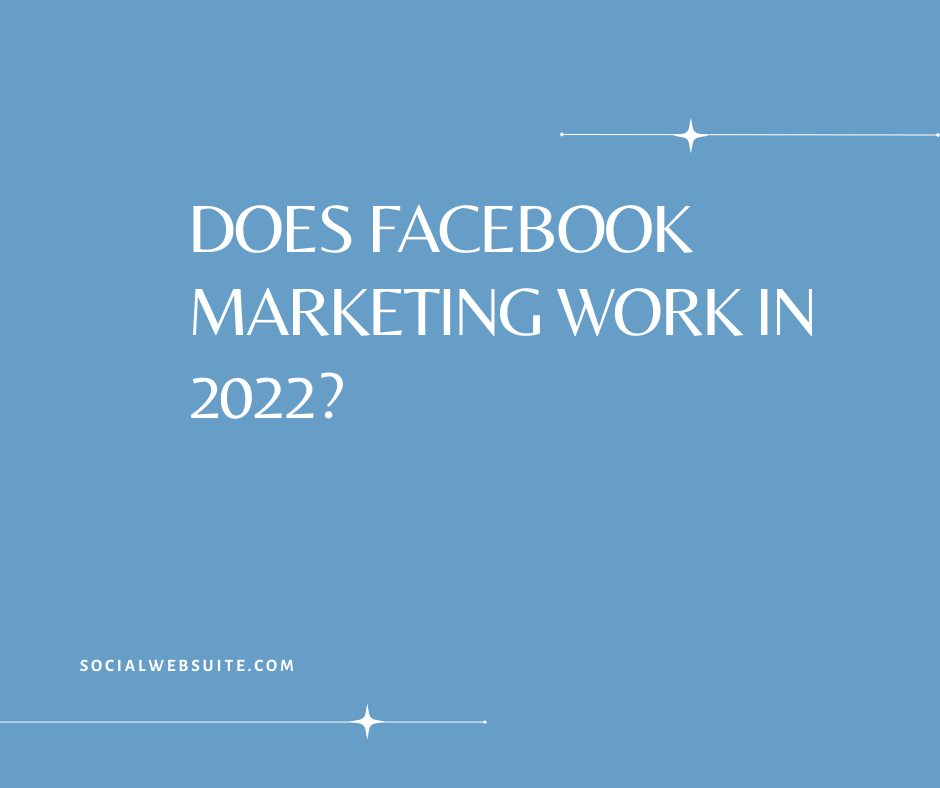 Social has developed into an effective and popular marketing strategy. We've got numerous social media platforms you can use to reach your target audience and potential leads worldwide. Despite the numerous social media marketing and advertising strategies, experts consider Facebook the largest and most effective social media advertising platform.
Statistics reveal that Facebook is the third most-visited website, after YouTube and Google. You can use the platform to post top-notch content promoting your services and products so you can reach a broad audience and generate more leads. With the emerge of numerous social media platforms, many individuals have been wondering if Facebook marketing still works.
Facebook advertising remains one of the most effective strategies to market online. However, adopting new strategies will be vital to reap huge benefits from Facebook advertising. This article provides more insights into Facebook marketing and appropriate ways to use Facebook to enhance your business and company advertisement.
Why is Facebook the Best Social Media Platform for Advertisements
Various surveys and studies reveal that Facebook remains the best platform for your advertising and marketing needs. More than 40% of marketers and brands prefer this social media platform for marketing and enhancing growth. You can easily grow your company and brand using the appropriate Facebook advertising and marketing strategy.
Besides its effectiveness, Facebook offers a practical and straightforward business marketing strategy. You don't have to be a pro to enjoy a successful marketing journey. You can choose the right strategies and tips to increase your sales and leads to grow your brand using Facebook marketing. Remember, this social media platform has numerous users and subscribers worldwide.
With the growth of other social media platforms and the availability of numerous competitors, it'll be vital to consider the latest innovations to achieve top success. The platform has constant innovations in ad placements, where you'll have to consider generating the relevant articles and videos to customize your marketing strategy to target and reach a huge audience.
Tips for Having a Successful Facebook Advertising Strategy
Facebook marketing has been facing various hurdles in the past years. These hurdles have been threatening to bring down Facebook advertisements. However, choosing the appropriate ways to overcome hurdles and develop successful marketing and advertising strategies will be wise. Below are effective tips for having a successful Facebook advertising strategy:
1. Avoid fatiguing your users and followers
After the Cambridge Analytica scandal, Mark Zuckerberg admitted that the platform needed to rebuild its customers' and users' trust. Despite the 2-factor authorization features, the platform leaked phone numbers and other user details. Thus, when using Facebook as your social media marketing platform, it'll be wise to get smarter with how you use and share data with your followers.
A proper plan and building a trustworthy relationship with the users and followers will be vital before placing your ads. Remember, most users understand that they'll get an advertisement after clicking a link on the website or page. Therefore, establishing a trustworthy relationship will help increase the clicks and potential conversion.
Experts also reveal that having more ads may result in negative progress, as you'll be fatiguing the customers. Thus, it'll be wise to research the right ad frequency that won't bore your users, leading them to ignore your ads. Furthermore, it'll be appropriate to mind ad frequency to stop fatiguing your users and enhance the best results.
2. Collaborate with other marketing channels
Using various platforms is the best way to have a successful social media marketing campaign and strategy. Investing in Instagram will be essential to help you succeed in your Facebook marketing strategy. Facebook is a top advertisement platform for eCommerce businesses.
Nothing beats advertising on Instagram pages and stories when having a fashion industry or brand. Popular influencers are the best strategy to push and reach your content or services to a huge number of audiences. Collaboration with Instagram is the best way to reach more followers and develop your brand's visibility and success.
High-end fashion brands and providers like Michael Kors, Yves Saint Laurent, and Gucci have incorporated this strategy and are reaping the best results. Experts advise that you invest your time and resources to combine these social media marketing channels and achieve maximum conversion rate impact and reach.
3. Create a segment for a valuable content
Experts reveal that it'll be effective and wise to split your target audience and leads into different segments, between 20-100. After separating these groups, have ready content for these segments. It'll be a great strategy that allows you to market the right content and products to an appropriate group and increase the chances of conversion.
Furthermore, you can use Facebook analytics tools to enhance your business advertising and provide suitable content to the right audience. For instance, you can incorporate Facebook Pixel in your social media marketing to track your Facebook ad campaigns by monitoring the different activities your followers have on the site or page.
Analytical tools are essential to track your Facebook Ads' performance and measure the number of followers taking specific actions after seeing the advertisement. For example, you can see the number of individuals who have added the items to their shopping cart. You can use these statistics to change your marketing approach.
4. Create Quality Content
Quality content is a key factor in enhancing a successful Facebook marketing campaign. Experts reveal that you'll receive more positive results by crafting top-notch content to suit your different followers' and subscribers' needs. It'll be vital to have multiple high-quality contents to:
Boost your engagement.
Achieve a better relevance score as your personalized posts will generate positive feedback.
Increase conversions and leads as many individuals will be interacting with your individualized content, increasing the conversion rate.
Enhance brand awareness, as many individuals will spread the word about your business.
Achieving multiple top-notch contents for each segment or follower group will create a significant impression on your marketing campaign. Furthermore, it'll be a proper way of discovering a new target audience.
5. Retarget the customers who engage with your brand
Retargeting and remarketing play a key role in building a loyal audience and increasing your sales consistently. Experts reveal that you need to develop an excellent retargeting campaign when you have people opening, liking, and clicking your posts. Retargeting helps you use these followers as your target audience.
The target audience includes individuals or followers who are familiar with your product or brand and have shown interest. You need to stimulate and entice them to buy your products or services. Experts reveal that you can push these followers to purchase your products by offering them a video ad, coupon, discount, testimonials, or offers.
Statistics reveal that retargeted ads offer extra benefits to your Facebook marketing than regular ads. The reason is that when using retargeting, you might even reach every follower or audience interested in your services or products. The constant reminder of your brand or products can influence and entice them to buy your products.
The best strategy to enhance your Facebook advertising strategy is retargeting the following users:
Custom list users.
Users visiting specific website pages.
Followers watching your Facebook ads or videos.
Individuals that sign up for your newsletters or completed another conversion goal.
6. Upgrade your video content
Upgrading your video content will be one of the key ways to enhance your Facebook advertising and marketing. Experts reveal that videos are taking over the Facebook marketing strategy, as they create more than 82% of the total internet traffic. Thus, improving your video strategies will be essential to stand out among your competitors.
Remember, choosing the best Facebook video strategies will be the best way to have a successful marketing and increase your leads and conversions. You can improve your Facebook video strategy by applying the following tactics:
Grab your followers' attention first
Before creating your video, it'll be vital to consider or think of how your followers and users will behave after seeing it. Remember that most followers will either scroll down or skip your video if it appears boring or low quality. Therefore, the best way to have a successful Facebook video strategy is by considering an introduction or content that grabs their attention.
Thus, you'll receive a huge boost and more leads and conversions if you have content that'll grab your followers' attention first. Investing more time and resources to create top-notch content for your marketing needs will be vital. It'll be the best option to enhance your marketing strategy and reduce the number of followers turning away from your video.
Be short and precise
Many Facebook users usually dismiss long and tiring videos. Thus, it'll be appropriate to consider a short and precise video to pass your message or information to the followers. Experts reveal that your Facebook in-stream video adverts should be approximately 15 seconds. Short videos provide a higher completion percentage and allow you to deliver your message and information faster.
Optimize descriptions and titles
Having an engaging description and title will be vital to enhancing your Facebook content advertisement. The title and descriptions tell your followers or audience what they're about to read or see in the entire video. Besides providing a glimpse of what to expect, optimizing your titles and descriptions will be a great way to provide Facebook's algorithm with details on your video.
When optimizing your content, ensure that you choose and include relevant keywords in your descriptions and title. Furthermore, it'll be good to invest your time and resources to choose the best title, like some title formulations and video ad titles outperform the others. Ensure the keywords you choose have a high engagement and CTR.
Sound off
With the current development, the best Facebook video strategy has no sound. Many Facebook users expect the platform to autoplay the other videos when their feed has sound. Most individuals mute the sounds and continue scrolling the feed for convenience reasons. Thus, it's the primary reason why your ad will have more impact even when on mute. Experts recommend using graphic overlays and video captions to get your message across the platform.
Consider vertical or square videos
Statistics reveal that most square videos take approximately 78% of the screen when displaying your content. With more than 90% of users having mobile devices, having a better size will be vital in attracting your users' attention. Besides square videos, you can consider the vertical videos to cater to users and followers using their mobile devices in a portrait mode.
7. Optimize your content for mobile
Facebook generates more than 94% of the advertisements through mobile users. Thus, it'll be essential to mobile-optimize your content before using it for your different needs. The main goal of having mobile-optimized content is to ensure that you provide your viewers with a pleasant and proper viewing experience. When optimizing your content for mobile, ensure that you keep it simple. After which, ensure that the site has a faster response on the different platforms and has visible & accessible call-to-actions.
Summing Up
Over the past years, Facebook has been a leading social media marketing platform. Many brands and individuals have used the platform to reach numerous audiences and potential customers. However, some scandals and the growth of various digital marketing platforms have been threatening to pull down this social media marketing giant.
Nonetheless, you can achieve more results and success by incorporating different marketing strategies to reach huge audiences. The above strategies are the best way to achieve your defined marketing goals and have a successful marketing strategy. Investing in the right Facebook marketing strategies can bring more leads and conversions.
---