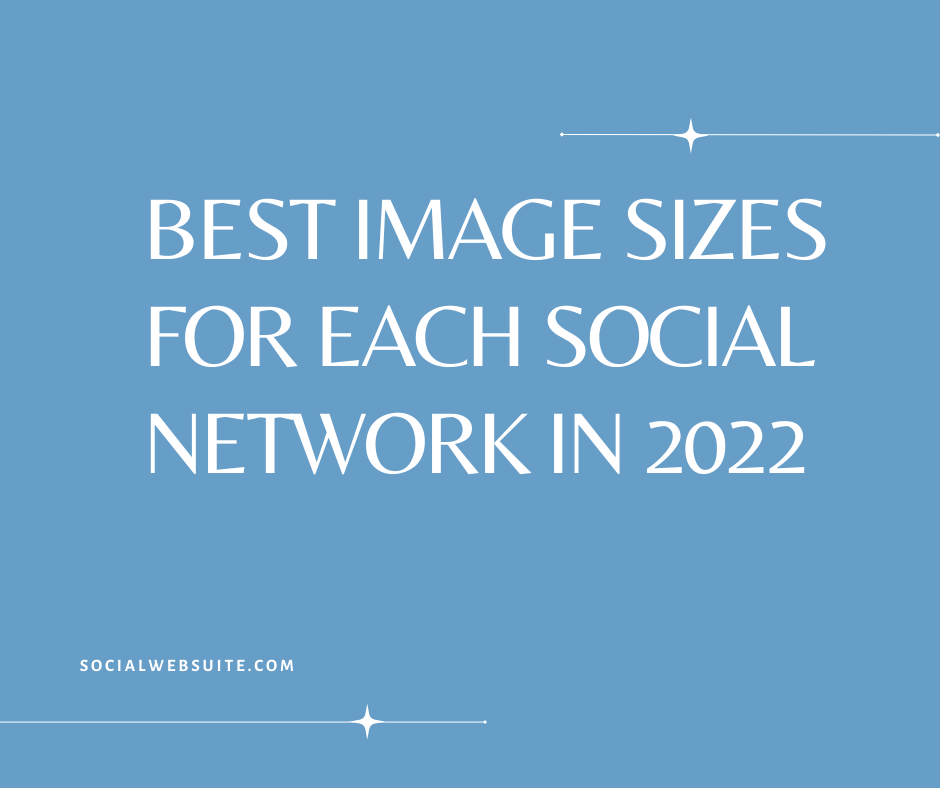 Visual content rules the social media landscape, whether it's news updates, videos, brand promotions, or even memes. But with the social media landscape changing all the time, it's very hard to keep up with the optimal image sizes for each social network.
Fortunately, you don't have to search all over the internet for the latest essential changes to find out which size image goes with what. We have compiled them all into one detailed guide. This handy resource will make it easy for you to keep up with the newest changes in social media image dimensions.
Benefits of Knowing Image Sizes for Social Networks
Sizing images the right way for social media is very important. From cover photos to timeline images and profile pictures, photo dimensions differ according to how and where the images are shared. When you consider that the visual aspect of your brand is often the first thing your audience sees (and possibly the only thing they remember about you), then you can understand the importance of using high-quality images.
When you use the right size and dimensions for your images you ensure that they will be displayed in the very best quality that will attract viewers to your content. The quick-scroll world that is social media today means you have to work with images in a way that optimizes your brand's strategy on platforms like Facebook, Twitter, LinkedIn, and Instagram.
Best Image Sizes for each Social Network
1. Facebook Images
Facebook is among the most widely used social media networks with over 2 billion active users every day. This means that if you want to cut through the noise it's crucial to have amazing images. Remember that the way that images are displayed on your timeline may look different.
– Cover Photo: 820 x 312 on computers and 640 x 360 on smartphones. Must be at least 400 x 150
– Profile Image: 170 x 170 on computers, 128 x 128 on smartphones, and 36 x 36 on most feature phones
– Facebook Feed: 1080 x 1350 is recommended, but the minimum size must be for images with a link on desktop 479 x 246 and on mobile min width 320 pixels
– Facebook Right Column: 1200 x 1200 is recommended, the minimum size must be 254 x 133
– Facebook Instant Articles: 1,00 x 1200 is recommended for images with a link
– Facebook Marketplace: 1200 x 1200 is recommended for images with a link
– Facebook Stories: 1080 x 1020 is recommended for images with a link
– Audience Network Native, Banner, and Interstitial ads: 398 x 208 is a minimum size and for images with a link 1200 x 628
Keep in mind that your Page's profile picture will be cropped to a circular shape in ads and posts, but will remain the same square shape when people visit your Page.
2. Twitter Images
5,700 new tweets are sent every second. That adds up to a whole lot of messages that are sent via Twitter every day! How do you compete in such a situation? By ensuring that your images are the best sizes and quality possible.
– Header Photo: 1500 x 500
– Profile Picture: 400 x 400 is recommended, and the minimum size is 200 x 200
– Twitter Ads: 600 x 335 is a minimum size, but use larger images
– In-Stream Photo: 1600 x 900 is recommended, and the minimum size is 600 x 335
3. LinkedIn Images
LinkedIn is the social network for digital professional networking. It can be a great network for discovery and traffic depending on which industry you're in. For those in the B2B sector, or those using it for recruiting purposes, it's vital to have great image representation.
– Background Image: 1584 x 396
– Profile Picture: 400 x 400 or larger
– Ad Image: 1200 x 627
– Blog Post: 1200 x 627
4. Instagram Images
At a standard width of 1080 pixels, Instagram keeps your photo its original size, as long as its height is between 566 and 1350 pixels. If your photo is less than 320 pixels wide, it'll be stretched. If it's more than 1080 pixels wide, it'll be shrunk down. For those posts that are not square, as long as the dimensions of the pic remain as recommended, your image will look like it's supposed to.
– Instagram Ad (single image or carousel): 1080 x 1080
– Instagram Post: 1080 x 1080 (1:1 ratio)
– Instagram Profile Photo: 360 x 360
– Instagram Landscape Photo: 1080 x 608 (1.91:1 ratio)
– Instagram Portrait: 1080 x 1350 (4:5 ratio)
– Instagram Story: 1080 x 1920 (9:16 ratio)
– IGTV Cover Photo: 420 x 654 (1:1.55 ratio)
– IGTV and Reel Video: 1080 x 1920 (9:16 ratio)
Conclusion
The use of visual elements like images and videos will always be essential when it comes to attracting audiences to your content. Keep this valuable resource close at hand and use it the next time you need to design or select visual content for your social media channels.
---