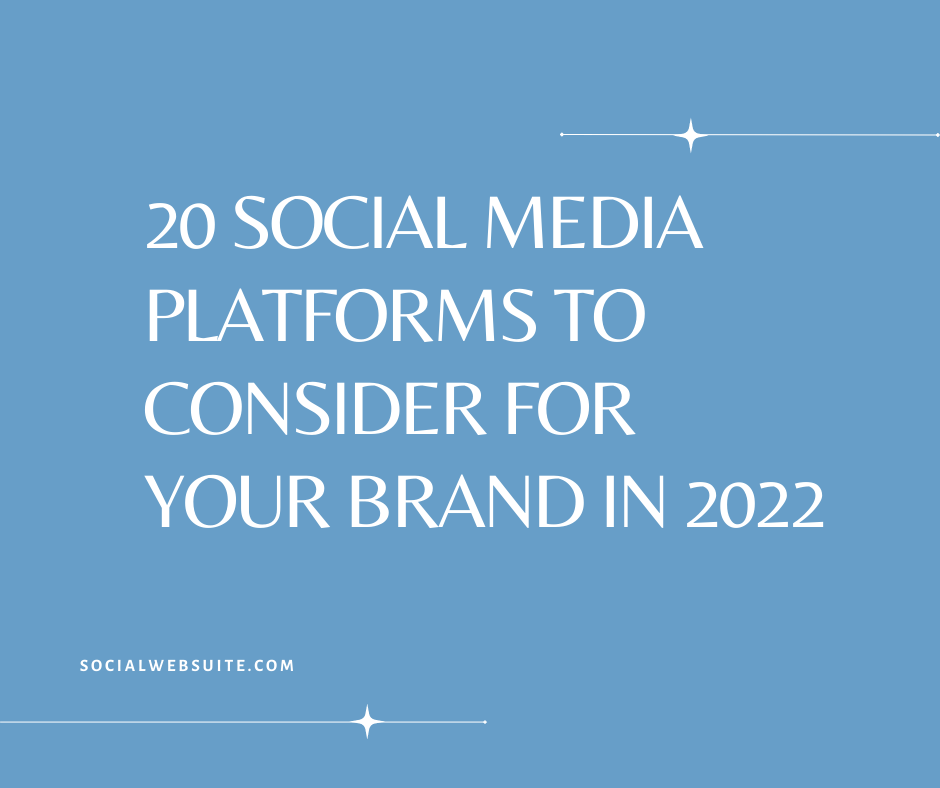 Social media sites and platforms have proven to be a gold mine for most brands and enterprises. Experts reveal that in 2022, social media boasts of appropriately 4.15 billion users [https://www.statista.com/topics/1164/social-networks/] worldwide. Whether you're a full-time marketer, seasoned marketer, or brand owner, you can use the different social media platforms to enhance your brand's success. Various social media sites allow you to maximize your brand or enterprise reach, engage with targeted audiences, and improve your brand's success.
You can use these sites to share your content (photos or articles) and engage your targeted audience worldwide. Despite the numerous advantages to your brand's success, it's usually daunting to juggle the countless options available to choose the appropriate one for your needs. This article outlines the top 20 social media sites to consider for the success of your brand in 2022.
1. Facebook
Facebook is one of the most popular and largest social media platforms you can choose for your brand. The site boasts over two billion users worldwide every month. Many business and brand owners use this site to promote their different products and services. You can use it for marketing your brand, as Facebook accepts all forms of content for your marketing needs. For instance, this site works great for texts, short stories, video constant, and images. Facebook has unique and appropriate algorithms that enhance meaningful conversions and interactions.
2. WhatsApp
It's a popular application that most people use for messaging and interactions. With over 2 billion users in over 180 countries, you can use this platform as a goldmine for marketing your business or brand. You can use it to communicate or share your services or products with your audience or users. It provides the best platform to provide customer care support service or share updates on your brand with your customers. Experts advise that you start with the WhatsApp Business App for your small brand and move to the WhatsApp Business API as your business grows.
3. YouTube
Many social users regard YouTube as the best video-sharing platform, with billions of individuals watching the videos every hour. YouTube is the second largest search engine after the parent company (Google). With the massive number of users or traffic, you can use the platform to promote your brand or business. You can start by creating your YouTube channel and start uploading your videos. Uploading these videos is a crucial strategy for reaching a wide range of audiences and improving your business.
4. Facebook Messenger
Apart from the Facebook application or site, we've got the Facebook messenger offering the best options for marketing your brand. Since its launch in 2011, it has been a standalone site that can drive more success for your brand. Messenger has various expanded features you can use for creating chatbots, advertising your products, sending newsletters, and more marketing services. These marketing services and features are essential to help you engage and connect with various customers. Engaging and connecting with customers is key to bringing more success to your brand or enterprise.
5. TikTok
TikTok is a popular social media platform for sharing short-form videos online. Experts reveal that it is one of the most promising and fastest-growing social media sites. Apart from using it for fun, you can use the platform to market and grow your business or brand. You can use it to grow your brand by creating appropriate short-form videos, using music snippets, filters, and sound effects. The videos can be an effective marketing strategy for your services or products. Importantly, target the appropriate audience, plan, and schedule proper posts to enhance the growth of your traffic and brand.
6. Instagram
Instagram offers the best visual platform options for your brand or business. The site algorithms allow you to showcase your business's services and products with videos or photos to your audience or followers. You can enhance your marketing strategy by creating an Instagram business profile on this social media site. This profile provides numerous analytics for your posts and profiles. Furthermore, you can schedule the different posts using various third-party tools to enhance your brand success by using this profile.
7. LinkedIn
Over the past years, LinkedIn has gradually developed from a basic job search engine to a professional and marketing platform. You can use the platform to interact with your network, share content, and build your brand. Many business owners use this site to attract top talent by establishing leadership on the platform. After signing up, you can grow your brand by having a LinkedIn Business Page and advertising products. Importantly, this platform allows you to reach the targeted audience by sending specialized ads to the appropriate user's inboxes.
8. WeChat
Since its launch in 2011, WeChat has become one of China and Asia's most well-known social media sites. Like Messenger and WhatsApp, it was initially a messaging application. However, it has evolved into one of the best marketing tools for various brands over the past years. Many individuals use it to shop online, transfer cash, book taxis, make reservations, or purchase groceries. You can also use it to enhance your brand in most Asian countries by running adverts on its official websites. It can help you reach a huge audience where popular authorities ban the use of famous websites like Facebook.
9. Twitter
Many individuals love this platform as it offers the best platform for politics, sports, and entertainment news. Twitter is different from other social media platforms as it emphasizes providing real-time information. You can use it to get what is trending or happening around you. Apart from using the site to get news on different things, Twitter offers the best option for a customer service channel. Thus, choosing the appropriate Twitter strategies can help you achieve the top marketing and sales for your brand and enterprise.
10. Telegram
It's a cost-effective social media platform you can use to grow your brand. The platform offers various messaging features that you can use to share different media files. You use its end-to-end encryption features to share your enterprise's products and activities. Many individuals are currently using this platform to enhance the growth of their brand as you can reach a huge audience. Apart from offering customer support services, you can use this platform to enhance the success of your business in numerous ways. The platform allows you to use the Telegram channel to broadcast your messages to more individuals or create chatbots for your business needs.
11. Tumblr
It's a leading social networking and microblogging platform. Tumblr boasts over 319 million visits each month despite the rise of different platforms. This population base allows you to use the platform to market and grow your brand. The platform provides various algorithms that feature that will enable you to connect and interact with your audience easily using text-based content. The social media site allows the users to share photographs, videos, links, audio, and other media. You can use these features to show the users your brand's services and products.
12. Snapchat
Snapchat is a popular platform among the younger audience for sharing short videos and photos. Before the rise of TikTok and Instagram, it was the best site for sharing short videos and pictures. However, you can still use it for advertising your products or services through photos or short videos. It's an important site to grow your online presence and stimulate the success of your brand by sharing your services through the platform. Nonetheless, it'll only provide optimal results when targeting a younger audience.
13. Quora
Quora is a popular community-based Question and Answer website where users share ideas or information on various topics. The platform ranks these questions and answers based on the votes, reviews, votes, and shares. To enhance and achieve your brand goals, you have to create a business Quora page and use the employee's advocates to respond to quotations on your services or products. Additionally, you cause their Ads section to advertise your brand. Quora remains a great platform to reaction more leads and customers looking for your products or services.
14. Pinterest
Many individuals prefer Pinterest for enhancing the success of their brand, as it's a one-stop place for discovering new ideas and products. You can find various photos linking to product wages, websites, blog posts, and other content. Pinterest is the best alternative for driving organic traffic to your sites and increasing the number of leads or conversions.
Thus, these features allow you to advertise your services or products and later link them to your website. Essentially, you'll benefit from the forum if you're in the beauty, home, DIY, and fashion industry. You use different strategies and features to enhance the exposure of your business to a huge audience.
15. Reddit
Reddit is a popular social media platform that has an upvoting feature. You can use it to get your discussions of different niches or events on the front page of any search engine. Furthermore, the platform can help you grow your brand by engaging several levels of engagement. You can achieve your brand's objective by joining the right niche aligning with your brand, as Reddit doesn't allow self-promotion. The site aims to help you engage with members in the different subreddits by answering their questions or sharing resources and tips.
16. QQ
Before the launch of the WeChat platform, QQ was the leading social media and messaging application in Asia. Users enjoy making payments, blogging, shopping online, streaming music, watching movies, and playing online games via this platform. Furthermore, you use its messaging features to market and grow your brand, as the platform is still popular among most young users. The social media platform allows you to market your products and services in more than 80 countries, as it's available in multiple languages to reach a huge audience.
17. Qzone
Qzone is a popular social media platform in China that enhances blogging and social networking. Most users prefer this site to keep diaries, play their favorite games, stream music, write blogs, and upload multimedia. Like Facebook and other social media platforms, you can use them to connect with different audiences, friends, and family. Furthermore, you can use it for marketing your brand by providing feeds updates, sharing posts about your services and products, and reacting to the various posts. It offers the best alternative for selling your brand in China and other parts of the world.
18. Skype
Skype is an essential text, video, and audio communications platform that allows users to make or receive video calls and messages from other Skype users. Apart from being a communication application, you can use this Microsoft-based site to enhance your brand. You can consider Skype for Business to utilize the standard features and functionality to improve your business's success. The platform allows you to have 250 participants in your business meetings. You can use these features to manage your employee accounts, integrate with other Microsoft Office Apps, and enhance your enterprise-grade security.
19. Viber
Viber is a popular social media platform with features resembling Messenger and WhatsApp. You can use this platform to make calls, send text or multimedia messages, and share GIFs or stickers. With over 1.7 billion users worldwide [https://www.statista.com/statistics/316414/viber-messenger-registered-users/] on the site, you can use it to enhance your brand's success. The features and algorithms on this platform allow you to buy Ads, engage your audience, and promote your brand. Lastly, it provides strategies or features to enhance customer service and display your brand's products.
20. Sina Weibo
Weibo is a popular social media site in China to enhance your brand's growth. The Chinese technology company Sina launched this microblogging platform in the country and other parts of the world. Like Twitter and Facebook, you can use this platform to reach a huge audience in China and the surrounding countries.
Various experts, including the New York Times, reveal that it's the appropriate choice to make your brand viral in China. Weibo allows users to create official and verified accounts to enhance communication with their followers. After signing up, you can use the platform for paid advertising, post images, stories, trending projects, or instant messaging.
Wrapping Up
Social media has gradually developed into one of the effective ways to enhance your brand's success. With the numerous individuals using different social media sites, you can easily reach a large audience, engage with many prospective customers, and generate more leads or traffic. The above are the top social media platforms you can consider to enhance your brand marketing and success strategies. Choosing and focusing on the right social media platforms for your branding, marketing, and awareness goals is wise to enhance its success.
Which social media platforms are you using for your brand and why? Tell us in the comments.
---