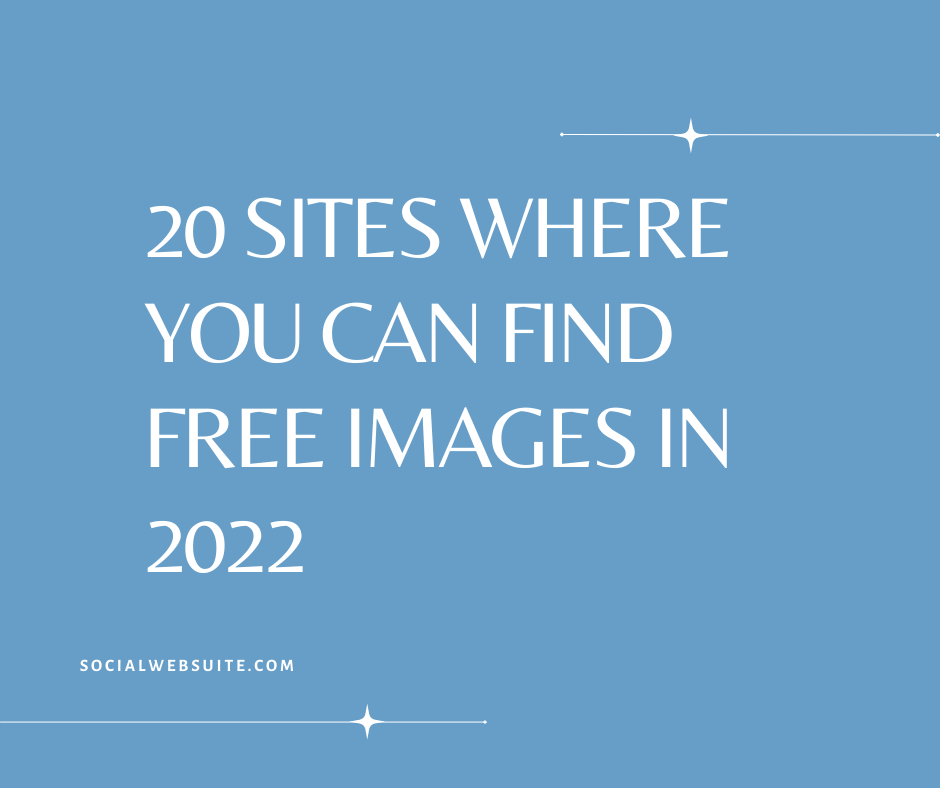 Whether you are posting on your blog, website, or social media, visual content has become critical for content consumption. That's why photography is currently a vital part of design. However, not everyone can produce quality images, especially on-demand. However, some sites offer generic photos, icons, and illustrations available for free of charge.
Free stock photos without attribution don't have copyright restrictions. This means that you can access, copy, distribute, or even modify them for personal or commercial use without the publisher's permission.
The Best Free Stock Photo Sites in 2022
There is a wide range of platforms that offer free images. This can make your selection process quite challenging. If you need stunning free stock photos without attribution, some of the best sites you can check out include:
It's one of the sources for free stock photos. You can browse and download copyright-free images from this platform without any attribution required. There is a wide range of options, including high-quality and high-resolution pictures.
StockSnap has images ideal for social media use, websites, blogs, and online advertising. You can customize your favorite photos before downloading them from the thousands of available options. For convenience, the photos are divided into different categories, including trending. Its main collection features landscape and nature photography.
Hundreds of images are added daily under the creative's public domain, so you are guaranteed something new every time you check-in.
Adobe Stock Free Collection contains more than 70,000 collections of hand-curated illustrations, photos, videos, and vectors. The high-quality stock-free images can be used for commercial or personal purposes.
With the Adobe software, you can manage your image designs and even preview the watermarked images. However, you must be ready to deal with the complex Adobe licensing terms, including distribution limitations.
As a top-rated site, Shutterstock gives you access to millions of royalty-free images. It has tons of content in its catalog, with new ones added every day. So, you can conveniently find the ideal graphic or image that suits your current project. Note that Shutterstock's entire royalty-free collection can be used by nearly every application type at no cost.
Its diversity ranges from abstract, 3D images, wildlife, aerial, landmarks, beauty, and backgrounds and textures. Shutterstock has got you covered in nearly every niche, thanks to the thousands of contributors who consistently add high-resolution visuals to this site's library.
Image Source has a massive collection of stock photos with quality, royalty-free images. The content is usually produced by Image Source plus third-party partners. The photos suit different niches and feature premium imagery perfectly combined with the utmost flexibility of a royalty-free license. As a result, you can utilize them without limitation.
Its catalog includes over 1.2 million images, and you can refine your search by composition, brand, viewpoint, setting, etc. When searching for royalty-free images, ensure that you uncheck the "RM" box under the search box to avoid rights-managed images.
It makes it easier for everyone to find a wide range of photos. Unsplash images are of high-quality, creative standard hence suitable for use on blog sites and social media platforms. It has more than 2 million high-resolution images from a generous community of experienced photographers.
There are over 200,000 photographers, and the growing community consists of emerging brands, hobbyists, and professionals. Over 2 billion photos have been downloaded by people from different corners of the world.
Unsplash hand-selects every photo on this platform, and only the best is accepted. Regardless of what you need, you will find what you are looking for since there is an image for everyone and everything. Everything here is free whether you sign-up or not, and you can do whatever you want with the photos.
If you are looking for a good place to find your inspiration with free stock photos, you should check out Flickr. This platform gives you access to a thriving community of photographers who share their precious content at no cost. This is home to billions of photos and features over 2 million groups.
Bloggers can find and modify images for commercial use. They simply need to select the commercial option and "mods allowed" to carry out changes. However, always check each image's license since the terms may vary considerably.
It's a great source of free stock photos and royalty-free images/videos shared by an online community of content creators. While anyone can upload their content to Pexels, the curators usually pick the best shots before populating the public image domain. Note that Pexels allows you to specific images, but you can also browse different themes based on locations, pastimes, and emotions.
Generally, Pexels is good for bloggers, app designers, and other online content creators. There are also user-interface mockups for designers with zero license requirements, also known as CC0. So, you can use the images for business or personal purposes without any attribution.
This site has a royalty-free collection of images and videos. There are more than 72 million items to pick from, so there is something for everyone. For easier accessibility, you can choose images in several categories, including abstract, nature, sports, editorial, art illustrations, etc. Besides that, you can customize your selection based on trending keywords.
Freerange Stock has a community with more than 750,000 registered users who have access to premium free stock images. For over a decade, this platform has released a collection of photos, illustrations, and textures for high-profile web use. Note that all the images in Freerange are licensed for commercial use and without attribution.
It's a great source of images for professionals and amateurs who need refreshing images. Freerange's goal is to provide high-quality images at high resolution.
Subscribe to Burst and access free photos for personal and commercial use. Burst usually updates its collection every day with hundreds of photos. While it doesn't have tons of pictures like other platforms, you are guaranteed high-quality images. Its selection is still varied, so you can't miss photos designed to cater to your specific needs.
Anyone can access and download photos from Burst. But if you want to be among the first people to access free images, signup up for the email list. The best thing about Burst is that it also offers tips on using stock photos. If you are doing e-commerce, there is also a section with business ideas.
Vecteezy allows you to find amazing free stock photos for download. Get high-quality images without worrying about licensing. There are millions of free and fresh content for unlimited downloads.
All images uploaded on Vecteezy are hand-selected by Vecteezy's team for quality checks. Vecteezy has a versatile search engine that enhances the search process, unlike other stock photo platforms. As a result, you can search photos based on the age of the models, style, orientation, color, etc. besides that, the site offers property releases and signed models for all the free photos when required. So, users are protected from any form of legal liability.
Its collection of free images comes from a massive library with a wide range of handpicked photos. They are unique and distinct from other stock sites, making them ideal for blog sites, social media, and other websites. Reshot is built with a focus on freelances, startups, and makers who need high-resolution images. The content is free for personal and commercial use, and editorially, no attribution is needed. The site's curated content collection is not only extensive but also stunning. So, what you pick will easily stand out.
While the number of pictures in Gratisography might be quite low, it still provides high-quality images. You can find images for nearly every niche, including fun and enjoyable pictures that offer a breath of fresh air.
Gratisography is known for its consistent, high-quality photos posted by a talented graphic designer and photographer, Ryan McGuire. This site's content is normally added weekly, so you can always find something new.
CannyPic has thousands of vectors freely available on one site. The platform offers its unique collection of quality and handmade content for commercial and personal use. Its content is divided into three categories: photos, vectors, and icons. What makes it outstanding is the more than 90,000 free vectors that you can search by keywords or categories.
For easier accessibility, you can select images based on popular searches or an alphabetic search. But while there is a wide content diversity, you can't download any of the free images without first registering.
Crello allows you to design the free images the way you like. It appeals to content creators who want to generate eye-catching images for blogs and social media use. It only takes a couple of minutes to create your content, and everything is totally free! Simply go ahead and pick a template before customizing it.
Crello understands that online content design doesn't have to be very complicated. That's why it has a curated collection in VistaCreate, which features trendy templates specifically created by professional designers. Note that these templates are updated every month. This platform is almost like Canva since it offers free graphic design tools that you can use with a wide collection of free images.
Get access to beautiful free stock photos, high-resolution images, and backgrounds for personal or commercial use from PicJumbo. It's a site with a diverse collection of content ranging from people and nature to food. PicJumbo has almost 7,000 free images, and those with a premium membership can access almost 10,000 exclusive pictures. The premium collection also features vertical pictures, ideal for content creators.
You don't need to register to access the free images. Besides that, you can get new free pictures by subscribing to PicJumbo's newsletter.
Even though this is a relatively new platform, Picography has consistently provided high-quality images freely to millions of people. It's one of the top sources of stunning, high-resolution photos that you can use wherever you need with no required attribution – all the images are CC0 licensed.
SplitShire gives you access to stunning, exclusive free images. Note that the site has an instant download collection of free stock videos, free stock photos, and high-resolution images available for personal and commercial use.
You can use SplitShire photos on social media, blogs, websites, placeholder images, eBooks, t-shirt prints, software applications, commercial templates, music artworks, etc.
It has one of the biggest collections of free images online. Pixabay's site has more than 2.5 million stock images, music, and videos provided by its talented online community of photographers.
Regardless of its wide collection, its landscape photos will easily catch your attention. This is because it features well-detailed and high-quality images that you can use for your site. With a free account, you can select a free stock photo and then pick the ideal resolution, especially if you are handling projects that need images with high resolution. Thereafter, you will complete the Captcha that will lead to file download. However, be careful with your photo selection since the quality varies.
It offers free stock photography and stunning color palettes. KaboomPics gives you access to thousands of images for commercial and personal use at no cost. It offers search flexibility since you can search content by color.
This refreshing site adds new sets of high-quality photos every day. They suit various niches, including fashion, landscape, food, abstract, architecture, etc. However, KaboomPics can't be redistributed or sold.
Note: when looking for free images, you will come across several terms, including:
Creative Commons: This non-profit organization promotes creativity by providing licenses to content creators to use when sharing their content with the public. With this license, creative give permission (but under certain conditions) to other people in public to use their work in advance.
Royalty-free images: they are not free images and are licensed for use at a price. The cost is usually determined by the site selling them. Besides that, the stock image agency retains the copyright.
What are your favourite sites for free images? Share them with us in the comments.
---