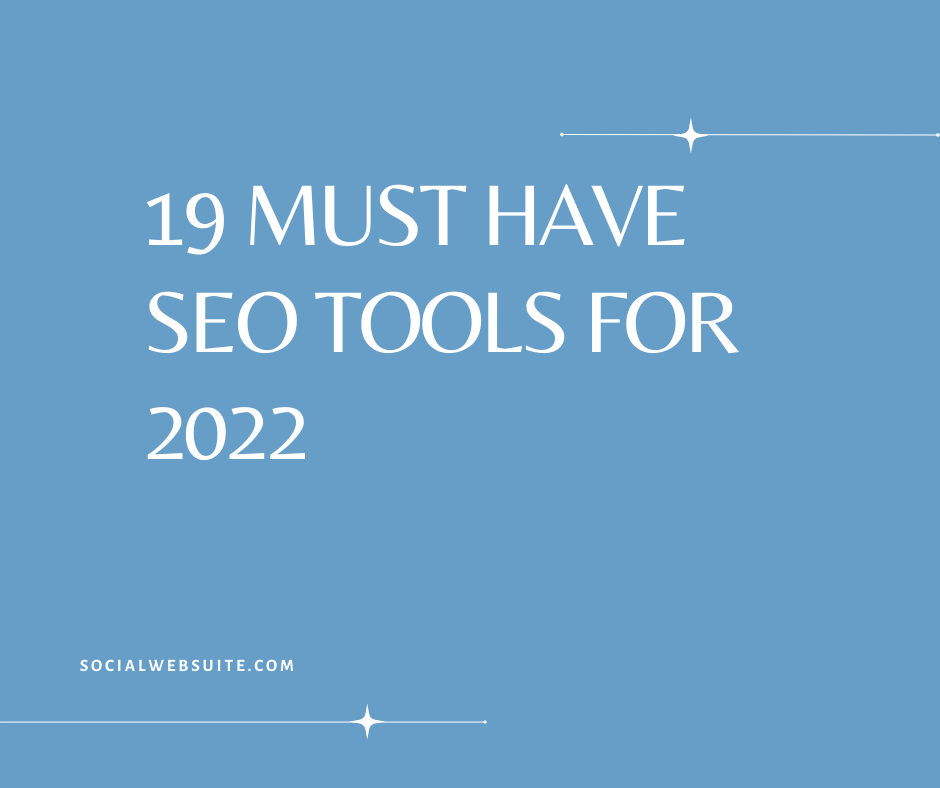 Are you looking for the top SEO tools to increase your SERP visibility and rank better? Well, the most experienced online marketers swear by the following tools, and you too can give them a try because they are free to some extent and promise to give you insights you've never seen before. Without so many words, here is a quick review of the 19 must-have SEO tools for 2022.
Yoast is one of the most effective SEO plugins for creating better content. You just need to input your blog posts' focus keyword or title, and this tool will help you optimize them for search engines.
It provides snippet previews that show you how your posts appear in search engine results and recommendations for how to improve that ranking. These may include setting a focus keyword, optimizing meta titles, meta descriptions, HTML markup, etc.
It also automatically updates your site's dynamic XML sitemap, making it easier for search engines to recognize your page layout and identify and scan different sections.
It also lets you add internal links, breadcrumbs, and content filters to make it easier for users to browse your site's structure.
Yoast SEO is available in two versions: free and premium. The premium edition includes additional capabilities such as local and video SEO modules.
Google PageSpeed Insights lets you test your platform's speed and functionality on various devices. It has a very simple interface; all you have to do is enter the URL of your website in the search field, click analyze, and voilà! It measures how long it takes the site to load based on several metrics and gives suggestions for improvements.
This tool provides lab and field data. Lab data can be used to debug and resolve performance issues, whereas field data is used to improve the user experience.
You can give your site a technical audit using Ahrefs Webmaster tools. It's 100% free. Simply sign up, authenticate your website's ownership, and you'll be good to go. You can audit a site for various SEO issues. The tool also provides recommendations for fixing them. To verify your site, simply import it from Google Search Console. After auditing your site, you will also get suggestions on how you can boost your internal links for a better ranking in SERPs.
Apart from performing a site audit, this tool also allows you to explore your site and check data on backlinks and keyword rankings. You can schedule weekly auditing and also choose to crawl external links. Its free audits, however, are limited to 5000 pages each month.
This is a tool for finding keyword ideas fast. It accomplishes this by searching for topics people ask on social media, forums, blogs, etc. Simply input any interesting keyword, and you'll get a long list of queries people ask on the internet.
It also outputs keywords linked to prepositions and comparisons. You'd be astonished just how many people post "X" vs. "Y" queries online. For example, if you search for American Airlines vs. Delta, you'll obtain a list of all comparative keywords relating to these two topics.
UberSuggest is an SEO plugin created by Neil Patel, a well-known digital marketer. It contains a search engine that lets you see the search volume, keyword ideas, variation, and ranking difficulty.
When you provide your domain name instead of a keyword, it also generates a site explorer showing your website's backlink profile, traffic, domain authority, and top-performing content. You can use UnberSuggest to see the strengths and flaws of your rivals' domain names. However, some advanced functionalities are only available in the $29/month premium plan.
Google Analytics is another free tool for generating search insights and viewing important metrics about your website traffic. If you want to know where each visitor on your site is coming from, which pages are generating the most engagement, the gender, language, and interests of your audience, this tool provides them all plus more.
It's an important tool for studying your audience so you can tailor your content to suit their characteristics. You can also pair this tool with something like Keyword Hero to reveal which keywords are driving your organic traffic. That way, you will have your keyword ideas for the next website content.
Because SEO is so broad, some individuals overlook the importance of image optimization. You'll need optimized photos for improved website speed. Optimole is a popular image optimizer for SEO purposes. It's a versatile solution because it works on other platforms in addition to WordPress.
Because the tool is cloud-based, it reduces the burden on your site. The plugin has an API through which it communicates with the server, enabling you to send photos for treatment on the fly. The server removes the EXIF data from the photos and adds its own URL. You can select several compression quality settings (high, medium, and low).
There are also CDN and lazyloading options. Above all, you may automate picture compression so that the plugin adjusts image quality based on your site's visitors' internet speeds. The premium and free versions of Optimole are both accessible. The number of images you can optimize is determined by the initial size of the image and the number of optimizations required.
Another lightweight alternative for quickly optimizing website pictures is Shortpixel. It is easy to sign up and acquire your API key. Once you've got everything set up, you can start eliminating excess bytes from your photos. It has features like auto-optimization that optimizes photos by default.
You can pick between lossy loading and high-quality image optimization. Shortpixel works in almost any picture format, including PNG, JPEG, and GIF. It offers both free and premium options, with the latter starting at $4.
This tool generates a detailed link analysis and is available for free for the first 100 backlinks. This report covers top-level website indicators such as domain rating (the overall strength of your backlink profile), total backlinks, and total referring domains (unique websites that link to you).
Backlinks are crucial for SEO because they act as a vote of confidence, signaling to search engines that your material is the finest. Use this feature to look at your peers' backlinks and see if there are any prospects for link building.
Cyberspace is a dynamic environment. Search engines keep refining their algorithms to provide the best experience. That means website owners have to adapt their sites to match search engine updates. If you keep employing the same SEO hacks and tricks, they'll backfire on you.
You can use the MozCast plugin to stay ahead of search engine algorithm updates. This tool notifies you of changes to Google Search algorithms, whether significant or not. It provides this info in a weather forecast-like format. Significant changes are characterized as "hotter and stormier" and vice versa.
This information is gathered by tracking a set of keywords and observing how content ranks change. MozCast also categorizes its data into several SEO areas, such as reviews, information panels, and HTTPS results. Data from MozCast is presented in a simple visual way.
This fantastic chrome extension can evaluate your website's traffic, backlinks, keyword optimization, and other factors directly from your browser in real-time. It's totally free and will list errors on your page by category and suggest how to fix them.
This tool will assist you in improving your website's SEO. You can also look at your peer's website's metrics and identify prospects for link building.
Seobility is an all-in-one SEO solution for auditing your site's SEO goals. It's a free tool. It will scan your website for SEO flaws and give solutions. You'll be able to see your top-ranking term by devices and locations, as well as the sites that link to you, their overall rankings, and other information.
You can also use this tool to look into your competition and examine how they rank for similar keywords, as well as the precise optimization tactics they employ. The information is presented in an easy-to-understand format and can be downloaded in PDF format. However, analysis is available only for the first 100 external links and 1,000 pages; Otherwise, the $50 per month plan is required.
SERPSim simulates and gives you a preview of how your web page will appear in search engine results, particularly Google. It has an incredibly simple interface with a search tool that just requires your web page title, domain name, and a short meta description of the page to generate a simulated search result listing.
If you wish, you can tweak the title and meta description tags until you achieve a lovely or attention-grabbing listing. You can also check and correct truncation errors in real-time. SERPSim is available for both desktop and mobile devices and is 100% free.
That bad error 404… it's hurting your website traffic, buddy. Users get frustrated by such messages, hit the back button, and exit the tab fast. Because broken links are the most common cause, you can use Ahrefs' SEO toolbar to track down and fix them.
This free browser add-on checks for broken links, follows redirect chains, and highlights no-follow connections. It also produces an on-page optimization report concerning your page's title, meta description, headers, word count, and canonicals. This information makes it easier to analyze any website faster. The paid version allows you to view keywords by search volume, ranking difficulty, and CPC.
JSON-LD Schema Generator is one of the greatest tools for integrating schema structured markup to any web page. You can write custom code to showcase your reviews, people, events, and organizations in search engine results however you like.
Simply select the type of structured markup you wish to create, fill in as much information as feasible, and paste the created JSON-LD into your HTML document to test the implementation. You can create the appropriate JSON-LD for any web page.
Robots, also known as User-Agents, are used by search engines to scan your pages. Robots.txt file is a directory that tells a robot which areas of a domain it can crawl. Feel free to add a link to an XML-sitemap in your robots.txt file too.
When a page is blocked in robots.txt, the User-Agents will ignore it entirely.
A website is a library of interconnected web pages hosted on the same platform. However, occasionally content you created a while back may need to be updated or given a fresh spin if it's not performing well. Reviewing and repurposing old content for your website is a terrific approach to generating new content, especially if you've run out of new ideas. You can do that with the help of ClickFlow.
ClickFlow will show you which posts are outdated and need to be updated. To use the Content Decay Tool, just link it to your Google Search Console, import your data, and generate reports. You'll be able to discover which material hasn't performed well over the last year, improve it, and reclaim lost visitors.
If you have a brick-and-mortar business and want to examine how it appears and ranks online, you can use this tool. It gathers data about your store's remarks from social media networks like Facebook, Yelp, Google, and others, crunches it, and offers it to you complete with practical fixes for incomplete or poor listings. However, this service is only offered in three countries: the United States, Canada, and the United Kingdom.
SimilarWeb allows you to see stats about any domain. These include the amount of traffic, where it's coming from, the type of devices, etc. You can use it to check your website's stats as well as those of your competitor's websites. It's available in the free and paid version. Of course, the premium version allows you to see more data points.
Wrap-up
There are many search engine optimization tools on the market. Some perform the same function. Some are totally free, while others are only partially free and require a premium subscription to provide advanced functionalities. Ultimately, when it comes to choosing the best SEO tools, it's all about personal preferences; give the above tools a try to find out what works for you.
---