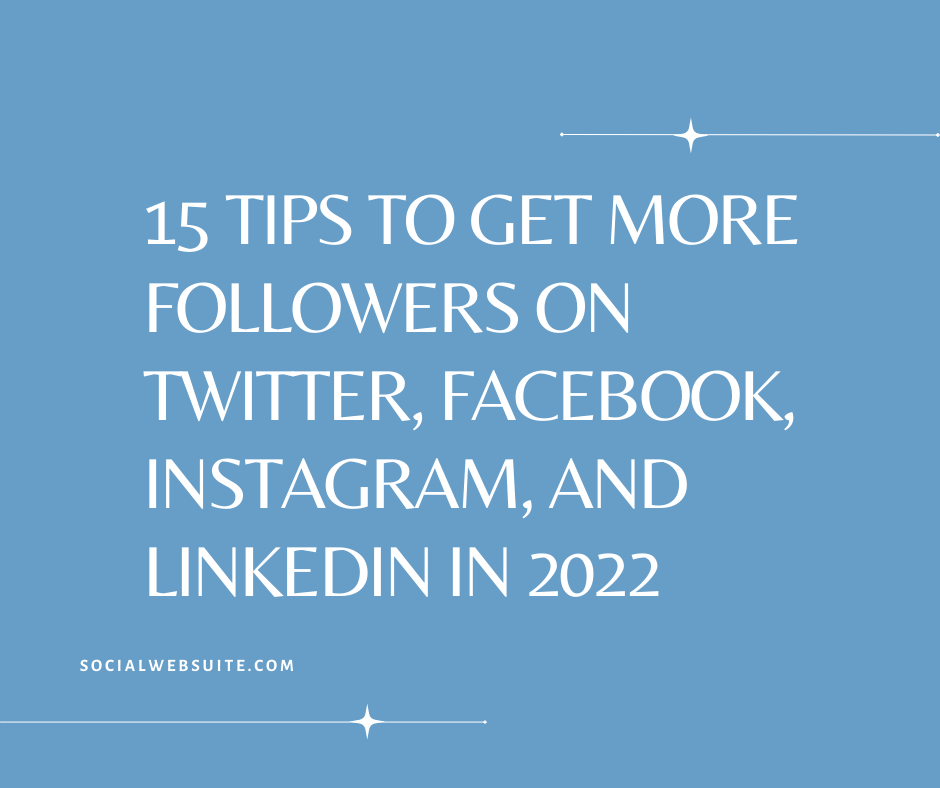 Social media platforms attract numerous users and subscribers searching for different news feeds and content. The huge number of users makes social media one of the most effective and influential marketing strategies. Many businesses and enterprises use different social media platforms, like Twitter, Instagram, Facebook, and LinkedIn to enhance their business success.
When using this effective marketing strategy, followers are integral to success. Your social media followers greatly impact how wide or far your content and message spread. Having more followers ensures that your messages reach more audiences and result in increased clicks, impressions, and conversions. This article highlights the top tips on how to get more followers on Twitter, Facebook, Instagram, and LinkedIn in 2022.
1. Consider High-Converting Hashtags
Hashtags are an essential component in your social media marketing strategy to increase the number of followers. This component helps your content or channel reach a huge targeted audience and increase the number of followers to your account. Nonetheless, when choosing hashtags, ensure you get high converting hashtags to enhance the addition of quality followers.
Experts warn against too many unnecessary hashtags, as they may ruin your brand's success and image. You might even lose followers, as most of them prefer getting real content to seeing numerous hashtags. Therefore, research and use high-converting hashtags that suit your targeted audiences. You can consider your audience interest, current trends, and events and benchmark your competitors' hashtag strategies to get it right with the marketing strategy.
2. Optimize your Social Media Content
Optimizing social media content is a key to increasing the number of followers on the different social media platforms. When optimizing your content on social media, track your engagements to check what engages your current and attracts new followers. Check your competitors' or top-performing brands' strategies and content to get tips on how to create well-performing content.
Furthermore, it'll be wise to stay updated and adopt new strategies to win more followers on your pages. For instance, TikTok and reels are developing into great ways to attract more followers. You can also get more followers by interacting with your followers by liking and responding to their comments or following their relevant accounts back. Lastly, you can use the appropriate geotags on your social media posts. These tags are essential to help you get a specific hyperlocal audience and grow your follower base.
3. Focus on High-Quality Follows
When implementing your social media marketing strategy, the quality of followers will always matter. Having high-quality followers plays an essential role in allowing direct website visits and enabling product links. Remember, to make this marketing strategy successful; it'll be wise to concentrate on the quality of followers rather than quantity. Having an initial legitimacy and a large trustworthy following will be essential for your platform's growth.
With the advancement of technological features, most social media platforms are weeding out accounts with low-quality followers and interactions, including the accounts owners who deceive subscribers into following them or purchasing the likes. Significantly, invest time and resources in generating quality, trustworthy and interactive follower base to enhance the success of your business.
4. Consider Test Content
Social media has various platforms, like Twitter, Facebook, Instagram, and LinkedIn. These platforms offer different opportunities or ways of showcasing content. For instance, Instagram offers a visual presence, essential for photo or video content. LinkedIn is the best platform for infographics and educational articles. Twitter and Facebook are all-around platforms for different demographics.
With the different ways to present your content on these platforms, it'll be vital to have test content for the different brands. Testing is a vital step in your marketing strategy to help you understand what best suits your brand or platform followers. Understanding the appropriate content and presentation on the platform will enhance your followers' growth and engagement.
5. Post with Purpose
Experts reveal that the best way to attract and get more high-quality followers on different social media platforms is by posting with purpose. Before posting any content on your social media, consider the purpose and timing of your post or content. For instance, an Instagram or LinkedIn post lasts for 48 hours, Snapchat for 24 hours, Facebook is six hours, while a Twitter post has a lifespan of 18 minutes.
Therefore, it'll be essential to choose the right time and follow a specific posting schedule, as you'll have a few minutes to make an impression on your followers. Ensure the time you choose suits or allows you to reach your targeted audience. Experts advise using the appropriate platform's native analytics to check when your followers are online and track their engagement time before posting.
6. Optimize your Profile
Having an optimized profile plays an integral role in attracting more followers on the different social media platforms. Importantly, ensure that you fully optimize the profile before starting your social media marketing strategy. The company's name, short bio, profile picture, and linking your account to a website are essential when optimizing your content.
Optimizing your profile keeps it in line with your competitors' profiles and makes it recognizable to your targeted followers. Furthermore, sticking close to your brand name and omitting any characters is key in making your account searchable, thus attracting more followers. Remember to avoid content that doesn't align with your brand's theme or services.
7. Connect with Top Influencers
Influencer Marketing Hubs reveal that influencer marketing is effective for online customer and follower acquisition. Unlike affiliate marketing and organic search strategy, following top influencers in your specific niche or industry is an appropriate strategy that helps increase your followers. Experts reveal that most influencers hold huge credibility and power on these platforms, and you can use them to enhance your follower count.
You can connect with these influencers by following their account on particular highest-grossing social media platforms or engaging with their top-notch content. Furthermore, you can use influencers to increase follower count by sharing their content significantly. Using their frequent posts to promote content with links to your brand or social media channel is another fast-growing way to increase your followers.
8. Promote your Profile and Brand
After understanding your audience, the next appropriate way to enhance the number of followers is to promote your social media platforms. Your audience will only find your account or content when you choose the appropriate promotion strategies. When promoting your profile or accounts, ensure that you consider the updated or latest strategies to get the best results.
The best technique is to add social media buttons on your website's landing pages or email footers when promoting your profiles. Adding these buttons and including links on your social media bio sections will be essential to enhance your followers count. Lastly, you can cross-promote your profiles in different stories and posts to reach a huge number of your targeted audience.
9. Understand your Platform
Understanding your social media platform is a great strategy for creating a huge follower base. These social media platforms have different ways of functioning that enhance or attract more followers. For instance, when using Instagram, you have to create a simple bio, post your content or video frequently and encourage engagement by tagging a particular company or person. When using Twitter, the best strategy to win more followers is to follow local businesses, including trending hashtags in your post and reply to tweets.
Alternatively, you can reach many hyper-targeted audiences through appropriate Facebook Ads. You can also join relevant and top-performing groups to engage with potential customers and the community. You can reach a huge audience by posting various relevant pictures and videos on Facebook. Lastly, on LinkedIn, you can reach many targeted audiences by buying Ads and increasing activities on your page. You can increase the activities on your page by utilizing popular hashtags and posting quality content.
10. Sharing Content Consistently
Sharing relevant content consistently is a key strategy to win more followers on any social media channel. Figuring out what your audience likes and creating & sharing with the audience more often is essential to attract more followers to your channel. Ensure that you post your content regularly and in time to allow your audience to find a regular source of information. Social Web Suite can help you be consistent with sharing your content.
Besides posting regularly, experts advise that it'll be appropriate to consider the search intent when posting your content. Ensure that you create unique and attractive content to engage your current followers and attract new followers to your channel. Furthermore, ensure you research the time most targeted audiences are online to ensure that you post your content timely.
11. Incorporate Long Captions in your Content
Experts reveal that long captions in your content will be an essential strategy to enhance your social media marketing. This strategy is common for platforms like Instagram, which lacks a short character limit on their captions. You can use this strategy to have captions of up to 2000 words for certain content to engage more audience and attract followers.
Market studies reveal that longer captions on social media channels like Instagram leads to more followers and likes. The long captions allow you to outline your brand's cause, tell a story, and promote your goods or services. You can also use it to create appropriate content on your channel services. This strategy helps develop a proper conversation with your audience and attract more followers.
12. Include your Location on the Post
The best way to attract more followers and leads when having a company or brand with a physical location is to include the location on your posts. You can include the location by tagging the location of your premises in your posts or links. Furthermore, you can request all the individuals taking photos to tag your location's physical location. Including the locations allows more users, especially the local audience, to connect with your brand or company. The local audience makes a huge part of your follower base to drive your sales.
13. Have a Proper Social Media Scheduling
Choosing an appropriate social media scheduling is an essential strategy to retain and add more followers to your social media channel. Experts warn against burst updates when having your posts as they may negatively affect your following. Remember that leaving numerous updates within a short duration and sharing uninteresting topics results in a huge number of followers unfollowing your channel. You can use the Social Web Suite scheduling tool to help you with this.
The best way to increase or improve the number of followers on any social media channel is to have a proper schedule for posting content. Depending on your goals, brand type, niche, and targeted audience, you can choose the appropriate posting schedule. Ensure the schedule chosen suits the target audience to retain more followers and attract more.
14. Share Positive Content
Besides quality and great content, sharing positive content is also a key social media marketing strategy. Experts reveal that having happy updates translates to more followers on your social media channels. The tone and voice you choose for your Twitter, Facebook, Instagram, or LinkedIn posts will significantly affect the number of quality followers.
Before following your channels, many social media users consider your conversation format, tone, and voice. Remember factors like self-reference, avatars, and poor tone may lead to unfollowing, leading to lower follower counts. Therefore, the best strategy to win more followers is to happily share your post or content.
15. Provide Your Audience with the Appropriate Information
Did you know that at least half of the social media followers are usually after special offers on your platform? Researchers reveal that most social media users will follow your channel to access the special offers you present and stay updated on your news and offers. Thus, ensure that you consider special offers to entice more followers when seeking social media platform success.
It'll be essential to research and analyze your targeted audience's likes before posting special offers on these products or services. After getting these factors, you can keep a regular update on your special offers. This strategy is common and effective on Twitter and Facebook as the users love getting regular freebies and discounts. Including this alternative in your branding and content strategy results in huge followers on your brand or channel.
Bottom Line
Besides being a great place to interact with various individuals or customers, social media platforms like Facebook, Twitter, Instagram, and LinkedIn have developed into appropriate marketing tools. You can use the different social media platforms to reach a huge audience and increase your brand's leads and conversions.
Having more followers on these platforms is key to enhancing the success of the platform's channel as it increases the community you're interacting with a huge audience. The above are top tips for increasing your followers on Twitter, Facebook, Instagram, and LinkedIn. Do you have any tips for increasing followers on social networks? We love to hear them. Share them with us in the comments.
---