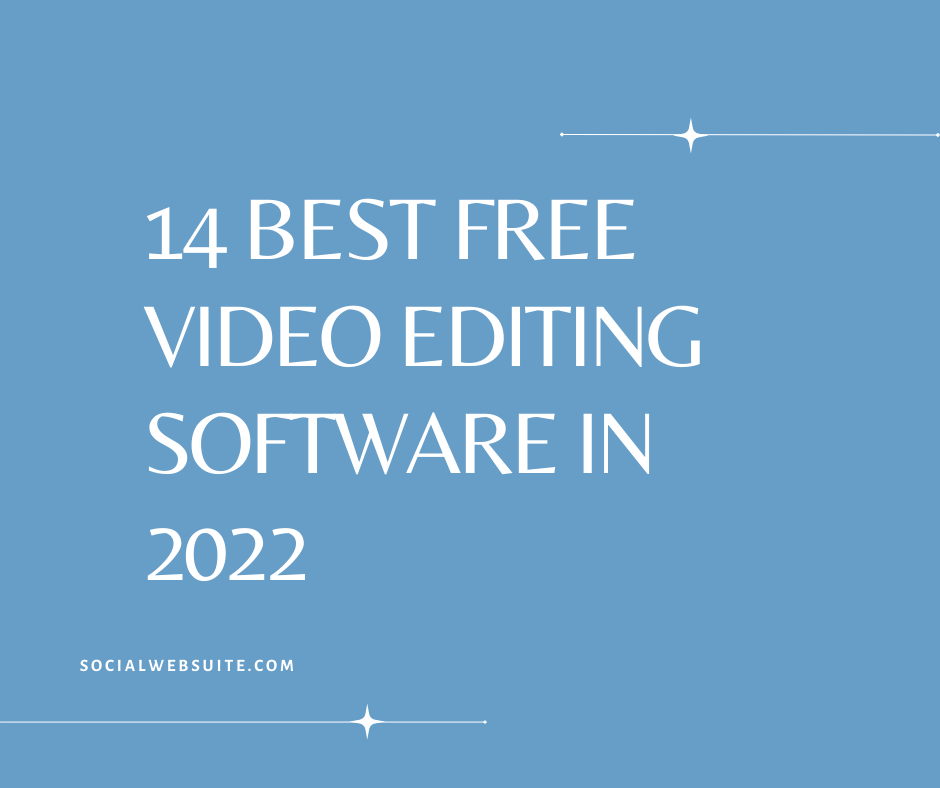 Video editing software allows a user to edit and manipulate videos. Once you've recorded your footage and edited it down to the parts you want, you'll need to export/output that video file so that others can watch it. Many free video editing programs come in handy because they allow users to output their content in various formats (e.g., MP4). Some programs even have built-in players that allow easy playback of your videos on different devices or other software packages (e.g., VLC). Here are our top picks for free video editing software in 2022.
Lightworks is a free video editing software available for both Windows and macOS. It's the professional choice for many people who want to get their hands dirty with some serious video editing.
Lightworks' interface is clean and easy to use. You can split the screen into three windows: one for your timeline, one for media files, and one for tracks. You can add images, audio, and video clips to your project and arrange them. The program supports multiple layers so that you can add titles or effects on top of other clips. The program also includes color correction and stabilization tools, adding filters and transitions between clips in your timeline.
The Lightworks editor supports lots of different file formats — including AVI, DV-AVI (DV), MOV (QuickTime), MP4 (MPEG-4), and WMV (Windows Media Video) — but its support for Ultra HD 4K footage is limited to 24 frames per second (fps). However, better workflow tools are available in the paid version called Lightworks Pro ($199/year).
Lightworks isn't just a great program for beginners—it's also great for professionals. Whether you're making videos on YouTube or looking to make them more professional, Lightworks has features that will help make it much easier.
Adobe Premiere Rush is a free video editing software available on iOS and Android devices. With Adobe Premiere Rush, you can edit videos quickly and easily if you are new to this platform. You can also share your work with friends or family members through social media platforms like Facebook or Instagram without any hassles.
Adobe Premiere Rush is a cloud-based video editing software that allows you to edit videos on the go. You don't need to download any app from Google Play Store because this tool comes preloaded with your smartphone's operating system (OS). If you want to use it on other devices such as PCs, then all you have to do is install the application from its official website by clicking here.
DaVinci Resolve is free for non-commercial use, making it a great option for beginners. With a wide range of tools that you can use to edit, color grade, and do audio post-production, DaVinci Resolve is one of the most popular editing software. It's also great for hobbyists and professionals who want to get started with video editing without spending money.
DaVinci Resolve has a wide variety of tools for color correction tasks. For instance, you can add noise to your image to simulate film grain or use an automatic color match feature when working with multiple cameras. There's also an advanced 3D LUT support for high dynamic range (HDR) images and built-in optical flow stabilization that helps smooth out camera shake while shooting video.
The audio editing features in DaVinci Resolve include tools for automatic dialogue replacement, sound design, and music mixing. You can also apply effects such as reverb or delay directly on specific parts of your soundtrack without affecting other tracks.
HitFilm Express is a free video editor for Windows. It's available for Windows 7 and later, Windows 8 and later, Windows 10 and later, and even XP if you want to go back that far. There are a few different versions, including HitFilm Express Free, which is just the basic version, but there's also an option to try out the more advanced version called HitFilm Pro (which also has some cool plugins you can use).
The main thing that sets this program apart from most others is its visual effects system which makes it easy to add all kinds of cool effects like motion blur, chroma-key (green screen), distortion, or even 3D transformations like turning your image into something flat or adding perspective to it so that it looks like it's coming towards you. Other features to expect:
· A VFX tab you can use to add additional effects to your video
· A compositing tab helps you put different video layers into one scene.
· D tools
· A large library of pre-made effects and filters
VSDC Free Video Editor is a free video editing software used for basic editing tasks. It is available for Windows, Mac, and Linux platforms. If you are looking for a good option for beginners to start learning video editing or have a tight budget but still want to have some fun with your videos, this software will serve you well. You can also use this tool if you are an advanced user who wants something simpler than Adobe Premiere Pro or Final Cut Pro X but has limited funds and doesn't need all the features offered by those two applications.
iMovie is a video editing app for Mac that makes it easy to create, share and enjoy your movies. iMovie lets you turn your videos into amazing films with just a few clicks.
If you have a story to tell, iMovie's intuitive tools make it easy to turn everyday moments into cinematic masterpieces. iMovie allows you to create movies, trailers, music videos, etc., easily. You can tell stories through your photos and videos with just a few taps. iMovie seamlessly integrates with iCloud, so you can start editing on one device and then continue on another without losing any of your work.
You can use iMovie for free on your iPhone or iPad or pay $4.99 per month to unlock the full version with more editing tools in the iOS app store. If you're unsure whether iMovie is right for you, here are some of its key features.
Windows Movie Maker is a free video editing software from Microsoft. It's the best free video editing software available for Windows users, and we can confirm that it's free and packed with features.
* No time limit
* No watermark unless you choose to add one yourself
* No ads or in-app purchases (although some of its plugins do have them)
* Supports 4K and 360 videos as well as VR videos in general
* Supports multiple audio tracks and layers/effects on your videos
WeVideo is a free online video editor with a fully featured library of effects, transitions, and titles. The platform supports 4K video editing for the full-resolution experience, so you can create high-quality content without spending a dime on software.
WeVideo has built-in functionality that allows you to add text, images, and music from their libraries or upload your media directly into the application. You can also use built-in presets if you're looking for some inspiration when editing your project. Once everything is in place, WeVideo lets you add both audio and video effects before adding transitions between clips (which can be adjusted after they're added) plus titles at either end of each scene or episode.
KineMaster is a free video editing software that can be used to edit videos, photos, and audio files. It's available for Windows and Mac users and can be downloaded from this website.
The software works with all popular video formats, so you won't need to convert your original file type before you begin editing it. What's more, KineMaster supports 4K high definition videos and 360-degree view capabilities, which makes it an ideal candidate for creating virtual reality videos for social media platforms such as Facebook or YouTube. You can also create animated gifs with this app if that's something you want to do!
KineMaster allows users to add multiple layers of either video, images, stickers, text, handwriting video clips, and background music. KineMaster has various effects such as speed control, transition effects, and voiceovers. KineMaster supports all the video formats. KineMaster offers editing tools like precise trimming and cutting, colour filters, and precise volume envelope control. KineMaster has audio filters like equalizer, voice changer, and tempo control. The app has various themes, animations, and visual and audio effects.
OpenShot is an open-source video editing software that supports the most popular operating systems and hardware, including Windows, Mac OSX, and Linux. The interface of OpenShot is very user-friendly, so you can easily create your own movies with no previous experience needed.
The main features of OpenShot are:
Easy to use – suitable for beginner video editors.
Add text, effects, and transitions – add music or sounds to your movie and other visual effects! Different transition styles are available if you want to spice things up a little bit!
Export to 4K resolution – if you want your videos to look professional enough for TV broadcast, this feature will be perfect! You'll be able to export videos at 3840 x 2160 pixels using H265 codecs, so there won't be any quality loss when publishing on YouTube either!
Shotcut is a free, cross-platform, open-source video editor for Windows, Mac, and Linux. Shotcut was conceived in November 2004 by Charlie Yates, an MLT founder, and the original lead developer (see the original website).
Shotcut supports 4K resolution support and has a powerful set of features. It can be used as an alternative to Lightworks or Kdenlive, but it's simpler than the two mentioned apps. The interface is user-friendly, so all users can easily get familiarized with it.
The program has an extensive list of tools and effects, including real-time audio mixing, color correction, and more useful features. The program also supports multi-monitor setups, which makes it possible to work with several windows at once. The current version of Shotcut is shortcut-19.1.0 (released on April 22nd, 2019), with a couple of beta releases leading up to it:
VideoPad is a full-featured video editing software that is completely free to use. Many users have widely used it, and tons of people recommend this software due to its ease of use and ability to meet all your needs.
VideoPad is an award-winning video editor and comes with powerful features like trimming, cropping, merging videos and applying filters on them, etc. You can also add subtitles or change the audio in your videos using this tool. With VideoPad, you can create videos for sharing online or for other purposes like presentations or personal use.
You can download this tool directly from their official website without hassle or paying any money upfront, as it is completely free to use!
VSDC Free Video Editor is a powerful, feature-packed non-linear video editor for Windows. It has a wide range of video and audio editing tools, which allow you to edit and export videos in up to 4K resolutions.
You can also edit audio tracks in different formats simultaneously with the video track. This software supports lossless and lossy codecs such as H264/MPEG-4 AVC, Xvid, MPEG-1/2/4, DivX 5/6, MP3/MP2, etc.
The program also includes various effects such as transitions, filters, and text effects that can be applied to your clips or titles right inside the application's main window.
Avidemux is a free, open-source video editor with basic features that anyone can use to trim and splice video clips. The catch? It's not particularly intuitive—and it doesn't come with any tutorial or help guide. It does have an easy-to-use user interface, though, so if you're just getting started with video editing, Avidemux might be the best option for you.
Another advantage of using Avidemux is that you can use it as a video converter or joiner. While there are other apps out there that do these things better than Avidemux (like Handbrake), no other free app offers all three functions at once as this one does!
Wrap-up
Because of the cost of software, students, professionals, and even people who want to edit videos for fun tend to go with free versions. These best free video editing programs in 2022 will offer new video editing features every six months and compete for market share and business.
---