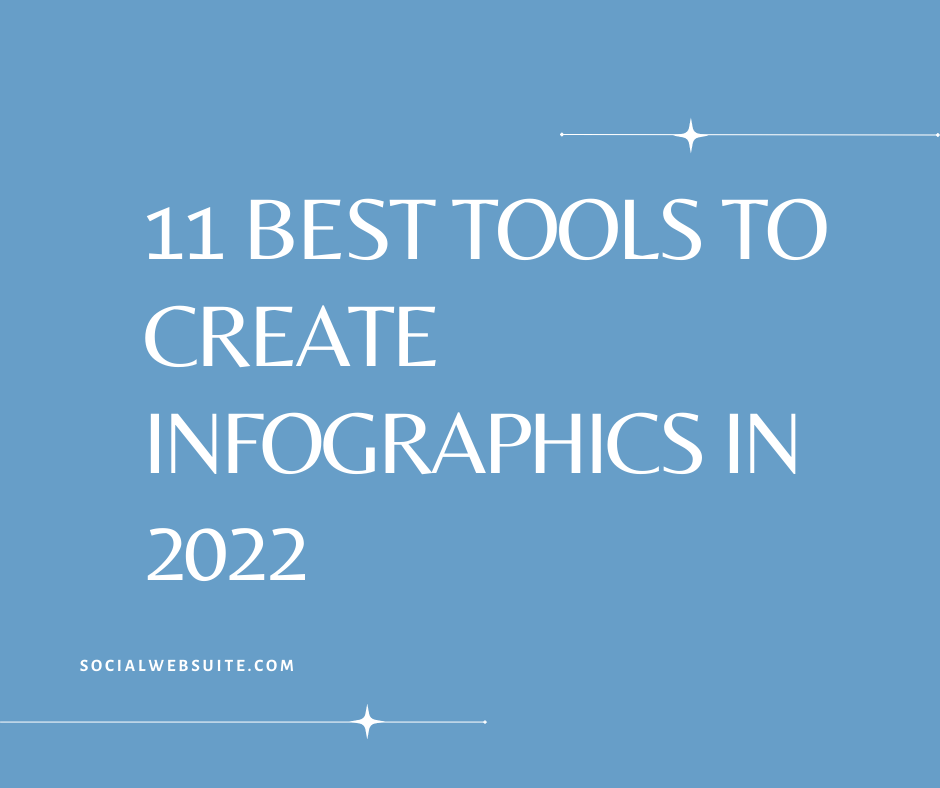 Infographics are graphic visual presentations of data, knowledge, or information in a way that helps viewers absorb the content faster and more efficiently by taking advantage of a human being's ability to spot trends and patterns visually. They incorporate engaging visuals, striking images, and various charts and graphs. They typically contain very little text.
You might think that creating infographics is a complex process requiring specialized design skills, but the reality is completely different. Numerous applications and programs can help you create high-quality infographics without specialized graphic design or programming knowledge. We'll be looking at some of the best infographics design packages available today in this article.
Let's get right into it.
It's easy to mistake Visme for your typical business-oriented infographics design application, but it manages to do much more than many of its competitors. Aside from the usual offers of premium, edited images you can get from standard infographic creators, Visme will also offer you an exceptionally large variety of integration options. Visme can achieve world-class results in the publication and presentation of infographics.
The application will work with YouTube and social media management applications and in conjunction with your file storage software, email clients, survey tools, and more. You will even be able to integrate your Visme functionality with Slack, which is one of the best and most popular collaboration software worldwide.
Visme will make your infographic design process much smoother and more intuitive than ever due to its large capacity to take in information and data sets from multiple sources and merge them into a coherent presentation.
What more could you ask for? You can start on the app free of charge, but you will be limited in the functionality and options you can access. For $15 a month, you can take up their Standard plan or pay $29 each month for their Business package.
Adobe has been a long-standing powerhouse in the software development industry, and they consistently deliver world-class products. In Adobe Express, users get much more than an infographics creator. Infographics are a minor element of what the software is capable of, as it can be used as an entire content studio, video editor, web page designer, and so on.
The app's major selling point is its versatility, and you will be able to easily export your work to other programs and platforms once you finish designing it. Adobe Express is available in both iOS and Android versions. You can access the limited free version of Adobe Express or take up an individual plan for $9.99 per month or the team plan for $19.99.
This is one of the most popular infographic creation applications available today and is well-known due to the strength of its photo editing tools. The company started with a focus on giving us the ability to edit photos in publishing-ready content, and it is because of this core strength that the app sees such continued success. PicMonkey essentially allows users to take digital photos and strip away the background, retouch it, add filters to it, and so on. It also lets you add corporate logos, stock photos, and other branding content to the photo.
They provide high-quality results and allow you to out the finished products, or post them on your sites, providing you with ready-made templates for use on popular sites such as YouTube, Facebook, Instagram, and more. You can start with their free trial version, but you will eventually be asked to choose between their Basic package, which costs $7.99 each month; their Pro package at $12.99 a month; or their Team option, which will cost you $33.99 every month.
If you're hoping to find an infographics creator capable of handling all your visual media projects, then BeFunky is the answer you've been looking for. They offer you an online platform that can handle all your design needs, whether you're a novice or an expert in the field. They have advanced infographic templates and design tools so that users can create eye-catching infographics of the best quality in a fraction of the time and cost associated with professional design workers. The best part about BeFunky is that it is a free service, although you have the option of unlocking additional features by signing up for their Plus plan, which costs $4.99 each month.
If it's the simplicity you look for in an infographics creation app, then Canva should be your top choice. It uses simple drag-and-drop operations to allow users to create engaging infographics and presentations. The application goes a step further and provides us with the ability to design and generate business cards, t-shirts, lesson plans, and much more. In fact, they will even go through the trouble of printing and delivering your t-shirt with your design directly to you.
They have differentiated pricing levels, although you can always start with the free version before choosing. The paid, pro-level package costs $12.95 each month and allows you the ability to include graphics and designs you have been making in other applications to your infographics. Schools and nonprofits stand a chance to claim discounts on their package prices.
The key selling point with this application is its ability to let you fluidly change and adapt the templates they provide so that it fits your subject matter perfectly. This is a significant departure from the system employed by other apps, where you will be bound to the templates as they are presented to you, no matter how many options there are. In this category, however, Adioma doesn't fall short either.
It comes with a massive library of symbols and icons to spice up your infographic and make it more easily understood and eye-catching. The platform allows you to export your infographics to other applications seamlessly. Adioma is a freemium product, as you can choose to work with the free trial package or sign up for their pro, expert, or business versions which go for $39, $69, and $300 per month, respectively.
In many cases, people shy away from infographic creation applications with the mistaken assumption that using them would be difficult. Apps such as Infogram are specifically designed to be as easy to use as possible as a result of this prejudice, and this achieves this well. Infogram makes it possible to create a high-quality infographic in a matter of minutes.
Some of its strongest features are a slideshow creation function, the ability to generate progress reports, and the capacity to incorporate sales trackers in the infographic. This last feature is strong, as sales figures are often at the heart of important business and marketing communications.
An impressive feature of Infogram is the ability to include or adjust these statistics in real-time, allowing you to update the information it contains as it changes continuously. Before Infogram came along, making such changes required coding or programming knowledge, a specialized skill held by few.
All the infographics and information contained therein can be easily exported and posted on your website. The basic level Infogram package is free of charge, but you can take up their pad offers that range from $19 each month up to $149, giving you advanced features and capabilities and allowing multiple user access.
Dedicated infographic software applications come in different forms, and one of the most interesting ones is Mind the Graph. While it checks all the boxes you would expect it to, it is specifically designed to accommodate users trying to disseminate information and material with a scientific correlation. The app has a vast library of scientific images, illustrations, and materials that will help you communicate your message on science-related topics.
Many people consider it the most useful infographics software for amateurs, students, and professionals in such fields. There are multiple payment tiers on Mind the Graph. The bottom tier is free of charge, allowing you to make up to 4 infographics. Once past that, you will have to pay $5 each month, and it will allow you to create a maximum of 10 infographics. Coming after that is a $9 tier aimed at teachers, researchers, and graduate students. Finally, you have the $59 per month package geared towards scientific companies and laboratories.
While it was designed to be video-editing software, the sheer infographic-creation capabilities make it a sure pick for this list. Infographics can incorporate videos, which are excellent means of attracting and holding the viewers' attention, and traditional image-based methods. They provide several templates and sample effects that you can use on your project even if you have no prior training or experience with video editing or graphic design.
The Biteable pricing module starts at the free level, although the videos created here will be stuck with the Biteable watermark. The mid-level tier starts at $19 each month, which adds the capability to put your own personal watermark on the project, commercial rights, and high-definition quality. The top tier will cost you $49 each month and includes analytics, team members, access to the Shutterstock video library, and audio and video uploading capabilities.
The greatest selling point when it comes to Easel.ly is hinted at in its name. It touts itself as the most user-friendly infographics application on the market, and they have a strong claim to that title. Their user interface allows you to smoothly pick out templates and personal images and add them to your infographic. You can choose to work with one of their simple design services that charge you a nominal fee to create a custom template on your behalf, to which you can add whatever information you consider to be relevant.
When using the business version of Easel.ly, you will enjoy real-time collaboration and group use capabilities, which is a great feature at the prices the service charges. Aside from the free version, there are three tiers where students, individuals, and businesses are asked to pay $2.00, $4.00, and $5.00, respectively.
Piktochart is a much-needed product in the infographics ecosystem that balances your need to create infographics in the traditional fashion while allowing you to branch out and incorporate new ways of doing things. The functionality that they bring to the table includes slide checks and making reports (including pure text boxes). This is a departure from traditional applications, as they would typically only let you edit rather than add text to your work.
In some versions of Piktochart, you will be able to engage in real-time collaborations with your team. These make Piktochart a versatile solution covering all the bases an average infographic creator needs. Individual Piktochart accounts cost $29 each month, while team plans will cost you $99 per month, with each additional team member being charged per seat.
Final Thoughts
Infographics are some of the most powerful tools available to individuals, companies, and institutions of all sizes in every industry you can think of, as long as they need to communicate information with the world. The most important factors to look at when deciding on what infographics software to use are the volume of its templates, the quality of its templates, special functions, website speed, pricing, and user-friendliness.
Different software will have different strengths and weaknesses, but the options we've covered here should give you a good idea of the range of possibilities out there. Whatever software you settle on, don't be afraid to try out new things, as they are capable of much more than you might expect. Best of luck!
---