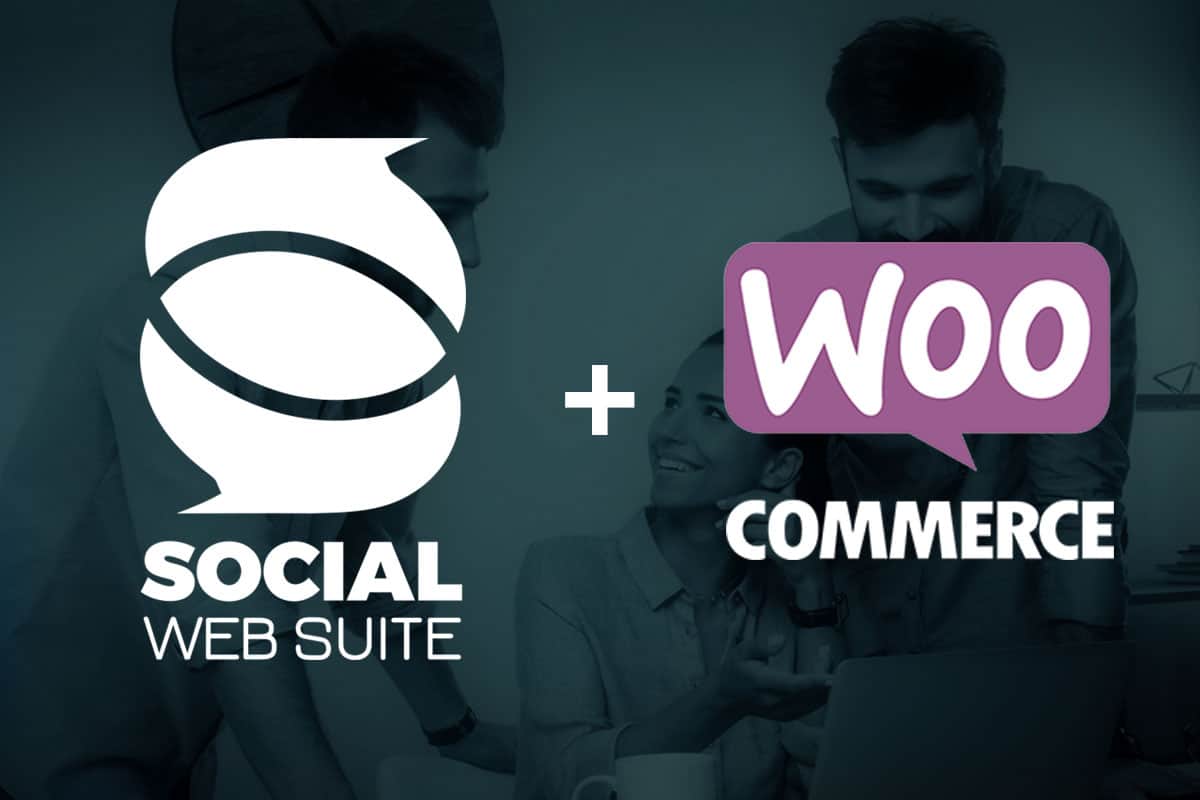 WordPress is the most commonly used CMS (Content Management System) in the world, and the platform presents a host of possibilities for online marketers, including a range of plugins which let you take your site even further.
Plugins like WooCommerce allow you to easily set-up and manage an e-commerce store on your website, even if you don't have any web design skills.
We are proud to say that Social Web Suite supports WooCommerce, so you can create your beautiful e-commerce store and share your products easily with the world!
Without further ado, let's dive into what WooCommerce is, why you should use it, and how you can install and set it up on your site right now.
What is WooCommerce?
WooCommerce is simply a free plugin that works on WordPress to help you add e-commerce features to your WordPress website. It lets you add an online store to your site where all the things you wish to sell are added as 'products'. You can categorize all your products or sort them using attributes. Also, you're able to specify whether your products are physical goods or those that are digital such as downloadable products.
WooCommerce handles everything else that is involved in the process of online selling including payment gateways, shipping charges, taxes, discounts, promotions, management of inventory, and so on.
Let's take a look at the basic rundown of some of the major WooCommerce features:
WooCommerce Features
Supports physical and digital products
Offers integrations for various payment gateways
Allows the additions of special offers, discount promo codes, etc.
Works with multiple tax rules and currencies
Supports bundled sales, dynamic pricing, membership plans, and subscriptions
Integrates easily with third-party services like Google Analytics
Supports shipping rules, rated according to your needs
Allows for extensions to do more, including custom products, custom invoices, etc.
That should give you a basic idea of what you can get from WooCommerce, but there are many other options for creating an online store, so why should you use this platform over others?
Why Use WooCommerce?
We're going to look at some facts about this service, and why it's different than the other e-commerce solutions on the market right now.
1. WooCommerce is Free
You never have to worry about investing money into it, at least not in the beginning. Simply install it and get started using it for free. You don't have to pay any monthly fees as you do on Shopify unless you want the premium add-ons. For instance, if you want to add currency conversion rules that are geolocated, then you might want to install a premium add-on.
2. WooCommerce is an open-source project
This means that you can do whatever you desire with it, whether you want to install it on multiple websites, change the code, or whatever else you want.
3. The platform has a massive community around it
With almost 300 contributors, WooCommerce is constantly being improved and new features and updates are being introduced all the time. The plugin is backed by a highly active team of developers as well as a thriving community of coders and users.
4. There are hundreds of extensions
This is undoubtedly one of the best things about WooCommerce because each of these extensions enhances the plugin's abilities. There are lots of free and premium options to choose from in the ever-growing extensions base. You'll never have a hard time when it comes to finding integrations and add-ons for WooCommerce, which may not be the case with other e-commerce plugins.
5. WooCommerce is super easy to use
This plugin is extremely user-friendly and you can be up and running with a few mouse clicks. You are not required to learn to code, and you can be running your own e-commerce shop within minutes.
So, the bottom line is that WooCommerce isn't the only plugin that you can use for the creation, management, and maintenance of your online store, but it's definitely one of the most popular. Of course, this isn't surprising when you consider how popular WordPress is.
And since WooCommerce works directly within WordPress, there's no need to set up and manage two different websites. You can either add a store to your blog or a blog to your online store. Other plugins that offer functionality that is similar include Shopify, which doesn't require the use of WordPress.
WooCommerce is not the only plausible solution for e-commerce out there, but it certainly is one of the best with a host of benefits that compel many users to choose it over all the other platforms. It works straight out the box, and you can easily integrate it into your current WordPress website with relative ease.
WooCommerce Downsides
It's important to note that there might be a few instances where WooCommerce might not provide the perfect solution. For instance, if you want to integrate drop shipping in your online store, then Shopify might work better for you.
In a similar way, if you are selling digital products like courses and other downloadable information products, then plugins like Easy Digital Downloads may prove a better solution. But,
for every other purpose, WooCommerce holds the top spot as the leader in the e-commerce world.
What Exactly Can You Do With WooCommerce?
The one goal of WooCommerce is to help you sell your products. The products section is where you manage your shop. You're able to publish various types of products.
Simple Products – This is the platform's default, and it contains components like price, gallery, product description, and the add to shopping cart button. This is generally the type of product that you will use most often.
Variable Products – These types of products have the advantage of allowing you to add variations to your products. For instance, if you sell tableware, you can add the colors that customers can choose from.
Digital or Downloadable Products – This product type is meant for your products that are only available for download such as e-books, apps, and so on.
Grouped Products – This is a collection of products that are related but can be bought individually. The group can be made up of simple products, for example, a simple product for a hard drive could be placed under Grouped Products as there are 1T, 2T, and 3T variations of that same product.
External or Affiliate Products – This is where you list and describe products on your site that are actually sold somewhere else.
How to Choose The Best Web Hosting For Your WooCommerce Site
You may already be impressed with this plugin, and if your mind is made up that you're going to use WooCommerce on your site, there's one other thing that you need to consider. You must make sure that your web host provider can actually handle it.
Check our posts about the hosting companies we recommend.
You don't want your site to slow down or even go offline just because you added a store section to it, so it's important to take the time to ensure that things will run smoothly even with the installation of WooCommerce on your website.
There are tons of web hosting providers that can run WordPress sites, but not all of them are made equally. Some do the job better than others. If you want the peace of mind of knowing that you're getting the best performance for your site, then you need a WordPress optimized server and a great management plan.
And when you add WooCommerce to the picture, it's even more important to avoid the small-time, unreliable web hosts and focus on the hosting providers that know how to deal with multiple database queries, as well as scale accordingly so that they can accommodate any traffic hikes on your site and offer your store the boost that it needs.
Easy Handling of Traffic Spikes
The biggest issue that most WooCommerce site users face has to do with multiple concurrent website visitors, it's important that your web host should be able to easily handle any spikes in traffic. Your host should have object caching to help reduce the load on the server whenever multiple pages are accessed by visitors at the same time.
Sufficient Memory and Server Resources
You also need to make sure that the hosting company that you choose to go with gives you a plan with sufficient memory specifications and server resources so that your site is able to perform without presenting memory or server issues.
More importantly, if you are using a managed WordPress hosting provider, then they need to be able to assist you with the basic troubleshooting for WooCommerce issues to ensure that your site runs as smoothly as possible.
Check our posts about the hosting companies we recommend.
As you can see, there are many considerations to bear in mind when deciding which web host to go with for your WooCommerce online shop. But after you've made your choice, it's on to the next section to learn how to set up your store.
How To Set Up a WooCommerce Store
Outlined below are the simple steps that you can follow to set up your first WooCommerce shop in just a few short minutes.
Step #1: Install WordPress – there are tons of tutorials online about how to do this, and on most web hosts you can do it at the click of a button.
Step #2: Download WooCommerce Plugin and Install it – In your WordPress admin area, go to Plugins>Add New>WooCommerce>Install Now.
Step #3: Set Up General WooCommerce Settings – After installing the plugin, it's time to set up the settings. In your admin area, find WooCommerce>Settings,
Step #4: Fill In Content – Go to the 'products' tab in the admin area and fill in the required content like products, categories, and so on. You can now add products, categories, coupons, tags, and so on.
Step #5: Time To Test Your Store – Once you have everything set up, you need to test the site to see if everything is working the right way. Go through each of the products and add various types of products to see if all are in the right place. Test the payment gateway using the Paypal sandbox test account so that you don't have to make real payments.
WooCommerce FAQ
How does the WooCommerce shopping cart system work?
The shopping cart system in WooCommerce works in pretty much the same way as all other e-commerce stores. All you need to do is add a product to the cart and then proceed to checkout where you will be prompted to fill a form. You then send the order, and that completes the process.
How do you deal with orders on WooCommerce?
An order is created once the customer has completed the entire checkout process. Orders are only visible to Shop Manager and Admin users.
If you want to manage orders on your WooCommerce dashboard, then you can do so on the management page that has a table which provides information on each individual order, including order status, ID, time, price, and so on. Other than managing your orders on this page, you also have the ability to create reports. These show you exactly how many products you have sold for a particular length of time. The reports can be sorted by product, category, and date.
Who takes care of the cash flow and payments in WooCommerce?
You don't have to concern yourself about anything associated with payments, including cash, payment gateways, etc. as WooCommerce takes care of all that. All you have to do is to simply install your preferred payment gateway from the 120 plus available options and WooCommerce will do the rest.
How do I deal with the shipping rates?
This is yet another issue that you do not have to worry yourself about. Simply install the appropriate shipping extension and all the hard work will be done for you. All you have to consider is how to set up your products and manage them the right way.
The Bottom Line
Once you've installed and set up your WooCommerce site, you're ready for sales. There is obviously a lot more to learn about this plugin, but this post has provided you with everything you need to get started. Remember to keep researching and read more about WooCommerce and WordPress in order to keep up with the advancements.
---