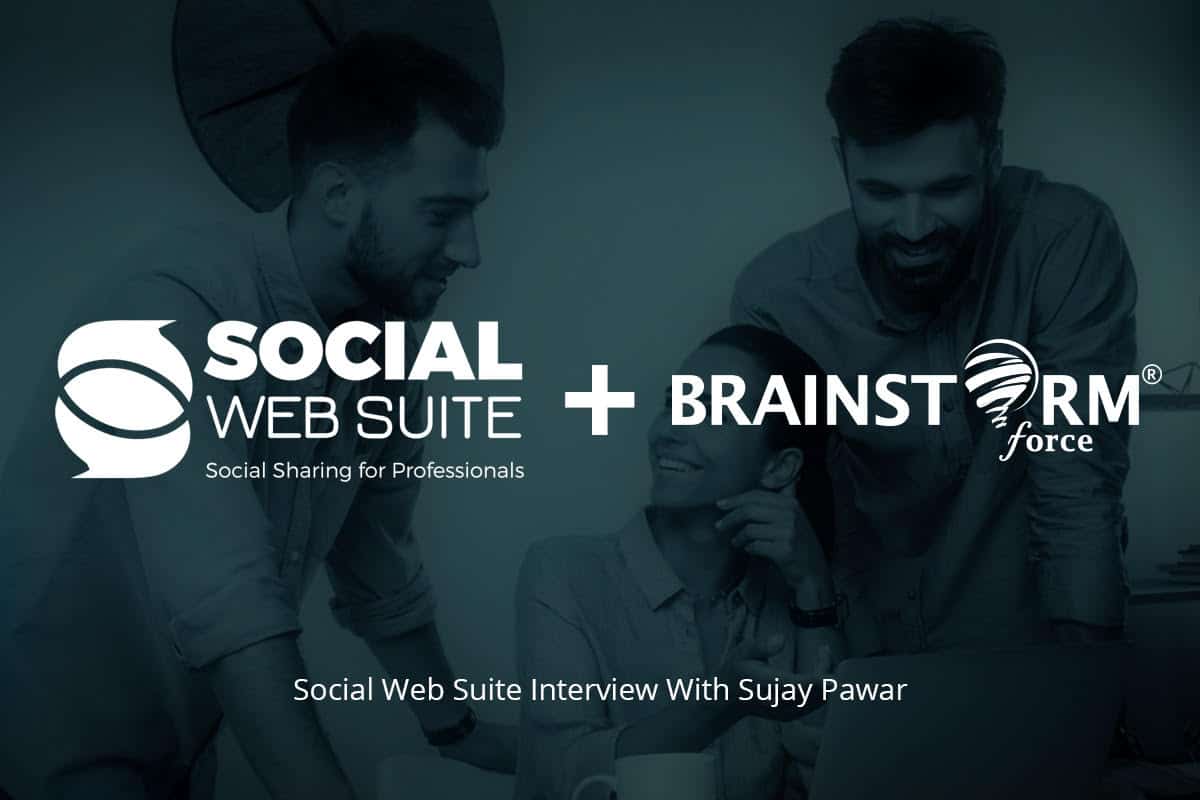 We are super excited to interview Sujay Pawar a co-founder of Brainstorm Force. Brainstorm Force is a product company and their most popular product is the WordPress theme, Astra. Astra is one of the most downloaded themes in the WordPress community.
Tina: Sujay, thank you so much for agreeing to answer our questions. We know that you are busy, so let's start with getting to know you a little better. Can you please tell us a little bit about you?
Sujay: Awesome. Thanks Tina. So, my name is Sujay and I run a company called Brainstorm Force. We are a product company. We started as a service company in 2009, but since 2014 we started developing WordPress products and now at this stage, we have a full-fledged WordPress development company. Collectively we power more than 1 million websites with our products. Astra Theme is one of our popular products, which has more than 100,000 active installations. And we have a few other WordPress products such as Convert Pro, which helps people generate and build their email list. We have a Schema Pro which is for integrating Schema markup code in any WordPress website without touching a line of code. We have a few page builder add-ons, such as Beaver Builder add-on, Elementor add-on and things like that. So basically we aim to help people build their websites, without any code and that's what all our products do.
Tina: Nice. How did you start with the WordPress? What's your story?
Sujay: I started a business at a very early stage. Right now I'm 28 and I started when I was 19 years old. I was studying in a school and went to college. My college had a website, but it was pretty bad, so I just thought if there is any way I can help my college design a website and that's how I started learning about website development. I was studying in a computer science department, so I had a pretty decent idea of HTML and a little bit of coding. So I started digging more into the code, found Joomla to start with, then came WordPress and that's my WordPress story.
Tina: Are all your products for WordPress?
Sujay: Yes. All our products are WordPress related products. We are a WordPress focused company.
Tina: You have mentioned that all of your products (or most of them) are for the people that are not familiar with the code. For example, for the people that just need a website or just need a specific product. If anyone is using Beaver Builder to build their website and they might need your add-on, can you explain to us what does your add-on do and how it expands Beaver Builder?
Sujay: We have a bunch of add-ons for a few page builders. Beaver Builder code is very clean, lean and mean, but by doing that they do not focus on a few elements, and we cover those elements. So we bridged that gap. For example, let's say Beaver Builder has an add-on or module for creating a blog pre-checked on your website, but our add-on is more flexible. People are able to do more styling and stuff like that without touching a line of code. So that's how we bridge the gap between the Beaver Builder core which is clean, lean and mean, whereas ours is flexible, and people are able to create things that they want without custom CSS or without a single code.
Tina: That is awesome. I know that your Astra Theme also has so many integrations with, for example, Beaver Builder, Elementor, to name just a few. This is great because our audience might use your Theme and it's perfect for them because it's really well coded and because it has so many integrations. So basically when you purchase a Theme, you already have everything set up. You don't need to buy other add-ons or other plugins. What are the other integrations that you have with the Astra Theme?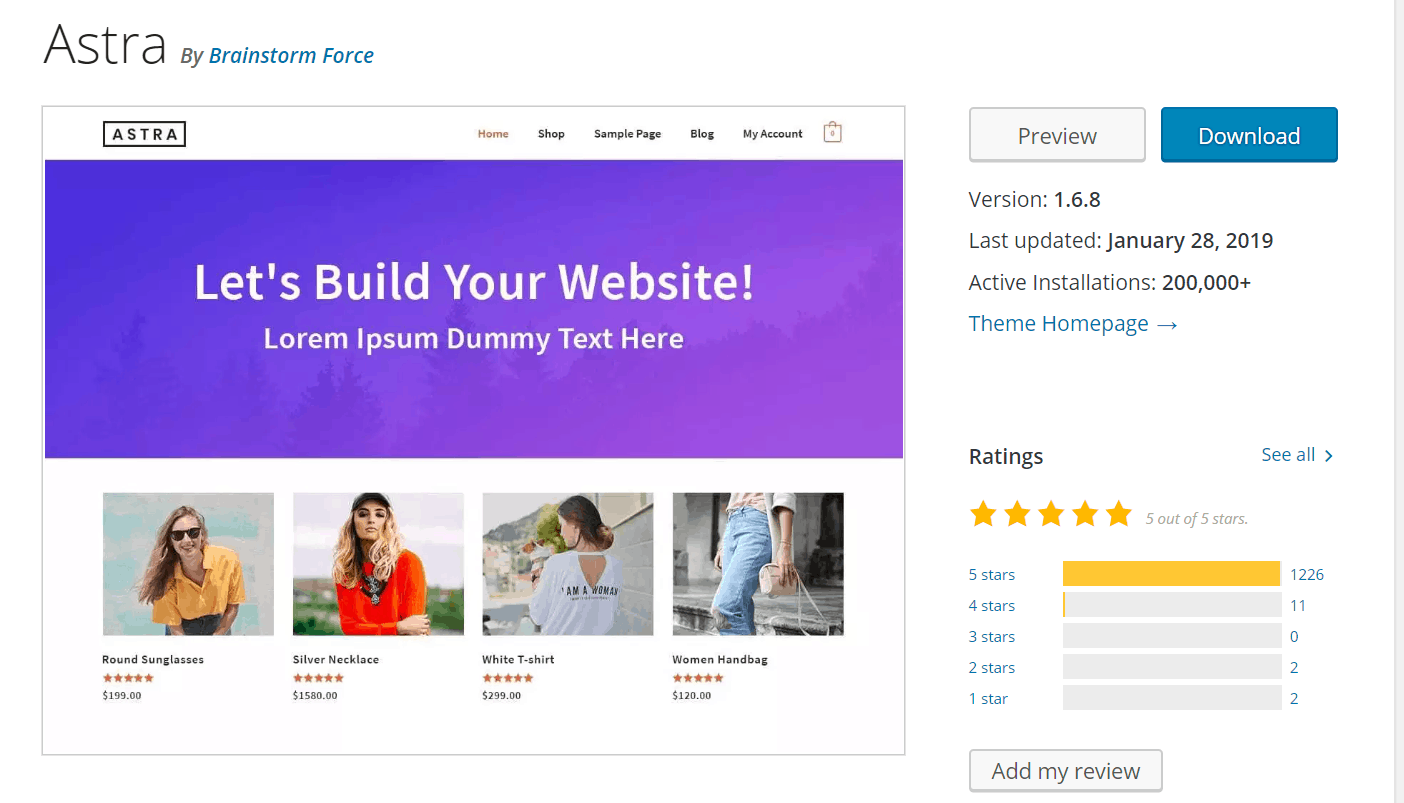 Sujay: First of all, let me tell you a little bit about Astra. Astra is the framework theme, which means that it is kind of a framework which you can customize in any way you want to build your website, but it is very flexible at the same time, as well. Just to give you an example, for example with the Genesis Framework, which is very clean, lean and mean, if you want to customize anything you need to go to your functions.php file or you need to open your code editor and start coding. But with Astra, it's very clean, lean and mean and we utilize the power of WordPress customizer. So everything you need to customize is right there, built in with the WordPress Customizer. That is how we manage to keep it very clean. it is very lightweight, too and we are so focused on it that we don't even use any JQuery in the base version of the Astra Theme at all. Our major focus is on how we can make Astra theme, even more, lighter, even more, faster. Astra theme is built in a very modular way so that you can turn off any modules that you want and just not use the ones that you don't want. Astra integrates with all page builders. It works awesomely with Beaver Builder, Elementor and all of the page builders that you can think of like thrive market, etc. We have also built design integrations for several LMS platforms like Lifter LMS, LearnDash and it works really, really well with Woo Commerce as well. So these are the kind of integrations we offer with Astra. With integrations, what we mean is we make it very fluid so that you can use your favorite plugins and just pair them with Astra and use them as you want. We offer a bunch of customized settings so you can customize anything you can imagine right from the customizer. So those kinds of integrations we offer with Astra.
Tina: I would like to point out that you are doing it the right way, the WordPress way by integrating the customizer and I wish that more people are doing it this way, too. That is why Astra is one of the most popular Themes used now. I also want to ask you how can we help marketers and social media people to use Astra for their website?
Sujay: With Astra, we have created several segments or audiences. The majority of our audience are agencies who run a small web design business. But we are trying to help people who are just getting started with WordPress and solo developers as well. So we have a thing called Astra starter sites. So it is a library, it is free, you can search on Astra starter sites on the WordPress repository and you will find a WordPress plugin. With this plugin, you can import our templates in your favorite page builder and just start from there. So if you're just getting started with WordPress, you can start with our templates that you can import and build your website. If you're an agency, you will find our agency package of great value because we provide many tools that most of the agencies use. Since we come from an agency background, we know the pain of agencies and that's how we helped build a package for agencies. For developers, Astra has a plethora of hooks, actions, filters in the code itself, so you will be able to customize Astra easily.
Tina: Where can people find those packages and more information about Astra?
Sujay: The best way is to go to our website wpastra.com. You can also find our knowledge base there where you can find the answers to all your questions.
Tina: What are the plans and pricing for Astra?
Sujay: Astra is a freemium product and the free version you can find in the WordPress repository. The free version is powerful. You can just get started using the free version. We offer Astra PRO at just $59 a year. So you can get Astra PRO for $59 which offers more customizations, more options in the customizer. That is the kind of pricing that we offer.
Tina: Nice. So, basically anybody can try it for free and even use it for free just to see how it feels like and if they like it then they can buy your pro version to have more options and more design and more templates. Right?
Sujay: Exactly.
Tina: Awesome. and how can people find you?
Sujay: They can reach out to me on Twitter, my twitter handle is SujayPawar, or they can just search for me on Facebook and I accept pretty much all Facebook requests. So, Twitter, Facebook, or just through the contact form on our Astra website should be fine.
Tina: Do you have a Facebook group for Astra users or are you planning to get one?
Sujay: We have a very active Facebook group of Astra users, more than 6,000 active members in our Facebook group. If you search for Astra WordPress theme, you will be able to find our group.
Tina: I would advise everybody who is thinking to try Astra theme to join the group because you can always find so many useful tips and tricks there. And it's much easier and more interactive, especially if people have some questions. So what will future bring for Astra and for your team?
Sujay: The future is great with WordPress 5.0. I'm very happy that Gutenberg is here. Finally, a page builder is here within a WordPress. For a very long time we relied on creating add-ons for separate page builders, but right now WordPress has an official page builder finally. It's not there yet, but I'm sure it will mature and it won't be as powerful as other page builders to compete with them, but still it will offer people flexibility to create their websites right from the Gutenberg without having to rely on a third party code or creating custom fields and writing PhP code and stuff like that. I am very excited about the future of WordPress. We just rolled out an update where we made Astra fully compatible with Gutenberg. We even created an extension for Gutenberg with our own blocks. It is in the WordPress repository called Ultimate Addons for Gutenberg. So, yeah, I'm really excited about WordPress 5.0 and the future.
Tina: If anyone wants to try Gutenberg add-on or Astra, they can go and find it in the WordPress repository. Thank you so much for being our guest and we're looking forward, for what the future will bring for Astra and for other products you have.
Sujay: Thank you very much for having me. It's a very nice speaking with you.
You can reach out to Sujay via:
 Twitter: @SujayPawar
Facebook: Sujay Pawar 
Website: WPAstra
How do you like our interview? Are you ready to try Astra or other Brainstorm Force products now?
You can also check our Interview with Sam Brody from Offspring, a WordPress website editor here.
If you want to learn more about any product/service/person just let us know and we will try our best to invite them for a chat.
---