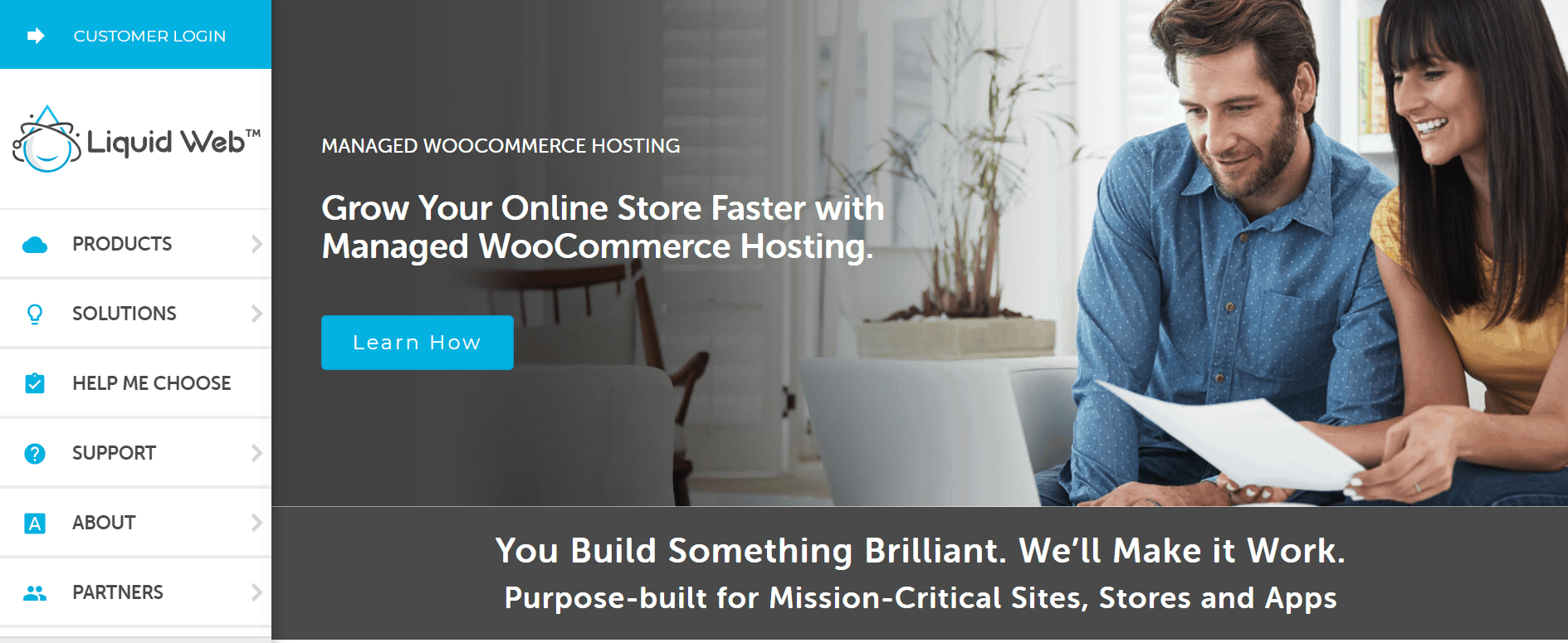 What is the best hosting provider?

One of the most asked questions on the web is: What is the best hosting company for WordPress sites, e-commerce, blog, etc. We have been asked that question so many times. That is why we have decided to start a series of blog posts dedicated to the hosting companies that we have partnered with, trust, use and recommend. We hope that our unbiased review of the hosting companies will help you decide which one will you trust with your business.
The first hosting company that we will review is Liquid Web.
Our story with Liquid Web
We have started using Wired Tree, web hosting company, for our Web development agency NYTOGroup and our clients back in July 2015. They had great support, good price for VPS and reliable service. Liquid Web thought so, too as they have purchased Wired Tree in January of 2017. Since then we have been happy Liquid Web customers as we continue to use and recommend them.
About Liquid Web
Liquid Web is a web hosting provider that is well known for its high-performance services and fast customer support. This privately held company, which was started in 1997 by Matt Hill with Jim Geiger as a current CEO offers managed WooCommerce hosting, managed WordPress hosting, managed VPS hosting, cloud hosting, and dedicated server hosting and is now considered an industry leader in web hosting services.
They offer complete and hassle-free hosting solutions to businesses both big and small. Some of Liquid Web's biggest customers include companies like Red Bull, FedEx, and Motorola. While they specialize in hosting big enterprises, they do have a broad range of more affordable plans that smaller businesses can choose from.
Liquid Web offers a wide range of options that are designed to allow customers to choose web hosting solutions that are either hands-on, hands-off or a convenient hybrid of the two. They provide a higher grade of tech support than other web hosting companies, and their support team has been branded as 'heroic' for their fast, knowledgeable service.
When you sign up for this service you get 100% uptime and support response time that is as little as one minute from certified technicians, and what this translates to is a completely hassle-free, high-performance hosting experience.
But that's not all that Liquid Web has to offer. Read on to see what else makes them stand out from their competition, and to find out if this hosting service is the right one for you.
Managed WooCommerce Hosting
WooCommerce is a fast growing e-commerce platform used by store owners today. Liquid Web offers the very first platform that is dedicated to WooCommerce Stores. It's more than just a simple plugin, it's a real offering which combines the power of WooCommerce with Liquid Web's managed hosting service to give store owners an online store solution that comes with no hassles and takes care of a lot of common pain points:
– Dynamic resizing without the downtime
– High performance even under heavy load
– Performance tests anytime
– More actionable data than Google Analytics
– Capture lost revenue from abandoned carts
Liquid Web Hosting Plans
Liquid Web offers fully-managed Dedicated Servers, Cloud Hosting, VPS Hosting, Managed WordPress Hosting, and Managed WooCommerce Hosting, as well as Enterprise, and Custom hosting solutions.
The Managed WooCommerce Hosting is a perfect solution for all e-commerce store owners. Liquid Web's dedicated platform is for all kind of stores: physical product stores, digital stores, dropshipping stores, marketplace stores or just getting started with the store.
The Managed WooCommerce Hosting comes in 5 plans: Beginner plan (if you are just starting out with e-commerce), Standard plan (great for stores making less than $100,000/year), Plus plan (great for stores making under $750,000/year), Pro plan (great for stores making under $2MM/year), and Enterprise plan (great for stores making over $2MM/year).
The Managed WordPress Hosting is optimized for performance, speed, and security, and there are no limits to the number of plugins you can use or the visitors you can have (unlike most other web host providers).
The Managed WordPress Hosting comes in 3 Tiers: Professional plan, Business plan, and the Agency plan. The difference between them is based mainly on the number of sites that you can host.
All WordPress Liquid Web Plans Include:
– WordPress Pre-installed
– Automatic WordPress Updates
– Automatic Site Backups
– One-click Backup Restores
– One-click Staging Sites
– Free SSL Certificates
– Free Migration
– iThemes Sync included
Cloud Hosting Plans include a fully managed Cloud VPS hosting, Cloud Sites for web professionals and designers, or Cloud Dedicated Servers. These plans are built on Liquid Web's Storm Platform which includes SSD drives, built-in backups, CloudFlare CDN, DdoS protection, and enhanced security.
Storm VPS Cloud Servers differ in sizes and configurations and they are customizable. They come in shared cloud environments and you can choose the right plan for you based on the amount of processing power, RAM, and storage space that you require.
Liquid Web Pricing
Managed WooCommerce Plan Prices
– Beginner WooCommerce Plan –
With this plan, you can have a maximum of 150 orders per month, and get almost all the features of the Liquid Web's high-performance platform (just Glew.io is not included) for $39/month.
– Standard WooCommerce Plan –
This plan is great for stores making less than $100,000/year and it costs $249/month.
– Plus WooCommerce Plan –
This plan is great for stores making under $750,000/year and it costs $749/month.
– Pro WooCommerce Plan –
This plan is great for stores making under $2MM/year and it costs $1499/month.
– Enterprise WooCommerce Plan –
This plan is great for stores making over $2MM/year and you have to contact Liquid Web to find the price for this plan.
Managed WordPress Plan Prices
– Professional WordPress Plan –
This plan lets you host 10 sites and comes with 50GB SSD storage, 5TB bandwidth, and costs $99/month.
– Business WordPress Plan –
Lets you host 25 sites, comes with 100GB SSD storage, 5TB bandwidth, and costs $149/month.
– Agency WordPress Plan –
This plan lets you host up to 50 websites and it comes with 200GB SSD storage, 5TB bandwidth, and costs $289/month.
Managed Hosting Prices
– Dedicated Servers From $199/month
– Cloud VPS From $59/month
– Cloud Dedicated From $159/month
– Cloud Sites From $150/month
The entry-level prices for Liquid Web's service are significantly higher than those charged by a lot of other web hosts. This is partly due to the fact that they offer managed WordPress hosting in VPS environments. Furthermore, the prices are inclusive of a lot of other features that other web hosts offer only as upsells.
Liquid Web Core Features
Performance and Uptime
The speed of your website is the most important indicator of performance as it not only has an effect on user experience, but it also has a huge impact on your SEO. According to some studies, a delay of even just one second in website speed can reduce conversions by up to 7%. When that delay goes to 3 seconds, it can cost you over 50% of your site traffic.
This is where Liquid Web truly excels. Performance tests conducted on their sites show that Liquid Web sites load in less than a second for all their servers, which makes them faster than a lot of other web host providers.
Load impact tests on their servers show that Liquid Web is great at handling increased requests from various connections all at once. Even with increased traffic to the site, the server load remains stable which means that your site will function perfectly even at peak traffic. The servers also respond very well to requests from geographic locations all over the world.
100% Uptime Guarantee
Liquid Web offers an outstanding uptime of 100%. If you have any issues with your site's uptime, then you will receive a credit of ten times the amount of time that your site was down. Dedicated server customers also get a guarantee to have their hardware replaced in 30 minutes.
This means that if there is an issue with faulty server hardware, it will be replaced within 30 minutes of the problem being identified, and it gives a lot of people peace of mind knowing that no matter what happens their site will never be down for long.
Liquid Web Security Features
Website Security
When it comes to website security, Liquid Web offers only the best. They make it a point to address every issue that poses a threat to your security, and anything that could compromise the safety and privacy of the data that is stored on their servers.
There is constant security around all their data center locations, and only authorized technical staff can access their server control rooms. In an effort to mitigate any server theft or break-ins, Liquid Web has on-site security guards at all their facilities which are under 24/7/365 camera surveillance.
Firewall Protection
Concerned about hackers? You will be glad to know that all Liquid Web servers have a CSF firewall which activates by default. Another additional benefit of choosing a managed WordPress hosting plan is that it has SSL site encryption which comes as a standard feature. Encrypted websites allow you to offer safe and secure checkout and your customer credit card numbers won't be leaked.
Backups Every Night
Liquid Web also offers free automatic backups for your website every night. This helps you recover your website if anything happens that results in you losing your data.
Support and Customer Service
This web host has a world-class team of highly trained customer support staff. They are available 24/7/365 via phone, live chat, and support tickets. Response time of 30 minutes is guaranteed for support tickets, and 59 seconds for phone and live chat support.
The Red Hat Certified staff members are very friendly and knowledgeable. Whatever your issue, they take ownership of it, which means that your support ticket won't get passed around prior to being resolved. The support staff at Liquid Web is arguably the best of any web hosting service, and they have even been dubbed 'the most helpful humans in hosting'.
Liquid Web Also Has A Comprehensive Knowledge Base
There is an extensive knowledge base on Liquid Web's online support center to help you fix issues that don't require contacting support. This helpful resource area has a search box to help you find materials to troubleshoot your particular issue. The knowledge base has a ton of well-curated topics and is very easy to navigate.
Here you will find everything you need to help you solve common problems. The resources offered range from 'how-to' articles to FAQs, short tutorials, and guides to help you get started.
Pros of Liquid Web Hosting Service
As you've seen from our Liquid Web review, this web hosting company has a lot to offer, but it may not be the perfect option for everybody. Here are some pros to consider before you choose a plan:
– Fast Hosting – all the plans are optimized to load pages quickly
– No Plugin Limits – there are no bans or limits on the WordPress plugins that you can use on your site
– Guaranteed Uptime – You're promised 100% uptime, and you get 1000% credit if you experience any downtime
– Stellar Support – Heroic support is this web host's claim to fame and customers rave about the skilled support
– GlobalSign SSL Certificate – These come standard with all the Liquid Web hosting plans
– Unlimited Visitors – support for all Managed WordPress hosting plans
– Free Site Migration – This service is available to all users at no extra cost
– Free Trial – Liquid Web offers a 30-day trial for new hosting customers
The Final Verdict: Is Liquid Web Ideal For You?
After conducting a thorough review of Liquid Web and all the services that they offer, we found that their claim of having the best hosting customer service and support is valid. There are tons of reviews online from happy customers who are raving about how quick, helpful, and friendly the support staff from Liquid Web is.
It's no wonder that this company has over 30,000 customers from 150 countries in all corners of the globe. They have global data centers and a world-class team of expert solution engineers which equate to 100% uptime and problem-free hosting.
All in all, this is a great web hosting service that offers solid features, stellar support, and high performance. If you are willing to fork out a bit more on one of their premium managed WordPress hosting plans, then you will definitely be in good hands. Also, this is great hosting for e-commerce stores as it is the only provider that offers Managed WooCommerce Hosting.
Do you like our review? If you want to read our other hosting reviews be sure to subscribe to our blog.
**AFFILIATE DISCLOSURE: Some of the links in the text are affiliate links. We may get a small commission if you use them, but they will not affect the price you pay. We ONLY recommend the services and products that we use and trust.**
---