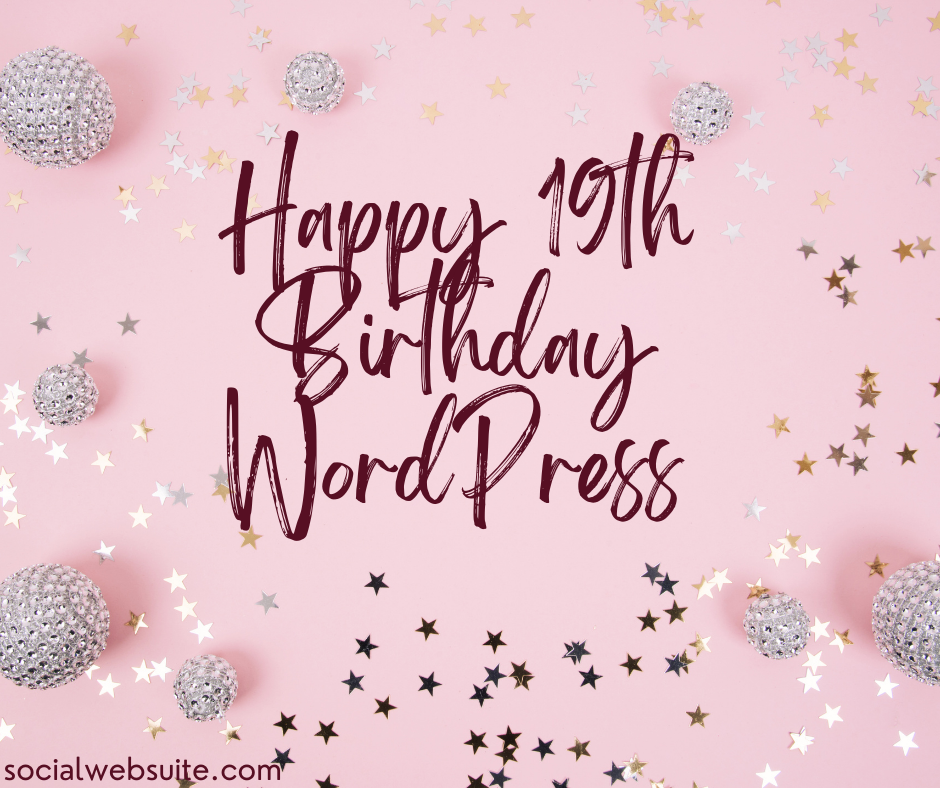 Today, May 27th marks 19 years since the first release of WordPress.
19 years ago Matt Mullenweg & Mike Litlle created an initial version of what became the most popular Content Management System (CMS).
According to w3techs WordPress is used by 64.1% of all the websites whose content management system we know. This is 42.9% of ALL websites. Including this one!
We are happy to say that we have been following the WordPress journey and that we have been involved in it.
To celebrate 19 birthday, here are 19 fun facts about Social Web Suite & WordPress:
Both our founders (Tina & Dejan) have been actively involved in the WordPress community by attending, volunteering, organizing, and speaking at WordCamps & WordPress meetups.
Dejan wrote a book about WordPress theme development 
An idea for Social Web Suite came from the WordPress community
Social Web Suite is one of the first SaaS in the WordPress ecosystem
You can download Social Web Suite's plugin from the WordPress repo
Social Web Suite was built in the WordPress way by the people from the community
Social Web Suite is the first and only social media platform deeply integrated with WordPress
As soon as you publish a post or a product on your WordPress site it will get shared automatically via Social Web Suite to all your social accounts
Once you connect your WordPress site with Social Web Suite everything is taken care of automatically. You don't have to lift a finger anymore.
You can manage social media for your client's unlimited WordPress websites with Social Web Suite.
There are more than 10 options for hashtags for your WordPress posts & products
Your WordPress posts & products will automatically be reshared as long as you want with Social Web Suite
The categories from your WordPress site will automatically be imported and updated in Social Web Suite
As everything has been running on Social Web Suite servers, your WordPress site will never experience any issues with our plugin
Social Web Suite has been used by a lot of people from the WordPress community
WP Engine, a leading managed WordPress hosting company has been recommending Social Web Suite to their customers
Social Web Suite is one of 5 WordPress tools that SiteGround recommends to their WordPress customers
Lastly, nothing will be possible without the encouragement and support from the WordPress & Social Web Suite community
---