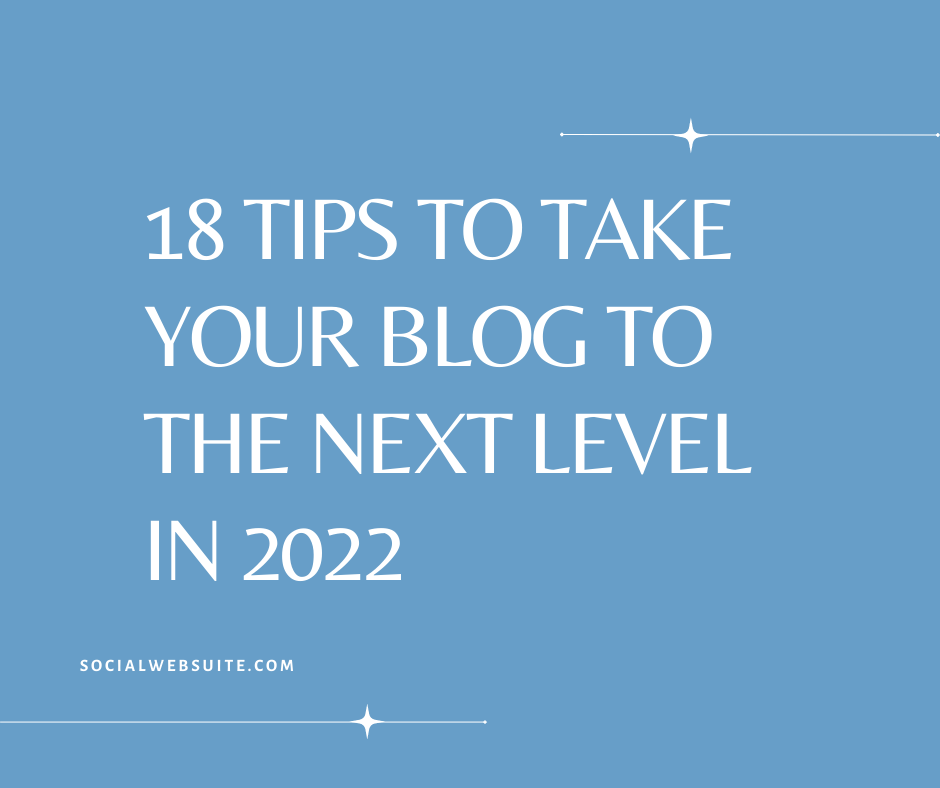 Blogging became one of the primary ways to earn money online, market your brand or pass on vital information. When implementing your blogging strategy, it's crucial to consider the target audience and create content that suits them. Focusing on these key features will enhance your brand's success.
With the flooding nature of the blogging field, it'll be hard to stand out among your competitors without having the proper tips or strategies. These tips will help you reach and engage with your target audience. Read through to learn the top tips from experts to take your blogging to the next level in 2022.
1. Choose a Proper Marketing Strategy
Experts reveal that marketing is an essential strategy to consider when starting or running your blog. Choose the most effective and reliable digital marketing strategy depending on your target audience. You can consider social media platforms or hire an agency to distribute your blog content online to reach a huge audience. Social Web Suite can help you with sharing your posts on social networks. Start your free trial now.
2. Enhance Consistency
Having an emphasis on your blog by providing content consistently is an effective strategy to attract more traffic. You can quickly get your audience's attention by delivering top-notch content consistently and regularly. You can achieve a consistent posting to your blog by creating a routine.
Experts advise that you invest in online resources to help you schedule your posts or create an outline plan. Having constant information or posts on your site will be a key to generating more audience and leads. Remember that making the schedule creates time to respond directly to the audience's comments and requests.
3. Optimize your Content for SEO
SEO is an essential blogging and online feature every blogger must understand. Optimizing your content or site for SEO will be necessary to rank on the top pages of search engines like Google. The higher rankings increase the traffic or lead to your site or blog, as a huge audience views it.
Optimization is not about fixing more words or keywords but about creating well-researched content that suits the audience's search intent. Remember to use catchy headings and trending keywords for optimization.
4. Understand Your Audience
Your audience is a greater asset that determines the success of your blog. Before starting your blog or site, it'll be wise to understand your targeted audience. Research the type of content the potential audience requires. Furthermore, you can check the time they're online before posting on your blog.
You can quickly identify and understand your audience's needs by asking readers on different social media platforms. You'll get their preferred topic from the response, which you'll use to generate appropriate content. Developing content that answers your customer and audience's queries is a significant step to success.
5. Create Unique Content
Copy-pasting is a considerable offense when starting or running your blog. Search engines will punish you or lower your ranking, reducing your lead and traffic. Furthermore, many audiences will be bored and may not frequently visit your blog.
Choose a niche you understand well and provide unique and engaging content when starting your blog. Before publishing your posts, ensure you research and generate unique and attractive information on the specific topic or niche. It's an essential strategy to generate more leads and stimulate your blogging success.
6. Generate Valuable Content for your Audience
Blogging involves generating and intuitively writing information. Ensure that the audiences get value when reading your content. You can enhance valuable content by supporting your information with references or facts. Furthermore, you can boost inspiration by using powerful power words.
Experts also advise that you consider the appropriate difficulty level when crafting the content. You can incorporate examples, figures, or quotes in your content to quickly understand your audience.
7. Build an Email List
Building an email list is the first thing to consider after starting your blogging journey. Besides enhancing your sales, you can use this list to reach more customers and audiences to generate more traffic. Furthermore, it's the best strategy to promote your new posts or content without worrying about the search rankings.
Many beginner bloggers have recorded significant growth in traffic to their blogs by implementing this strategy. It'll be vital to consider how to entice your customers to sign in for your email list and enjoy updates on new content or offers. Willy Franzen reveals that the subscription and conversion rate increases when using proper strategies.
8. Have Long-term Goals
Starting and getting your preferred success when blogging doesn't come overnight. It'll be vital to give your investment time to get the appropriate results. Invest more time and resources to realize good returns. During the investment time, ensure to follow the right avenues and tips to achieve success.
It'll be wrong to think you'll have a quick path to success or short-term targets when starting your blog. You'll only make something remarkable by giving your project time and investing more resources in learning and improving your strategy and content.
9. Consider Trending Topic
Studies reveal that organic search accounts for more than half of the web traffic. Choosing and generating content on a topic many individuals are interested in boosts your blog's growth. The content will increase your ranking in the search engine, attracting more traffic and leads to your blog.
When starting your blog, experts advise that you stay away from non-organic strategies. These strategies include buying email lists or using the black hat SEO, which may harm your blog progress. Instead, choose competitive keywords and the most sought-after content to increase the organic traffic or leads.
10. Consider Catchy Headlines
Headlines are an essential bit when generating your content. Having a catchy headline will likely attract more traffic and customers to your blog regardless of your content quality. Remember, many people will always start by checking the headline of your content before clicking or reading it.
When designing the headline, ensure that it's desirable and easy for your target audience. The headline should also provide a glimpse of what the audiences expect from the content. Experts reveal that powerful, simple, bold, and valuable headlines will entice more audiences to your content.
11. Consider Editing Your Content Before Publishing
When starting your blogging career, experts reveal that you need to craft quality content. After creating the content, proofread and edit your work first before publishing it. Publishing content with numerous grammatical errors and mistakes makes most readers angry.
You can invest in various grammar checking tools, like Grammarly, for editing your work. Combining these tools with a human editor allows you to generate quality content free from errors. You can also consider having a third party proofread your work before pressing the publish button.
12. Choose the Right Blogging Platform
There are numerous blogging platforms to suit your different needs and niche. Choosing the right platform will be a crucial step in enhancing the success of your blog. For instance, using a self-hosted site will be the best choice when writing your business or brand blog.
13. Invest Time and Resources in Drafting a Good Introduction
Your blog introduction is a key feature that may build or damage your blog reputation. Experts reveal that having a boring introduction causes more harm to your blog. Despite having valuable and top-notch content, many readers want to get it right from the catchy introduction.
Invest more time in crafting a catchy and good introduction paragraph. For instance, you can include facts, statistics, trending news, and stories to make the introduction attractive. Choosing a proper introduction is a great way to ensure that your audience reads your content on your blog.
14. Make your Content Simple
Experts reveal that the best way to enhance traffic to your blog is by making the writing simple. Making your writing simple involves using simple words or phrases that your audience can easily understand or relate to. After understanding your audience's intent, demography, and age, drafting simple and easy-to-understand content will be better.
Besides writing on content or ideas you're passionate about, it'll be wise to concentrate on your audience and customers' needs. Ensure the content is straightforward and appeals to their problems. Lastly, remember to keep the content accurate, with short sentences and paragraphs to improve the readability.
15. Consider Mobile Users
With the development of technology, more than 80% of users access the internet via smartphones. When starting or developing your blog, it's essential to consider these users. You can incorporate these users and increase your traffic by making a mobile-friendly blog. Choose the appropriate tools to optimize your website for speed and mobile to suit the needs of this audience.
16. Consider Your Stats
The success of your blogging journey doesn't come in one night or a few days, but it takes time. During this time, ensure that you get updated with your website analytics. The numbers reveal a lot of information, as they'll show you the progress of your blogging journey.
Experts advise that you invest in appropriate analytic tools to help you get all the statistics on your blog progress. Don't fret yourself too much when having low conversion rates and higher bounce rates. It is perfectly normal to have them at the beginning.
17. Installing Appropriate Plugins
Plugins are essential in making your content and website friendly to your readers. A fast and secure website plays a huge role in attracting more traffic and audience to your blog. Adding Social Web Suite to your site will help you with sharing your blog to all major social networks.
18. Consider Guest Posting
It's an essential link-building strategy that helps improve your organic Google search and online presence. Choosing the appropriate guest posting strategies will help make your blogging journey successful. When implementing this strategy, you'll have to check similar blogs within your niche and request their guest posting approval.
Alternatively, you can get more traffic to your blog by posting your content on platforms like Quora or Medium. You can get a different audience and attract them to your site. You can win more organic traffic to your site by responding to the different questions using detailed, long, and useful answers.
Bottom Line
Many individuals use blogs in various ways, like for entertainment, education, and promoting brands. When running your site, it's vital to understand that attracting a lot of traffic is a key to having successful blogging. However, it's usually frustrating to attract a huge audience to your blog. Building an engaging and successful blogging strategy takes time, effort, and resources. The above tips will help you take your blogging to the next level, generating more leads and traffic.
---