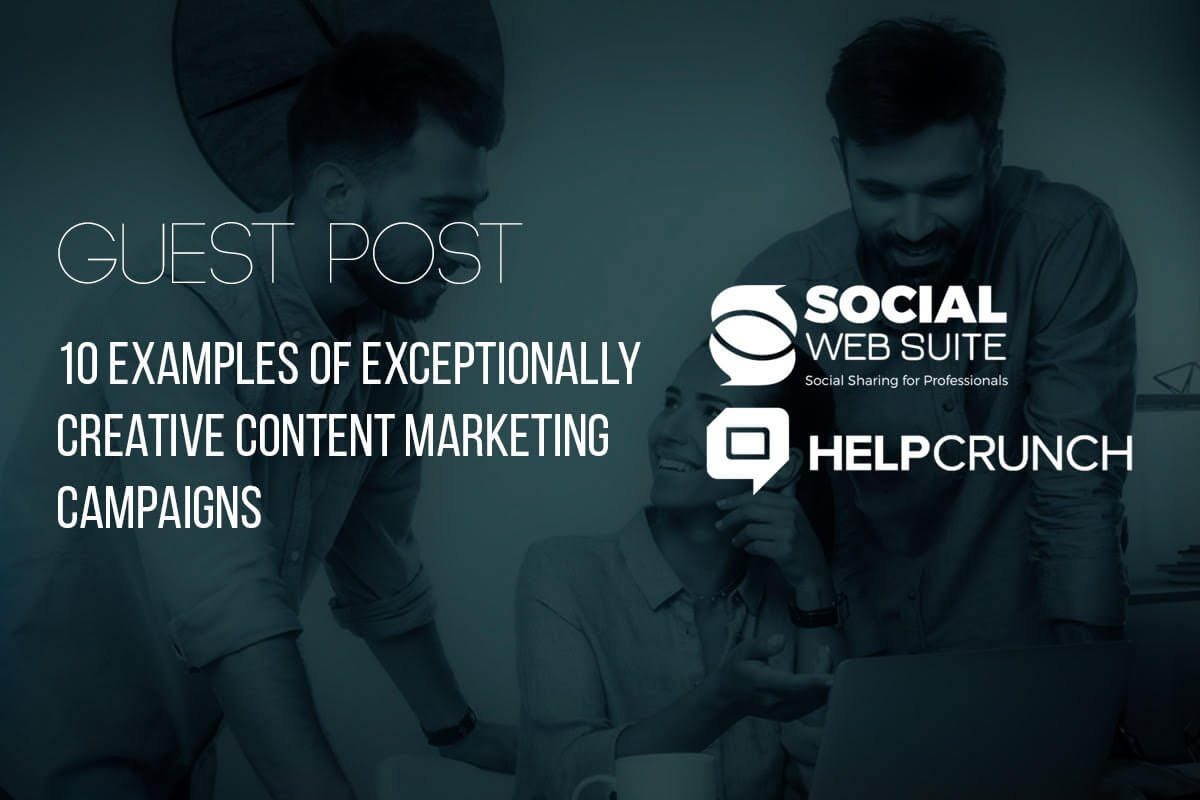 10 examples of exceptionally creative content marketing campaigns
**This is a guest post from our friends at HelpCrunch**
In case you had at least the slightest doubt, consider this your little regular reminder: quality content can be an absolutely game-changing element of your success. There are tons of examples of how good content can help you build your brand, generate traffic, get leads, stand out among your competitors, find your own voice and style.
And, if you haven't launched your own blog yet, it's probably about time. Because the others are already polishing their articles and trying to figure out how to deliver their messages in the best way possible. Everybody knows that quality content can get your business pretty far but amazing content is going to skyrocket it.
This is why aiming at something truly exceptional is your best bet in pursuit of dominating your niche. Need fresh ideas? Be inspired by those who already climbed the Olympus of top-notch content marketing. In this article, I've gathered 10 vivid examples of creative content marketing campaigns. Let's go!
1. HelpCrunch
Here's a quick and obvious fact: no one enjoys reading walls of text. This kind of content is hardly digestible, boring, and therefore not effective to say the least. To avoid this problem, many do their best to break pieces of content into smaller sections by adding different types of media, mostly images.
Obviously, the more value those images bring, the better. Although even stock material can do a decent job of making your article look readable, the media you use is actually another awesome opportunity to be creative.
Take a look at how HelpCrunch set classical paintings as their post thumbnails.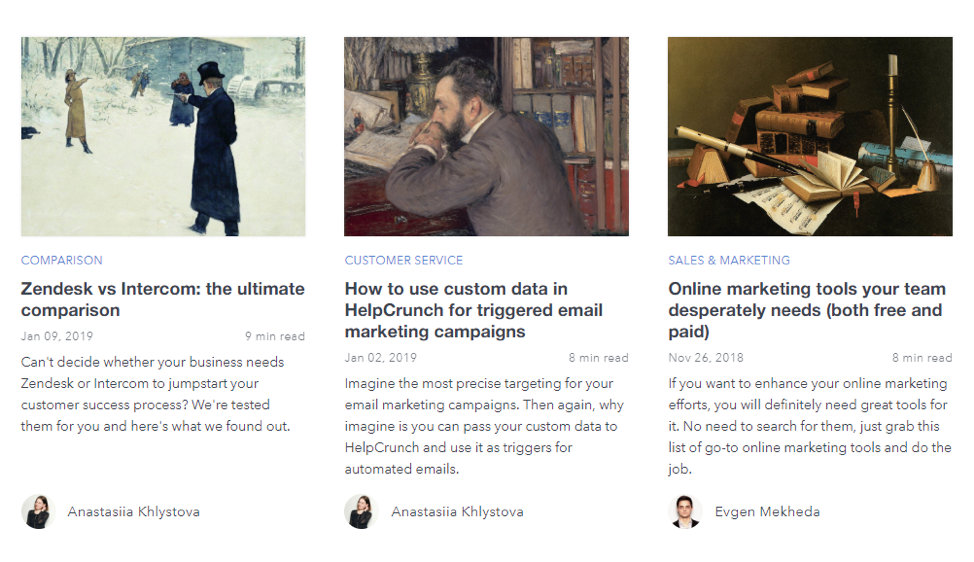 Not only do they make the content more entertaining, but they are also linked to the text in a natural way. Small but sophisticated move.
2. Zendesk alternative
Every serious brand that is ahead or at least in the forefront with the others must take certain measures in order not to lose the advantage. Some spend more on advertising, some run contests or provide discounts, some, however, think out-of-the-box and do something completely new and unexpectable.
There are probably lots of ways of how you can deal with numerous pages that target 'X alternative' keyword where X is your brand name. But Zendesk outplayed their competitors big time by creating a website for a fake rock band which unironically happens to play alternative rock music.
Should I say that they rank #1 for 'Zendesk alternative'?

3.Hustle
Signing up for newsletters has become a pretty common thing. As there is a huge variety of feed you can get through emails, you can almost certainly find your cup of tea in this sea of options.
While it's without a doubt a huge plus for you, it makes newsletter business trickier for those who actually run one. It's not enough that you bring something fresh and valuable to the table, it's also about how you serve it.
Hustle did a great job with their sign-up email that just puts a big and cheery smile on every recipient's face. Here's a snapshot of it if you don't believe me.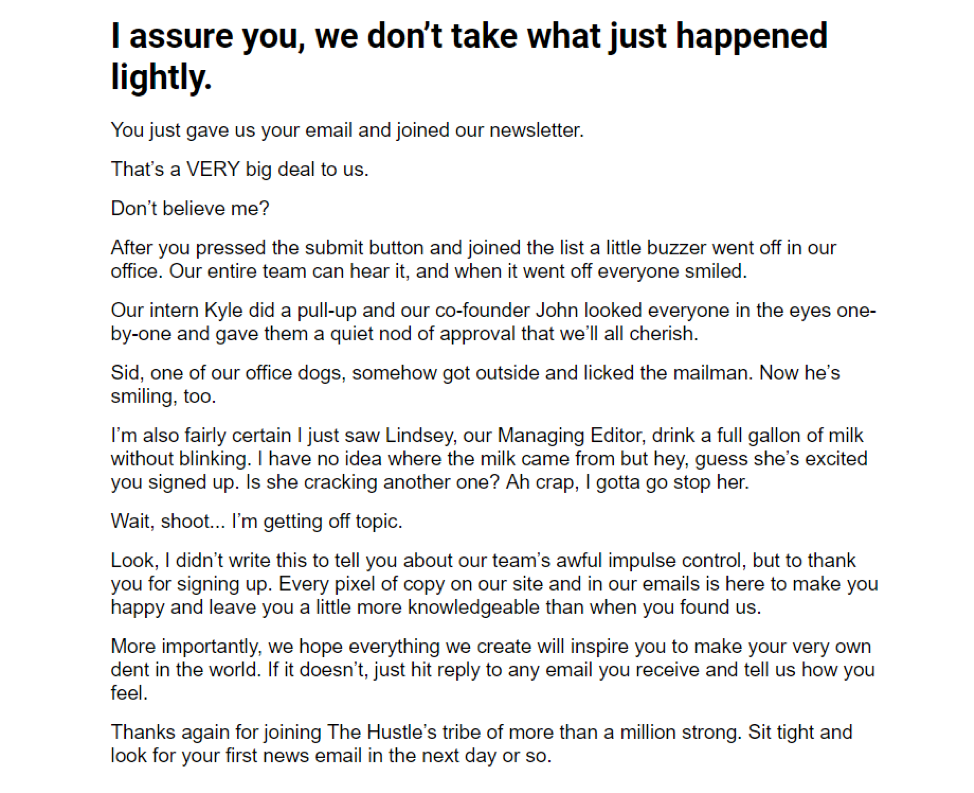 4. Live Chat inc
If you're in the SaaS business, you probably know that giving out free trials or at least demos can play an essential role in your success. People are always eager to palpate the goods before making a final decision and purchasing it. And there's nothing surprising about it.
One way or the other, you gain trust in your potential customers' eyes.
But again, if you are in the SaaS business, you also probably know that your competitors are most likely doing the same. So how do you stand out? Find a creative lead-in decoy for your site's visitors.
LiveChatInc launched a free speed typing test that shows you your accuracy as well as how many words you type per minute. I scored 89% and got a 40% discount. Not bad.

5.Windscribe
Creativity goes hand in hand with courage. Every time you are off the beaten path, you run a risk of making mistakes, although you shouldn't shy away from them. Because they will surely come. But this is not a big deal if you are confident in what you are doing.
This is an email I got when my pro trial with Windscribe expired.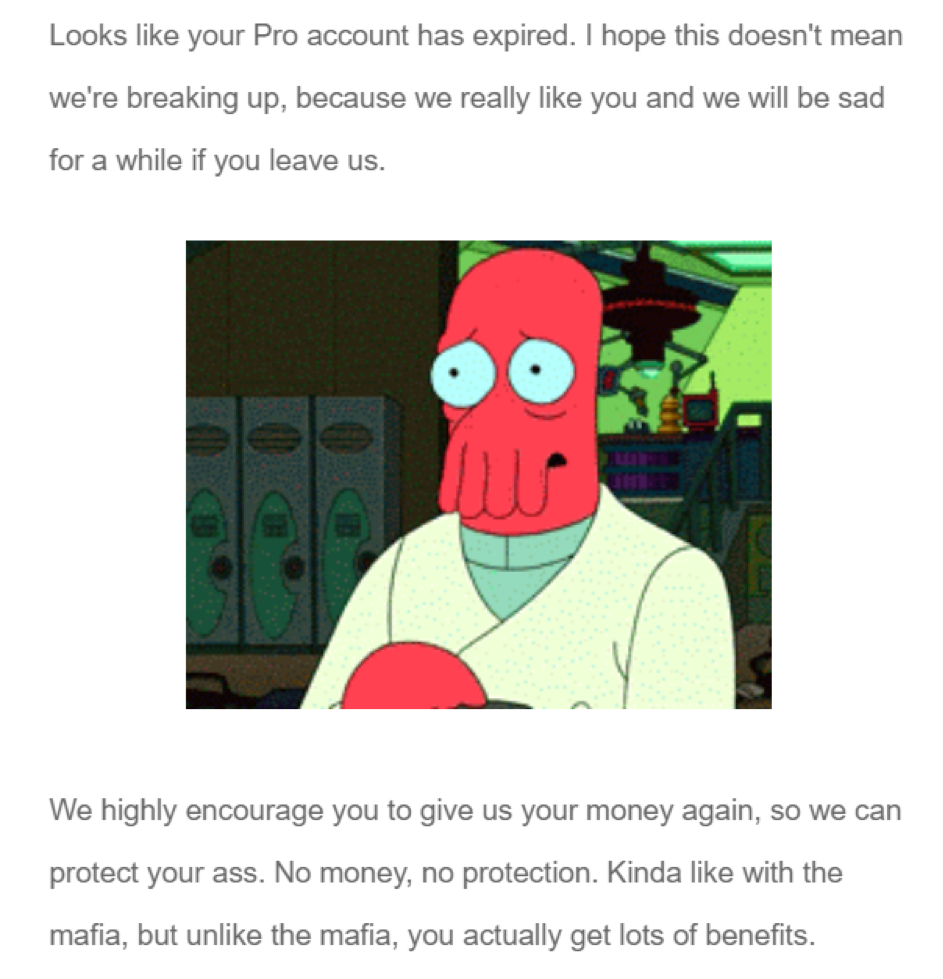 6. Blendtec
You really need to be creative when selling mundane things like blenders or tools. To set themselves apart from hundreds of generic ads, Blendtec leverage YouTube and came up with this crazy but entertaining format called "Will it blends?".
It's pretty self-explanatory but they put different objects into their blender and press on. The results? See for yourself below.
And needless to say that this outstanding marketing campaign brought a significant wave of brand awareness.
7. Coca-Cola
Titans of business should never be afraid to be creative in content marketing and run experiments.
Some time ago, Coca-Cola launched a new campaign in Australia, titled 'Share a coke with a friend'. They printed the most common 150 names on the label and invited people to share a bottle of Coca-Cola with a person whose name matches the one on the label.
This idea has had incredible success and thanks to it, Coca-Cola sold more than 250 million bottles and cans during the summer.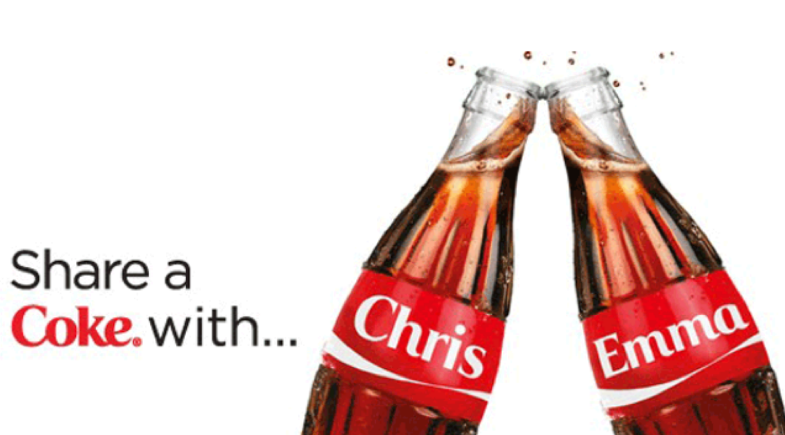 8. Nike
Nike is one of those brands that are so recognizable that they don't need any introduction and presentation. Yet, they still push the boundaries further and uncover new possibilities to shine.
Although Nike could've just gotten a couple of world stars to endorse their product in a short but effective commercial, they invited Guy Ritchie to film and direct their ads. Made in his unmatched style, the videos quickly went viral not only among football fans but also among those who appreciate a good commercial.
A bold and creative decision. But people's reaction says it all. It had major success and is still so much fun to watch. Here's one of them:
9. Dr. Martens
The pair of Dr. Martens 1461 shoes I got 2 years ago is probably one of the best purchases in my life. They've seen it all, yet look quite solid till today. See? Dr. Martens might as well stop promoting themselves. Their customers do the job just fine.
I wouldn't be surprised if it crossed their mind and they came up with this Instagram carousel that showcases the best looks with Dr. Martens products.
All you need to do is upload your image and add a @drmartensofficial hashtag.
If you manage to impress them, millions of people will check out your look on the official homepage. Not too shabby, right?
A great example of letting your customers be creative for you which results in a win-win situation.

10. Dumb ways to die
You might have played the game on your phone or seen the commercial on YouTube. Dumb ways to die is a funny song on quite a serious topic: be safe and don't do stupid things that might lead to your death.
Despite the most conventional way of delivering this message in the form of horrid images and videos, this campaign gives it another spin with a cheerful song and cute animated characters. Shortly after, a smartphone game came out which gave the campaign another boost of popularity.
While being fairly entertaining, it doesn't miss the point of the issue and even seems to have brought about a decline in 'near-miss' accidents by 30 percent in the metro.
To sum up
Content marketing is by no means static and always has room for improvement and creativity. Big and small companies prove day to day that creative and clever marketing campaigns are what sets you apart from that long-awaited and much-desired #1 place.
Whether you are running a classic blog, Instagram account, or YouTube channel, there is no shortage of new formats, approaches, and ideas to try out. It all comes down to your ability to create and be different from what you usually see around you.
If not sure where to start, try looking for small improvements like your blog image or your sign-up emails. These initial steps will help you shape your own style and take more confidence in how you go about your marketing campaigns. Experiment, get feedback, tweak things, repeat.
Seeing that marketing, in general, is a long process, it might take some time for you to discover things that will work well for you. But with the right attitude and persistence, you will get there eventually.
Do you like this blog post? If you want to read other interesting and educational blog posts be sure to subscribe to our blog. 
---